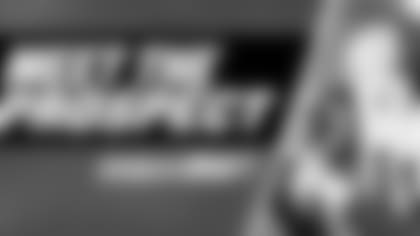 We are just 20 days away from the start of the 2015 NFL Draft. Our Meet the Prospect feature will introduce fans to the players projected to be this year's top selections. How will we select the players to spotlight? Easy. You, the fans, get to decide. Who did you pick for today's profile?
It's been said that the concept of "risers" and "sliders" in the lead-up to the NFL Draft is misleading and that, in large part, teams have their "boards" mostly set months before Roger Goodell announces that a team is on the clock with the No. 1 overall pick. But if there is such a thing as a riser, Central Florida wide receiver Breshad Perriman would fit the bill. This is not to say, though, that teams were unaware of the 6-2, 212-pounder when he declared early following a standout junior season in 2014. But to the extent that a player can "rise" during the actual playing season, Perriman certainly did that in 2014.
With 50 catches for 1,044 yards, Perriman was the only player in D-I to average over 20 yards a catch while catching at least 50 passes. Nine of those 50 catches, meanwhile, were touchdowns. Now, we'll contradict ourselves by saying that Perriman's breakout season wasn't completely unexpected after a true sophomore season in 2013 in which he caught 339 passes for 811 yards (20.8 yards per catch) and four touchdowns.
Perriman also has the genes for the position as his father Brett was second-round pick in the 1988 NFL Draft who played 10 years in the league as a receiver, catching over 500 passes, largely with the Detroit Lions. It would be a big surprise, though, if Perriman the younger lasts until the second round.
That's because, in addition to his collegiate production and the evidence of his ability as a "playmaker," Perriman reportedly ran 40-yard dashes at his pro day of 4.24 and 4.27 seconds. While Alabama's Amari Cooper and West Virginia's Kevin White are considered consensus top-1o picks at this stage of the pre-draft process, some, like NFL Films senior producer Greg Cosell, believe that Perriman could eventually be the best receiver in this stacked class.
"I do (think he could be the best receiver in the class), and that's my bold statement," Cosell said during our Film Room series. "I think three, four years down the road, we could be talking about Perriman as the best receiver in this draft. He's big, he's fast, he's powerful. I actually think overall as a receiver, overall, he has more traits than Kevin White. I think that Perriman, to me, has a little more separation quickness, and that's so critical in the NFL … I saw him run routes with that size, and he looks big on film, looks really big on film.
"But what I really like about Perriman is his ability to stick his foot in the ground and separate and that is so critical in the NFL ... When I watched him I was truly blown away. I think he has a chance to be something special."
Height, weight and speed numbers that every team covets. Quick accelerator off the snap and destroys the cushion, forcing cornerbacks into "turn-and-run" mode. More sudden than most big receivers. Able to break routes off sharply or go from stop to start instantly. Consistent separation at top of his route. Always gets over the top of cornerbacks on verticals. Varies route speed and has ability to body up and box out smaller cornerbacks downfield. Explosive leaper with timing and catch radius to make the difficult catches look easy. Shows off plus body control and ball tracking on deep ball. Able to gear up or down when needed and is a legitimate big-play threat on every snap. Athleticism and long speed for yards-after-catch production. Gives good effort as run blocker. -- Lance Zierlein