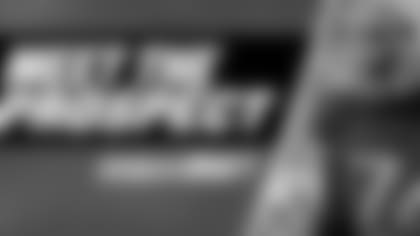 We are just 12 days away from the start of the 2015 NFL Draft. Our Meet the Prospect feature will introduce fans to the players projected to be this year's top selections. How will we select the players to spotlight? Easy. You, the fans, get to decide. Who did you pick for today's profile?
Who will be the first offensive lineman selected in the 2015 NFL Draft?
Many of the draft experts have assumed that it will be Iowa's Brandon Scherff, who is projected to move inside to guard and could be a day one starter for a team. There are other names in the mix including LSU's La'El Collins, Florida's D.J. Humphries or Stanford's Andrus Peat. But there might be a player who could be the surprise first lineman taken and that's Miami's Ereck Flowers.
After the Miami native helped guide Norland High School to an undefeated season and a state title as a senior, Flowers graduated early and enrolled at Miami. He was able to participate in the spring practices and was named the Week 1 starter at right tackle. He started four games as a true freshman before moving to left tackle for the past two seasons where he earned second-team All-ACC honors in 2014.
NFL Network analyst Mike Mayock called the 6-6, 329-pound Flowers "raw," but a first-round prospect who could be a "Pro Bowl right tackle." He is athletic and can effectively get to the second level of a defense. He was called for six holding penalties over the past two seasons, so there are technical issues that have to be addressed.
Flowers has the potential to be the best offensive lineman out of this draft class and if a team believes it can work out the kinks don't be surprised if he is the first offensive lineman to go off the board.
Big, athletic frame carrying more than 320 pounds with ease. Ascending mauler in the run game. Bender who is low man off snap and pops hips into block to leverage defender at the point. Combines hips, arm extension and upper-body power to consistently turn his man when base blocking. Once he gets upper hand in run game, he usually sustains and finishes. Secures combo block with a vengeance. Has feet to become solid zone blocker. Mean and highly competitive. Wants to dominate and gets surly when beaten on a snap. Special foot quickness in pass protection. Able to mirror and counter two-way rushers or B-gap blitzers. Uses quick feet and loose hips to turn, scramble and recover when beaten. Pass-set depth and technique improved as year progressed. Has played both tackle positions. -- Lance Zierlein