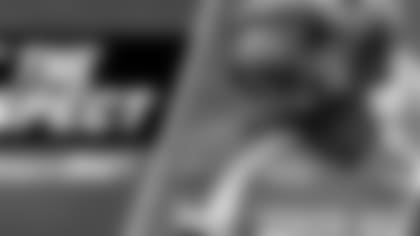 We are just 15 days away from the start of the 2015 NFL Draft. Our Meet the Prospect feature will introduce fans to the players projected to be this year's top selections. How will we select the players to spotlight? Easy. You, the fans, get to decide. Who did you pick for today's profile?
What is Quinten Rollins' upside? On the one hand, the former point guard was named 2014 MAC Defensive Player of the Year in his only season of college football. On the other, the 23-year-old measured in at just 5-11, 195 pounds with relatively "short" arms and "small" hands while only running a 4.57-second 40-yard dash.
That's the balance that teams will have to weigh when deciding when Rollins will come off the board in two weeks.
Rollins' transition to football after playing four years of basketball for Miami (Ohio) really was astounding as he earned a starting job and recorded seven interceptions. Football wasn't necessarily foreign to Rollins, as he played in high school, but to excel at the next level so quickly spoke wonders for his aptitude for the game. As a prospect, Rollins has impressive hands and is a much better tackler than one would expect from a former basketball player. He mirrors well in man coverage and his understanding of zone concepts improved. But it's still fair to expect that he'll need time to learn in the NFL before he's necessarily ready to hit the field.
But if Rollins is the type of competitor most assume he is and has the coachability to learn quickly, he should slot into the second round of the NFL Draft. For the Eagles, he could be a possibility at No. 52.
Four-year basketball player. Seamless transition to football field as a cornerback. Has point guard's foot quickness and hip fluidity. Plays with balance and above-average play strength. Well-built and competitive. Can be a disruptive press-corner. Has NFL-caliber "click-and-close" ability. Good leaper. Attacks the ball and receiver at high point. Good instincts and overlaps to make plays beyond his territory. Ruined hitches and bubble screens his way. Physical and has a strong desire to tackle. Wraps up receivers and throws his body at running backs in open space. Crowds receiver downfield, giving little breathing room. Has recovery quickness and natural anticipatory traits in coverage. -- Lance Zierlein