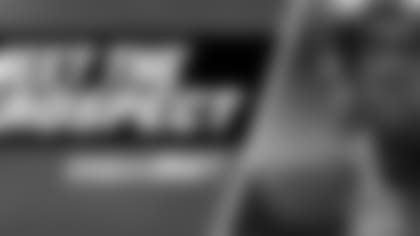 There are just 43 days until the 2015 NFL Draft. Our Meet the Prospect feature will introduce fans to the players projected to be this year's top selections. How will we select the players to spotlight? Easy. You, the fans, get to decide. Who did you pick for today's profile?
The string of talented players with potential character concerns continues with the focus on former Washington cornerback Marcus Peters.
Peters has the size everyone seems to covet these days with his 6-0, 197-pound frame and he is said to be one of the more physical press corners in the draft class. Though he ran a disappointing 4.53-second 40-yard dash at the NFL Scouting Combine, Peters showed the ability to run with receivers downfield during his time on the field with the Huskies. His 11 interceptions over three seasons prove that he also has a nose for the ball.
Of course, Peters won't solely be judged and selected based on his ability on the field. The cornerback was eventually kicked off the Washington team by head coach Chris Petersen after he was originally suspended for one game. Both punishments were said to result from clashes with the coaching staff and Peters will no doubt be asked about his "coachability" throughout the pre-draft process.
On talent alone, Peters would likely be a first-round pick in a cornerback class that is pretty light at the top. Whether he eventually lands in round one, though, depends on the result of the homework done by prospective employers. In all likelihood, Peters won't be in play for the Eagles at No. 20, but if he's around when the Eagles are on the clock in round two, perhaps he'll be worth the selection.
Prototype size for the position. Fluidity in his hips to flip and run. Competes hard out of press-man coverage and tries to intimidate receivers with his physicality. Can redirect talented receivers with his length and flat-out stuff receivers with marginal foot quickness and strength. Stays in pocket of vertical receivers while turning to locate and track ball. Active and disruptive when ball is in the air. At his best when contesting catches and often comes away the winner on 50/50 throws. Outstanding feel for space with ability to track multiple receivers and quarterback at the same time. Closes on throws with above-average burst and brings some force on contact. Confident and tough. -- Lance Zierlein