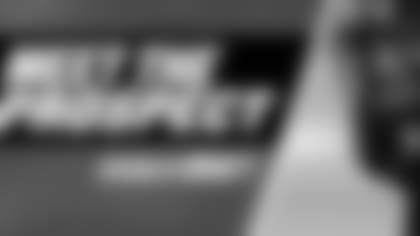 There are just 46 days until the 2015 NFL Draft. Our Meet the Prospect feature will introduce fans to the players projected to be this year's top selections. How will we select the players to spotlight? Easy. You, the fans, get to decide. Tag #EaglesDraft with the name of the draft hopeful you want to learn more about. Who did you pick for today's profile?
What do you need from a cornerback? Length, ball skills, physicality and technique are all important characteristics as teams scout college cornerbacks. But what about intelligence? After four years as one of the nation's most prestigious institutions, Wake Forest's Kevin Johnson checks every aforementioned box.
At 6-0, 188, Johnson has the length teams covet at the next level. The one negative to his body type is a slight upper body, so teams will question just how much projection there is to his strength at the next level. Still, Johnson did not shy away from contact in college, and he won't be asked to be a box player anyway.
"He's a tall corner who can run. He's rangy and he can play press. He has the quickest hips of anybody I've ever seen," said Wake Forest head coach Dave Clawson. "(An NFL team is) going to get a guy that loves football, works at it and is a really gifted player. He's long, he has range, he can run, he's got ball skills. And he's just a really good football player and a good human being."
At the NFL Scouting Combine, Johnson proved he has next-level athleticism, running a 4.52-second 40-yard dash while finishing among the top three cornerbacks in the vertical jump, the broad jump, the three-cone drill and the 20-yard shuttle.
After Michigan State's Trae Waynes, Johnson is among a group of three or four players vying to be the second cornerback selected. He is likely to be gone by the time the Eagles get on the clock in round two, so if the team is smitten with the former Demon Deacon, they may have to pull the trigger in round one.
Smooth hips with excellent balance. Very natural in man coverage. Has feet and discipline to play square and mirror against complex routes. Has low, controlled backpedal. Disruptive in press coverage -- alters routes and slows receivers. Can easily transition laterally and has quick-twitch to break on throws in front of him. Flips hips and accelerates against vertical routes. Crowds wideouts on perimeter and constricts target area for deep boundary throws. Plays stronger than his listed weight. Has athleticism and enough speed to recover when beaten. Decisive player. Fights to disengage and support against the run. Willing to drop shoulder and lay lumber as zone defender. Usually followed opponent's best receiver around the field.
Johnson is a three-year starting cornerback who showed great improvement in man coverage from 2013 to 2014. While he lacks desired weight at the position, his cover skills, athleticism and competitiveness give him a shot to come in and start right away. Johnson can play gunner on special teams. -- Lance Zierlein