Tommy McDonald and Bob Brown each waited a long time for induction into the Pro Football Hall of Fame. McDonald waited 30 years from the time of his retirement. Brown waited 31. But when they finally got the call after all those years, all that disappointment just faded away.
"Once you're in, you're in forever," McDonald says. "It's like going to heaven."
McDonald and Brown, two Eagles greats from the 1960s, will be honored again Sunday when David Baker, the Pro Football Hall of Fame director, presents them with their Rings of Excellence. The ring has a likeness of each enshrinee's bust along with the Hall of Fame logo. It is 14K gold with a football-shaped diamond center, a fitting tribute to their stellar careers.
McDonald was selected by the Eagles in the third round of the 1957 NFL Draft and played seven seasons in Philadelphia. He was traded to Dallas in 1964, the same year the Eagles drafted Brown, the massive offensive tackle from Nebraska. Brown played five seasons in Philadelphia before he was dealt to the Los Angeles Rams in 1969.
McDonald, a wide receiver, was one of the smallest players in the league at 5-9 and 172 pounds. Brown was one of the biggest at 6-4 and 290 pounds. McDonald was a bubbly extrovert and Brown was the strong, silent type, but they had one thing in common and that was their greatness on the football field.
When McDonald retired, he was sixth on the NFL's all-time list with 495 receptions, fourth with 8,410 receiving yards and second with 84 touchdown catches. He missed only three games in 12 seasons and he averaged one touchdown for every 5.9 receptions. In the 1960 championship season, McDonald scored 13 touchdowns on 39 receptions and added another score in the title game against Green Bay.
After the game, which the Eagles won 17-13, Packers Hall of Fame coach Vince Lombardi said: "If I had 11 Tommy McDonalds, I'd win a championship every year." McDonald considers it the greatest compliment he ever received.
While McDonald's game was all about speed, Brown was sheer power. He played at 280 to 300 pounds at a time when most linemen weighed around 250. He was one of the first serious powerlifters in the NFL. He had a weight room built in his house and at one point his military press was within 10 pounds of the American record.
Brown looked ponderous in his oversized shoulder pads and size 13 triple E shoes, but he ran the 40-yard dash in 4.6 seconds at his first Eagles Training Camp. He polished his footwork by skipping rope and playing basketball. He had 20-inch biceps and 33-inch thighs. His neck was 18 1/2 inches and his chest expanded measured 57 inches.
Hugh Brown of the Philadelphia Bulletin described Brown as "a splendid specimen of young manhood. His shoulders, without any pads mind you, are wider than a water buffalo's."
With that combination of size, speed and strength, Brown dominated in the trenches. He was named to the NFL's All-Decade Team for the 1960s.
"When Bob Brown pulls out to lead a sweep," Green Bay cornerback Herb Adderley once said, "there are two things a guy like me can do: Get out of the way or get hurt."
"Bob was an explosive drive blocker," says Dick Vermeil who was an assistant coach with the Rams when Brown was there. "When he fired out he catapulted people off the line. Knocked 'em back 5 yards. You just don't see that in pro football. Bob was one of a kind."
Brown's nickname was "Boomer" because that's how it sounded when he came out of his three-point stance and drove his forearm into an opponent. Atlanta linebacker Tommy Nobis says: "Bob hit me and it felt like the world turned upside down. I've never been hit like that before."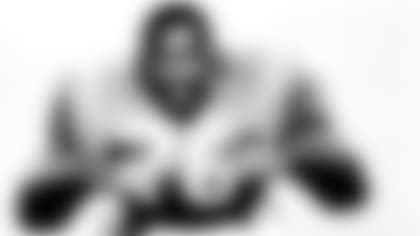 Where Brown (in the photo above) outmuscled his opponents, McDonald outran them. An All-America halfback at Oklahoma, McDonald was part of the Sooners' dynasty that built a 47-game winning streak, the longest in college football history. The Eagles drafted him as a halfback, but late in his rookie season he was pressed into service as a receiver. In his first game, he caught two touchdown passes, including a juggling grab between two defenders that NFL Commissioner Bert Bell called "one of the greatest catches I've ever seen."
"The coach came to me after the game and said, 'From now on, you're a receiver,'" McDonald says. "That was fine by me."
McDonald was the leading scorer on the Eagles team that won the NFL Championship in 1960. There was a change of quarterbacks after that season - Norm Van Brocklin retired and Sonny Jurgensen took over - but McDonald never missed a beat. In 1961, he caught 64 passes for a league-high 1,144 yards, a 17.9-yard average, and 13 touchdowns. The following year, he caught 58 passes for 1,146 yards, a 19.8-yard average, and 10 touchdowns.
In 1962, Sports Illustrated put McDonald on the cover with the title, "Football's Best Hands." It was true: McDonald was famous for his sure hands. He sandpapered his fingertips before every game. He said it made his fingers more sensitive and helped him feel the ball. He scraped his fingers on the brick wall at Franklin Field before home games to achieve the same effect.
"The receivers today all wear gloves, even when they're playing indoors," McDonald says. "I'd never wear gloves. I want to feel the ball. I want to feel every pebble on the leather."
"I played with a lot of great receivers, including Elroy Hirsch and Tom Fears with the Rams," Van Brocklin once said. "But if I had to pick one guy to throw the ball to with the game on the line, I'd pick McDonald. I know somehow the little bugger would get open and he'd catch the football."
An award-winning writer and producer, Ray Didinger was inducted into the Pro Football Hall of Fame in 1995. He has also won six Emmy Awards for his work as a writer and producer at NFL Films. The five-time Pennsylvania Sportswriter of the Year is a writer and analyst for Comcast SportsNet. Didinger will provide Eagles fans a unique historical perspective on the team throughout the year for PhiladelphiaEagles.com. You can read all of his Eagles History columns here. He is also the author of The New Eagles Encyclopedia.