Following the conclusion of the final practice of minicamp and the final time that the full Eagles roster will be assembled prior to the beginning of Training Camp in mid-July, Chip Kelly reflected on his first spring as a head coach in the NFL.
"I didn't have any expectations going in," Kelly said Thursday. "The one thing I said yesterday and I'll say it again today is we wanted to improve and I've felt like we've improved every day out here."
Now, the onus is on the players to improve on their own over the next few weeks. Rookies will remain at the NovaCare Complex for the next two weeks to take part in the team's conditioning program, but the hands-on instruction has now concluded. But as the veterans jet off to various destinations, they'll still be expected to remain diligent in their preparation for the long season ahead.
"I expect them to be professional and prepare like this is their year," Kelly said. "That's what I think they expect of themselves. This is your job and ... you lived your whole life to play in the NFL and now you get an opportunity and there's a responsibility that goes with that. I believe it's a privilege to play in this league and with that privilege goes responsibility. So I expect our guys to work their tails off when they're not here.
"It's on them in terms of what they do in the summertime in terms of coming back when we see them in July and we'll know. That's the great thing about this sport, you can't fake football. So if you didn't do any work from the time you left here on June 6th and then show up here on July 25th, we'll know. Because your body will tell you what you can do. You can't just take time off. I think our strength coaches have a good plan that they put together and they'll present to them this afternoon. And then it's up to them."
Of course, Kelly has the same expectation for himself and the rest of the coaching staff.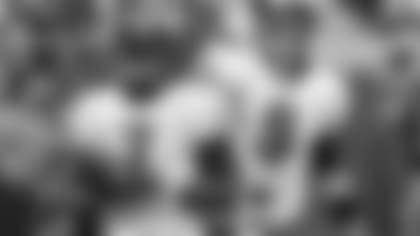 "There's a ton of work," said Kelly, mentioning that opponent breakdowns of the team's first four regular season opponents are among tasks ahead in the near future. "There's work every day no matter what. You're never done and you've never arrived so there's always something to do. But we have a schedule. We have a yearly schedule so we know where we're supposed to be and what has to be broken down by when and when we're reporting back here and all those other things. So we have a schedule that we work on but we never ever feel like our work is done."
So what has Kelly learned about his team over the last month? Less than you might expect. Kelly said that the coaching staff and front office have a good idea of the athletic ability of their players, but the important evaluations won't happen until the players don the pads in Training Camp.
"There are still a lot of things to be evaluated when you put the pads on because it's still a physical game," said Kelly. "A lot of guys look great in shorts and T-shirts, but then all of a sudden they disappear when you put the pads on. We have an evaluation, I think, in terms of some athletic ability. How fast some guys are. How their ability to change direction and things like that, but until we get the pads on you can't fully evaluate."
The same goes when it comes to the pressing question of this Eagles offseason – who will be the quarterback?
"Quarterbacks don't get hit," Kelly said, when asked of his evaluation of Michael Vick and Nick Foles to date. "It's a totally different game. You can stand there in the pocket and the guys are whizzing by you and tapping you on the hip. It's a different deal when you line up against the Patriots and they are not going to tap you on the hip when they come by you. You find out there are a lot of tough guys when no one can tackle you but then when they can tackle you you turn into a different ballplayer. So there are a lot of evaluations that still need to be done in a game-like setting. We have preseason games to do it and get a chance to get these guys evaluated."
Kelly did add that Vick and Foles met his expectations when it came to their work ethic.
"They're both very, very coachable," said Kelly. "They both want to win. They're both here as many hours as they possibly can be here. They both really work at the game. They want to get better. It doesn't matter how long Mike's been in the league or what systems he's come from, they've both really wrapped their arms around what (quarterbacks coach Bill Lazor and offensive coordinator Pat Shurmur) are teaching them. It's fun. And for all the guys here, it's been kind of refreshing. You didn't know what the reception was going to be like when you got here or are guys going to be like, 'You have to show us what we know before we do it.' These guys jumped in with both feet and have been fantastic in terms of picking things up."
Now, the countdown to Training Camp is on. Forty-six days until things pick up again.