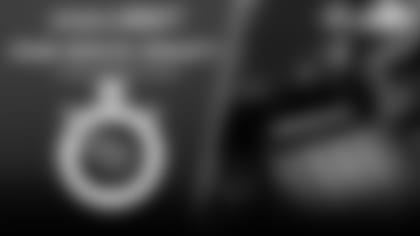 With the first overall selection in our Fan Mock Draft, the people spoke overwhelmingly in favor of former Florida State quarterback Jameis Winston. Winston totaled nearly 84 percent of the vote.
Now, we move on to the Tennessee Titans, the second overall pick and perhaps the most intriguing pick in the top five. For a team that finished 30th in the league in scoring, a focus on the offense would seem obvious. To that end, Oregon quarterback Marcus Mariota seems like the obvious choice, except that he doesn't necessarily fit the mold of a prototypical Ken Whisenhunt quarterback. The Titans head coach, though, said at the NFL's Annual Meeting that Mariota could very well be the pick.
"I'm not sure where that came from that I have a certain quarterback type," Whisenhunt said. "Marcus has the qualities I think are important to the position in the NFL. He's got good leadership. His team really gravitates to him. He doesn't turn the ball over … He's accurate. He can extend the play. He processes things well. That's really what you're looking for."
On the other hand, there's a school of thought that Whisenhunt and the Titans are praising Mariota simply to drive up the price of a potential trade in the event another teams wants to move to second overall for Mariota.
"If we pick him at No. 2, you definitely think he can be the Day 1 starter," Whisenhunt said.
So if Tennessee prefers to move forward with Zach Mettenberger, last year's sixth-round pick, who would be their pick? On offense, both Alabama's Amari Cooper and West Virginia's Kevin White could immediately become the top option in the Titans passing game while Iowa's Brandon Scherff is the top offensive lineman in the draft, though this may be considered too early for his selection.
On defense, Southern Cal defensive lineman Leonard Williams would pair well with Jurrell Casey up front in the Titans' 3-4 defense. But the question again is whether a 3-4 defensive lineman is worth the second overall pick (adding fuel to the trade-down fire). Then there's the possibility of adding a dynamic pass rusher like Florida's Dante Fowler, Jr., or Clemson's Vic Beasley. The Titans finished tied for 16th in the league with 39 sacks last season.
So who will it be? Mariota, whether by the Titans or someone else, or one of the non-quarterback options? You make the call. !