When the Eagles take the field on Monday night, it will be 10 days since their last game – a win on the road against Houston. As they prepare for their third divisional game this season, second against the Washington Commanders, I'll take you inside the locker room at the NovaCare Complex and beyond.
THE KEY TO THE HURTS-BROWN CONNECTION?
There's no doubt the offseason addition of wide receiver A.J. Brown has already paid dividends for the Eagles. He's the team's leading receiver with 718 yards and six touchdowns. He's scored five receiving touchdowns since Week 6, which is the most in the NFL.
When Jalen Hurts has targeted Brown this season, the stats are outstanding: 62.3 completion percentage, 10.4 yards per attempt, six touchdowns, zero interceptions.
I asked Brown at his locker this week if there's something about both of their games that has fueled their successful connection. He said it's their mindset.
"We both know what we want to accomplish – just trying so hard to be great," Brown said. "We lead by example. We hold each other accountable. We try to play at a high level for each other."
From Hurts' perspective, he believes their mindsets – paired with their approach, will to win, and desire to be great – are qualities that originally connected them as high school recruits.
"I think it's just kind of carried on to have the opportunity to play with him now, to be building something with him now. Just grow with him. It's special," Hurts said.
"So many young players on this team going through so many things together, going through different types of emotions and feelings together. It's all fun."
It's these relationships, mutual understandings, and investments in one another that translate onto the field each and every week.
It's two straight weeks the Eagles are without Sunday football. The extra time between games has certainly been beneficial in terms of the health of the team and as a self-scouting opportunity. But is there some rust? Or does it seem like just another storyline? Well, let's dive into it.
The players know their record. They know there's outside noise. They're choosing to live in the present moment.
Defensive end Brandon Graham said it's about knowing that nothing is going to fall in their lap.
"We've been working hard to get to this point," Graham said. "We gotta stay committed to it."
For wide receiver A.J. Brown, he said there's no "mojo" – it's just a matter of coming to work. "I don't take these games for granted. I don't take the process for granted. It's a fun game and we're just trying to go 1-0 every week."
Brown continued, "Either we humble ourselves, or somebody else is gonna humble us." His attitude is that everyone in the locker room is a professional. Whatever hype is being created outside the NovaCare Complex is exactly that ... hype. He knows as long as the team remains professional, nothing can penetrate the locker room.
Left tackle Jordan Mailata was asked how he stays mentally sharp with the extra downtime. "Coach Stout. Ever met him?" Mailata jokes, referring to Run Game Coordinator/Offensive Line Coach Jeff Stoutland. "He doesn't let me slack off one bit. I could be in the Bahamas chillin' and I'll get five videos from him just coaching me."
Through eight games, we've seen the creativity of this offense. The playcalling involves multiple pass catchers and running backs. If A.J. Brown isn't scoring three touchdowns in one game, then Dallas Goedert gets 100 yards, and if he doesn't have 100 yards, then Miles Sanders rushes for 134 and two touchdowns. Whoever's number is called, this selfless offense delivers.
"It doesn't matter if A.J.'s having 20 catches, Smitty having 20 catches, or I have a good game – you see the people out there excited, down the field blocking. We just got a selfless team that loves to play for each other," Goedert said.
Sanders says it's the talent of the players mixed with the coaches' ability to best unlock their skill sets. "We got a lot of talent on this team. It gives the coaches a lot of leeway to do whatever," Sanders said.
I followed up with Sanders and asked if it's a little more fun this way. "Yeah yeah yeah!" He responded with a big smile.
"The more points we can put up, the more drives we can have, the more third downs we can convert, the more plays we have for everybody to have their opportunities," Goedert said.
He then went on to echo Sanders' sentiments about the talent on this team. "It helps having great players – being able to establish the run game and then when we pass the ball we have players that can make plays."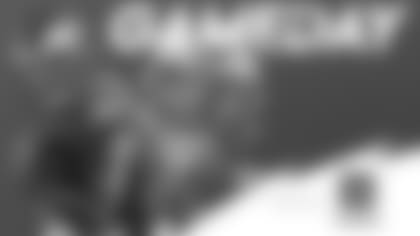 Dominant Dallas
He patiently bided his time, waiting for his opportunity, and now Dallas Goedert is one of the best tight ends in the NFL. Learn about Goedert's rise to prominence in our Gameday Magazine.
Week 10 was the Eagles' annual Salute to Service Week. Salute to Service is a league-wide initiative as part of the NFL's commitment to the active duty military, veterans, and their families.
The Eagles assembled a variety of events throughout the week to express appreciation for our nation's heroes.
Events included a visit to the VA Medical Center, a flag football game, an evening of playing video games with servicemen and women overseas, and a movie night. Eagles players, past and present, participated in these events as a way to support those who sacrifice so much for the rest of us.
Assistant Head Coach and Running Backs Coach Jemal Singleton is an Air Force vet. He also grew up in a military family as his father, Gary, is a retired Air Force Sergeant. He attended the flag football game this week and watched on with pride as his two worlds – military and the NFL – collided.
"They put a lot on the line for us daily," Singleton said of servicemen and women. "And their families do just the same. So it's great to see some give back from an organization that I'm a part of."
The VA Medical Center visit was special. The patients in the nursing home haven't left the building in over two years due to COVID.
Chief of Staff at the Medical Center Dr. John Kelly said, "Their faces lit up. The gratitude was so obvious that they were being treated with a great deal of respect. It was a very, very moving scene for me."