It's wheels up from Philly as the Birds fly west. After a hard-fought victory on a wet and windy afternoon at Lincoln Financial Field, another opponent awaits in the desert for the Eagles to bring their best.
T.J. EDWARDS: THE MAN IN THE MIDDLE
Linebacker T.J. Edwards has recorded sacks in back-to-back games for the first time in his career. Also, for the third week in a row, he was the Eagles' leading tackler.
Edwards says there's more confidence in Year 2 of Jonathan Gannon's scheme, and he has a clear understanding of his role.
The linebacker position has seen a massive upgrade this season – from Edwards' impressive play through four weeks, the addition of Kyzir White, and Haason Reddick's destruction as a pass rusher.
"From a communication aspect, they always know what they're supposed to be doing," Edwards said of White and Reddick. "They're hungry to make plays and that motivates everybody to do the same."
FREE AGENT INVESTMENTS PRODUCING EARLY RETURNS
Through four weeks, the Eagles' 2022 free agency signings have proven to be well worth it.
In particular, cornerback James Bradberry, who notched his second interception of the season on Sunday to put an exclamation point on what has been a dominant four games for Bradberry and the secondary. He hasn't allowed a single touchdown so far in 2022.
On the defensive side of the ball, the combination of free agent signings Bradberry, Reddick, and White has shined.
"Howie did a great job bringing in the right type of guys. They're all ultra-competitive. They're all high football IQ. They're all physical, physical football players. They all know how to make plays in big moments," Head Coach Nick Sirianni commented. "I think at the end of the day, that's why we brought them here, because we had a high value in what they were as a player and what these guys were as people and competitors."
Reddick won NFC Defensive Player of the Week for Week 4, White is the team's second-leading tackler, and Bradberry has the second-lowest passer rating allowed.
HEARTS GO OUT TO ROXBOROUGH + BEYOND
Last Tuesday, was another tragic and gruesome day in Philadelphia as a high school football player lost his life after shots were fired following a football scrimmage at Roxborough High School. Several other players were injured. Countless families left to pick up the pieces.
As gun violence continues to be an epidemic in our city, Eagles players shared how shattered they felt that young men are no longer even safe at football practice.
To show support for the players at Roxborough High, linebacker T.J. Edwards wore a Roxborough football jersey to Sunday's game and Head Coach Nick Sirianni took the podium for his postgame press conference in a Roxborough T-shirt.
"One of my best memories growing up is being able to do the things I was able to do on the football field as a little kid," Sirianni reflected postgame. "I just feel bad for the kids that they didn't feel safe, maybe don't feel safe going there. My heart goes out to them, and my thoughts and prayers go out to them, and hopefully they feel safe going back and playing a game that can help take us out of bad situations, not put us in bad situations."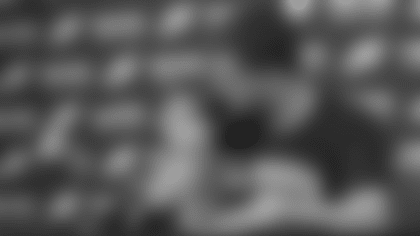 Edwards said the team talked about the tragic events last week and everyone was hit emotionally.
"Playing football is a safe haven for everybody, so the fact that those kids can't do that is horrible. It's definitely something we want to do whatever we can to help," Edwards said.
Wide receiver A.J. Brown and running back Miles Sanders visited Shepard Rec Center this week, another location that has been affected by gun violence. In August, 100 shots were fired at the center – a place that welcomes over 200 kids every day to participate in youth football and cheerleading.
The Rec Center is now representative of trauma for the kids in this community, and the Eagles wanted to re-establish the space as a safe haven for them.
"Just hearing the news over and over again, week after week, I'm pretty sure they're numb to it," Brown commented. "They kind of just brush it off. And that was my whole point in going. I wanted them to learn how to express their feelings, talk to someone. You shouldn't be numb to gun violence. That's not normal."
You'll see more than 200 players, coaches, and staff proudly wearing their country or territory's flag as part of the International Helmet Decal Initiative. More than 50 nations will be represented across the NFL.
NFL fans are worldwide, and this is a great opportunity to represent countries that are special to players and coaches alike. Six Eagles players will be participating in the initiative: Arryn Siposs, Jordan Mailata, and Matt Leo (Australia); Britain Covey (Chile); Zach Pascal (Grenada); and Marlon Tuipulotu (Tonga).
Siposs said, "I'm super proud to come over here and do what I do and do it for all my family back home." He shared that his family tunes into the NFL very early in the morning from Australia to support him.
For Leo, it represents the diversity of the NFL: "Seeing the world flags across all the players representing where they're from and born and raised is just a big opportunity for us and the league."
On Sunday, the reunion tour continues for the Eagles as they will face another member of the 2017 Super Bowl Champion team in tight end Zach Ertz.
Ertz spent nine seasons in Philadelphia until he was traded last October to Arizona. He and his wife Julie were known difference-makers in the City of Philadelphia where they launched The Ertz Family Foundation.
The foundation has only grown in the city since Ertz's departure and that is largely in part due to Zach and Julie's unwavering love for a place they once called home, and for people that will always be family.
As part of the foundation's efforts, they announced the opening of the House of Hope. They kickstarted a capital campaign to raise $900,000 to support the renovations, operating costs, and future expenses of the space. Ertz announced to Philly media on Monday that they've raised $1.2 million. The goal is for House of Hope to open at the beginning of 2023.
Ertz said it will be a place kids can go after school for tutoring. It will also house a community kitchen and there will be access to financial literacy courses, gaming, and so much more.
"We just wanted this to be a place where kids look forward to going each and every day," Ertz said. "Obviously, with everything going on in the city right now, with the gun violence going on, we feel like this is a very important project to us and we would love for people to continue to join in."