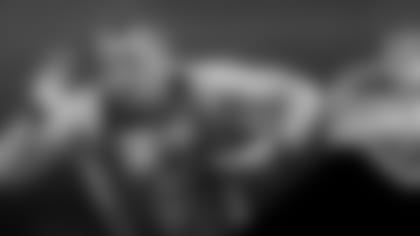 INDIANAPOLIS -- The 2016 NFL Scouting Combine kicked off on Wednesday. Head coach Doug Pederson and executive vice president of football operations Howie Roseman each met with the media to discuss the state of the team, offer a preview of free agency and the draft and much more. Here are eight things we learned.
1. QB Situation More Than Just Sam Bradford
Dave Spadaro took a deep dive into what Pederson and Roseman said about impending free agent quarterback Sam Bradford. The Eagles will meet with Bradford's representation this week and the franchise or transition tag is still a possibility. The team has until March 1 to decide whether or not it wants to use it.
"If Sam wants to be in Philadelphia, he'll be in Philadelphia," Pederson said.
Regardless of what happens with Bradford, Pederson said that the Eagles "have to look hard at drafting a quarterback."
"I think every team needs to draft a quarterback. I'm a believer that you have to keep the pipeline coming," Pederson said. "You need to consider drafting whether you need one in the first, second or third round. ... I still think you bring guys in to keep the pipeline of quarterbacks going."
Even in the height of the Eagles' success during the 2000s, the team still drafted quarterbacks. The Eagles were able to take some of those players - A.J. Feeley and Kevin Kolb, namely - and turn them into tradeable assets.
Pederson said that this year's crop of quarterbacks in the draft is a "talented group," but it does not affect the Bradford negotiations.
Roseman said that he will not be surprised to hear the Eagles connected to a lot of quarterbacks during the draft process.
"We're probably exploring everything we can. That's an important position and it's our obligation to make sure we're looking at every avenue to improve our team at that position at every spot on the depth chart," he said.
I asked Pederson what are the traits that he looks for in a quarterback and he listed the following stats/characteristics:
A. Win/loss record
B. Toughness, both physical and mental
C. Physical tools ("The physical (tools) shows up on tape," he said.)
D. Confidence ("I want to see if he exudes confidence and can get 10 other guys to believe in him," Pederson said.)
E. Football IQ (Pederson explained he wants to get the quarterbacks on the board and find out how much they know.)
2. Ryans Decision Tough, But Big Opportunity For Hicks
On Wednesday, the Eagles released linebacker DeMeco Ryans, who was a vital part of the defense for the past four years since he was acquired in a trade with Houston.
"What DeMeco Ryans has done for our football team and for our organization, the class he brought day in and day out, you just wish him the best as he goes forward with his career and really in life," Roseman said.
Both Pederson and Roseman said that the emergence of Jordan Hicks last season factored into the decision.
"It's a big part of it, no question," Roseman said. "If you're going to let guys go, you better have replacements in place. It's hard to find good players in this league and certainly DeMeco has been a good player for us."
Pederson added that, "I think Jordan will have a great opportunity to embrace the defense this spring."
3. The State Of The Offensive Line
Pederson gave left tackle Jason Peters a huge vote of confidence on Wednesday.
"I think he can (be an elite left tackle). I've got the utmost confidence in Jason Peters," said Pederson, who admitted that he will need to likely manage Peters different than other players during the season. "I think he's excited and ready to go come April 4 when we get started. I think there is several good years ahead for Jason Peters."
The Eagles have three key pieces along the line in Peters, center Jason Kelce and tackle Lane Johnson, but will need better play from the guard positions in order for the line to provide the offense its best chance for success in 2016.
"I think everybody in the National Football League has to shore up their offensive line. It goes without saying," Pederson said.
Pederson said that it is a "good offensive line draft," but that the team will explore free agent options who can come in and help right away.
4. Team Sending "Strong Message" With Long-Term Deals
The Eagles have reached new multi-year deals with five players this offseason, most recently safety Malcolm Jenkins on Monday.
"It's finding the right value for them and making them feel appreciated and respected. I think that's what gets these guys to sign contracts," Roseman said. "It was realizing we never wanted these guys to leave the building. For us, why not start as quickly as possible. Send a strong message to them, to our team about how we felt about them.
"It's a great testament to the players in terms of wanting to be in Philadelphia and really a great tribute to our owner for stepping up and giving us the resources to sign these guys."
It's a different approach than in previous years, one that helps Pederson connect with his new players.
"The message is we're committed to the players on the roster. That's important," Pederson said. "We want you in Philadelphia. Do you want to be in Philadelphia? I think that sends a message to the rest of the guys and it sends a message to the team that we're committed as a staff and a front office that we want you to stay in Philly."
5. Pederson Will Utilize Strengths Of Running Backs
As the offensive coordinator in Kansas City last year, Pederson was able to shape the offense around his three running backs - Knile Davis, Spencer Ware and Charcandrick West - after Jamaal Charles was sidelined with a knee injury. Pederson envisions the same approach with the Eagles' stable of backs this season with DeMarco Murray, Ryan Mathews and Darren Sproles.
"There's three different running backs on the roster. You can't take three different running backs and make them one running back," said Pederson explaining how the Eagles will run out of various formations in 2016. "The different style I'll bring utilizes all three."
6. Agholor Can Be Like Maclin
During the NFL Scouting Combine last year, NFL Network flashed graphics comparing the prospects to current NFL players. One of them placed Nelson Agholor side-by-side with Jeremy Maclin.
Maclin left the Eagles for Kansas City in free agency and the Eagles used their first-round pick on Agholor. Pederson was asked on Wednesday if Agholor can be utilized like Maclin.
"Certainly, certainly. Love everything about him," Pederson said of Agholor. "What he stands for, who he is as a person. Obviously, he's talented. He's young. I really look forward to working with him, but I think he can fit that type of role."
7. Eagles' Cap Space Is Tight, But There Is Money To Spend
According to OverTheCap.com, the Eagles are smack in the middle of the league when it comes to salary cap space with approximately $26 million based on a $155 million total cap (the final number is yet to be determined).
"It's tight this year. It's tighter next year. It's tighter than it's been," Roseman said.
That is one of the reasons why the Eagles have yet to make a determination of whether or not they will use either the franchise or transition tag.
"We've got to build a team. We've got to add players and we'd like to add more than one player this offseason," Roseman said.
8. Roseman Pleased With Draft Process To Date
With a new coaching staff, and a new defensive scheme in particular, the draft process is a little different than in past years. Roseman said that the personnel staff met with the coaches to go over the characteristics that they want at each position.
Fortunately, Roseman said, that some of the traits harken back to the Andy Reid/Jim Johnson days.
"A transition back to things we grew up on," per Roseman.
Roseman said that the team has 3,000 reports in the Eagles' draft database and at least four reports on each of the prospects who are projected to go in the first four rounds. The draft board was set in the pre-Combine meetings and extra time was spent on reviewing players who might not have previously been potential targets.
"We're trying to know a lot about a little instead of a little about a lot," Roseman said.