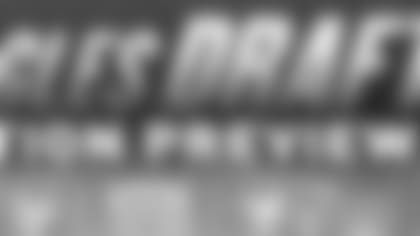 In the days leading up to the start of the 2015 NFL Draft, what are the biggest questions that need to be answered at each position? In our #EaglesDraft Position Preview series, we will explore how each position changed since the start of free agency and how the draft could impact the shape of the roster. Today, we continue with the wide receiver position ...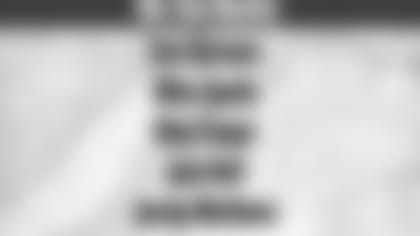 The Look Before Free Agency: The big question facing the Eagles at the wide receiver position before free agency began was whether or not the team would re-sign Jeremy Maclin. After missing all of 2013 with a knee injury, Maclin had the best season of his career with 85 catches for 1,318 yards and 10 touchdowns earning Pro Bowl honors in the process. Maclin was scheduled to become an unrestricted free agent.
The Eagles also had a promising first season out of second-round pick Jordan Matthews. The team's slot receiver caught 67 passes for 872 yards and scored eight touchdowns, ranking among the top rookies in each of those categories. He came on strong in the second half of the season with three 100-yard performances and five touchdowns in that span.
Riley Cooper had a career-high 55 receptions in his second year as a full-time starter. In fact, Cooper has increased his catch total in each of his five NFL seasons.
Josh Huff missed the first four games of the season with a shoulder injury, but showed plenty of promise. The Eagles' third-round pick had eight catches for 98 yards for the season, but made his biggest impact on special teams where he set a franchise record with a 107-yard kickoff return for a touchdown.
Jeff Maehl and Brad Smith chipped in on offense, but were mainstays on special teams.
After Free Agency: As one of the top wide receivers on the open market, Maclin signed a lucrative deal with the Kansas City Chiefs, a team in need of help at the receiver position after their wideouts accounted for zero touchdowns last season. The Chiefs also offered the chance for Maclin to reunite with Andy Reid, the head coach who drafted him, as well as return to his home state of Missouri.
That opens up the starting receiver spot opposite of Cooper. Could Matthews move to the outside? Head coach Chip Kelly said at the NFL Annual Meetings last month that the Eagles are open to virtually any possibility.
The Eagles did sign a free agent receiver in Miles Austin, a two-time Pro Bowl selection formerly of the Cowboys and the Browns. Austin has not played a full season due to injury since 2012, but was healthy until a freak lacerated kidney prematurely ended his 2014 campaign. He had 47 receptions for 568 yards and two touchdowns in 12 games. Can the 30-year-old Austin regain that Pro Bowl form? At the very least, can Austin add a veteran presence to a young position group?
Austin doesn't know Matthews well yet, but has already heard plenty about him. Last year in Browns camp, Jonathan Krause, a wide receiver at Vanderbilt with Matthews, talked up his former teammate.
"He spoke so highly of him. I think that speaks volumes when people think of you not in a local situation. We didn't even have to talk about him, but somehow he worked so hard through his years in college that it stuck out in this other guy's mind that I happened to meet somewhere else," Austin said. "To have quality guys like that on the team are what you need to put yourself in position to be a great team."
ESPN draft guru Mel Kiper is also a big fan of Matthews saying that the Eagles "hit the jackpot" with the wide receiver and that Matthews should have been a first-round pick.
"If Matthews continues to develop, he's an elite receiver, he's a number one," Kiper said.
Matthews isn't the only 2014 rookie who could flourish in 2015.
Huff showed impressive natural gifts. He's got a running back build and is dangerous after the catch. He finished his Oregon career tied for the most touchdown receptions with 24.
"He's an unbelievable teams player. We already know he's established there. Now it's just getting a little more consistent and he'll get an opportunity now with Mac gone, so I just think, like everybody, you hope for that Year 1 to Year 2 jump. We know he has the physical skills and the mindset to do it. It's just staying healthy and getting an opportunity to show us that," Kelly said.
Another unbelievable teams player is Seyi Ajirotutu, who was signed by the Eagles this week. He has 24 catches and three touchdowns on his résumé, but he's made his living on special teams where he led the Chargers in tackles in each of the past two seasons and was named the team's special teams MVP in 2014.
The Eagles will add to the wide receiver mix either in the draft or the post-draft signing period and also have other young players in the mix like Quron Pratt, a practice squad player last season, to compete. Kelly and his staff will have the spring and summer to let the competition play out for itself.
As we approach the NFL Draft, here's a look at the wide receivers on the Eagles' roster ...