The Eagles announced as the team was leaving for New York that running back Trey Sermon was added to the injury report with an illness. Sermon is now questionable for Sunday's game.
The Eagles have until 4 PM to activate or elevate any players to face the Giants.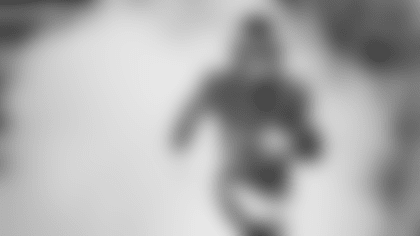 It was another day of practice at the NovaCare Complex as the Eagles await Sunday afternoon's game against the Giants. Friday's practice brought great news for the Eagles' secondary -- cornerback Avonte Maddox is trending upward, and he could make his return to the field on Sunday.
"It's been great to be out there all week and getting into the groove of football play and moving like I was before. I feel like I'm ready. I feel good," he said.
"I didn't feel the hamstring this week, so I'm confident about that. I never had a hamstring injury, so I don't know kind of what to expect. It doesn't hurt, and I feel like I've pushed it to make sure it's tested all the way."
Though the decision hasn't been made official, Maddox says he's excited to get back out there when the moment comes.
"It was tough to be out for four weeks, sitting at home watching away games. It was a little bit easier when we were at home, and I could be on the sidelines watching us play. That's what I missed – being out there with the guys, helping them, having fun out on the field," Maddox said.
"It will be exciting to play and I want to join in the fun. That's the thing – you see everybody having so much fun out there and that's what I miss. I want to contribute to what we're doing any way I can."
His teammates also shared that sentiment -- cornerback Darius Slay spoke about what Maddox's return could add to the secondary.
"I need a crazy guy like that on the field," said Slay.
"With [Avonte] being out, I had to lowkey be the cuckoo one a little bit!"
As of Friday, only one player has been designated as out against the Giants -- Shaun Bradley won't play due to a hamstring injury. Here's the official injury report:
Shaun Bradley (hamstring, out)
The Giants' injury report revealed that four players will be out for Sunday's game, plus one designated doubtful, and one questionable. It is unknown whether or not running back Saquon Barkley will play on Sunday due to a neck injury.
"Week 14, his neck's a little sore, so we put him on the injury report," Head Coach Brian Daboll said.
"It's a long season, so we'll see where he is,"
The Eagles were back on the field for practice on Thursday and only one player did not participate. Linebacker Shaun Bradley was listed with a hamstring injury for the second consecutive day. As for the rest of the players, they turned on their focus as coaches prepared them for the possibility of wet conditions at MetLife by dousing footballs and spraying water during ball security drills. The forecast currently projects a high chance of rain in East Rutherford on Sunday. Here's the Thursday injury report:
Shaun Bradley (hamstring)
As for the Giants, four players did not practice due to injury, and an additional five were limited.
The Eagles held a walkthrough on Wednesday in preparation for their game against the New York Giants on Sunday. In the morning, the team announced that cornerback Avonte Maddox's 21-day practice window was opened, meaning he could be lifted from injured reserve to the active roster at any time. Maddox spoke about the possibility of his return against the Giants -- he said it was his first time experiencing a hamstring injury, and he aimed to be diligent in his recovery to prevent any lingering issues.
"I'm just doing little things each and every day. That goes for any injury, you have to treat it, strengthen it, and make sure it's balanced on both sides," Maddox said.
"That's the main goal for me, as the season continues, making sure I treat it, keep it fresh, and continue to make sure it's good before I go out there."
Thursday's practice will be his first since the injury, and he can't wait to get back on the field. Both Head Coach Nick Sirianni and Maddox mentioned that his status for Sunday could be determined by his ability to practice this week.
"I'm excited. It's a really great feeling when you are able to get back out there and shake off the rust, get back out there with the team," he said.
"I haven't practiced yet. I don't know how I feel from the standpoint of reacting, it's totally different from going out there running to having to break when you want to break. So, I will see how I feel when we're practicing."
On Wednesday's estimated report, only one player would not have practiced -- linebacker Shaun Bradley is also dealing with hamstring issues.
Here's the official injury report:
Shaun Bradley (hamstring)
Quez Watkins (shoulder)
Kyzir White (ankle)