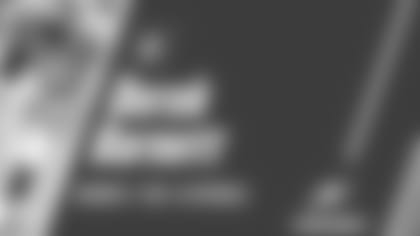 With the No. 14 pick in the 2017 NFL Draft, the Eagles selected former Tennessee defensive end Derek Barnett on Thursday night.
The 6-3, 259-pound Barnett was a three-year starter at right defensive end. In fact, Barnett was the first true freshman in Volunteers history to start along the defensive line.
The player with the most productive college career among the edge rushers, Barnett registered 33 sacks to break the school record previously held by former Eagle and Pro Football Hall of Fame defensive end Reggie White. Barnett also accounted for 197 tackles, 52 tackles for loss, and three forced fumbles.
Barnett was named to numerous all-star teams in 2016 including first-team All-America as well as a finalist for the Ted Hendricks Award, which is given to the top defensive end in the nation.
The Eagles have three experienced defensive ends on the roster in Brandon Graham, Vinny Curry, and Chris Long, who was added in free agency. Graham and Long have a combined 141 regular season starts. Curry has played in 68 career regular season games. Barnett will have those three veterans to lean on. Graham has already said that he's a fan of Barnett. The Eagles also have former first-round pick Marcus Smith and Steven Means, who both contributed on defense and special teams last season. Alex McCalister enters his second season after spending all of his first year on Injured Reserve.
Barnett is the first defensive end selected by the Eagles in the opening round since Graham was chosen No. 13 overall in 2010 (Smith was drafted as a 3-4 outside linebacker in 2014). Barnett is the first Tennessee player to be drafted by the Eagles since linebacker Omar Gaither in 2006. The last defensive player to be chosen from Tennessee in the first round by the Eagles was White, albeit it was a Supplemental Draft selection in 1984.
Barnett is from Nashville, Tennessee and played his high school football at Brentwood Academy where he was a two-time Division 2, Class AA Tennessee Mr. Football. He will not turn 21 until June.