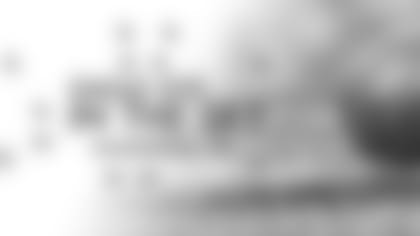 The 2016 NFL Draft has come and gone, and now it's time to sit back and figure out how all of the new Eagles will fit on this roster in Doug Pederson's first season as the head coach. Throughout draft weekend, NFL Films senior producer Greg Cosell and I went to the tape to analyze how the coaches will work the new players into the schemes that will be deployed on both sides of the ball this fall. Let's start at the top with the No. 2 overall selection, quarterback Carson Wentz.
The reason why I, personally, preferred Wentz to Cal's Jared Goff was the fact that I ultimately believe his skill set translates better to the NFL. Goff is obviously a good prospect in his own right. There's no denying that. He would have developed here with the Eagles' coaching staff, but I'm really excited to see what Wentz can do in the same situation because of the scheme he came out of at North Dakota State, a pro-style offense where they ran route concepts that are seen throughout the NFL. One example of that? The Post-Wheel concept.
The Post-Wheel is just one example, but that wasn't the only concept he thrived in. He made a ton of plays in their shot plays such as Four Verticals concept (which he broke down in this exceptional, must-read piece by Andy Benoit of The MMQB), Double Post and Post-Cross. He thrived in the quick game as well, making a number of big throws in Double Slant, Slant-Flat, Stick and other notable West Coast-style concepts.
You may read this and think, 'Okay, great, he ran a pro-style offense, so what?' I warn you, however, to not take that for granted. It's rare these days to get quarterbacks who are used to working under center and running pass concepts that translate well to the NFL game. Think of the quarterbacks who have come out in recent years that have struggled out of the gate on the field. Players like Geno Smith, Johnny Manziel, Robert Griffin III, Brandon Weeden and Blaine Gabbert all struggled to process things quickly at the NFL level, and part of that may be due to the systems that they played in school where they lined up in the shotgun. The importance of lining up under center isn't just the literal act of the "center-quarterback exchange," but also how hard it is for a passer who is not used to turning his back to the defense on a play-action pass to get accustomed to that in the NFL. This is a point Greg and I touched on in this piece highlighting Wentz's pocket poise.
In that segment you saw Wentz's ability to handle pressure. You saw that "gun-barrel" throw where he had a blitzer flying free right into his lap, but he stood tall and delivered a throw right on the money in the red zone. I love to see that kind of poise from a college quarterback because in the NFL it's pretty much a certainty that, at least a few times a game, the defensive pressure scheme is going to get home. You, as a quarterback, have to be able to operate when the heat gets turned up on you in the pocket, and dropping your eyes and panicking at the first sign of pressure is the way to (a) get your head taken off and (b) find your way to the bench. Wentz showed the exact opposite, as he consistently executed even when rushers got home at the college level.
One of the best parts of Carson Wentz's game, though, is his decision-making skills. He took very good care of the football during his time with the Bison (his 3.21 TD:INT ratio is roughly in the 85th percentile of quarterbacks drafted in the last five years), and the coaches relied on him greatly as the commander of that offense. But good decision-making isn't just about not taking chances and always checking down. It's more an aspect of risk management; knowing when to pull the trigger and take a risk downfield or fit in a tight-window throw, and this is something that I saw a lot of during Wentz's senior season.
I love all of those plays that we covered in that segment, but one of my favorite moments was when Greg described Wentz as a "multi-progression reader." What does that mean? Long story short (because this would be an entire article in itself), Wentz was asked to do more than your typical college quarterback when he dropped back to pass in terms of reading and deciphering coverage after the snap of the ball. As Cosell likes to say, he "eliminated quickly" - diagnosing what the defense was taking away so he could then check to the next option in his progression. You could see that on that final throw in that piece.
It's not common that you see quarterbacks with his physical skill set enter the league with that kind of responsibility after the snap - but Wentz's ability to read defenses before the snap are equally as impressive. As Cosell notes in the piece below, Wentz was given everything in the play call except the protection. What's that mean? When his coach would call a play, Wentz would be given the personnel grouping, the formation and the play call, but the coaches would leave the protection call up to him. That meant every week, Wentz had to put together his own planning of opposing defensive schemes and personnel. What were their favorite pressure concepts? What fronts did they like to run stunts and blitzes out of? What were their tendencies in different down and distance situations? He did all of that so on every single pass play in a game, he could come up to the line, survey the situation and set the protection to what he needed.
Wentz's ability to change the play before the snap helped get him out of situations and take advantage of defenses when they did send pressure. I mentioned in the piece above that it's rare for me to say my favorite play of a quarterback prospect is one in which he runs, but that touchdown run against Weber State may have been my, "I really want this guy" moment with Wentz. The other "I want this guy" moment for me? Probably that two-minute drill against Northern Iowa.
So many of the traits Greg and I talked about aren't even what you'd call "physical" traits with quarterbacking. The competitive toughness, pocket poise, pre-snap authority and decision-making skills are all what I'd say are mental traits for the quarterback position. However, as Cosell likes to say, his physical traits are very "high level" as well.
The Doug Pederson offense in Kansas City featured a lot of zone read or read-option elements throughout the last few years with him as the offensive coordinator, so the ability for a quarterback to use his feet to pick up extra yardage is certainly something that can be used in this scheme. We touched on that phase of Wentz's game here.
Seeing all of these things, it's easy to see why the coaches are so excited to add a player like Wentz to this roster, and why he was clearly worth the move to come up and get with the second overall pick. We gave you a peek inside the draft room when the team made it official, and to top it all off, I welcomed in quarterback coach John DeFilippo to the studio to break down some plays of Wentz on tape. You can see and hear the excitement in his voice as he talks about Wentz.
In the third round, the Eagles selected offensive lineman Isaac Seumalo out of Oregon State. Watching him with the Beavers, three things always stood out to me about his game. First, his athletic ability. Seumalo finished in the middle of the road in terms of his overall SPARQ score, but his shuttle times (7.40 in the 3-cone and 4.52 in the short shuttle) both finished in at least the 80th percentile among all interior linemen drafted in the last five years. That athleticism allowed him to be a factor out in space in the screen game, something that will definitely be put to good use here in Philadelphia.
I mentioned that three things stood out to me with Seumalo on tape, and I touched on those three things with Greg in this video where we dive deeper into how he will fit in the Eagles' offense this fall.
With the 14th pick in the fifth round, the Eagles selected running back Wendell Smallwood out of West Virginia. A local kid out of Wilmington, Delaware, Smallwood's positional versatility and athleticism in space help him stand out. One of the top big-play threats in the Big 12 a year ago, Smallwood lined up all over the formation as a junior and consistently picked up what was blocked for him in their spread rushing attack. As soon as the selection was made, Greg made an interesting comment about how he may be used within the structure of the Eagles' offense, which lead to this piece ...
Thirteen picks after Smallwood, the Eagles went back to the offensive line well, drafting Halapoulivaati Vaitai, or simply "Big V." Vaitai is a favorite of both Cosell and NFL Network analyst Mike Mayock, and is known both for his versatility, ability to win in the zone run game and his competitive style of play. We covered how he could fit in the Eagles' zone rushing attack.
Later, the Eagles made one of my favorite picks in the entire sixth round of the draft by any team with the selection of Auburn's Blake Countess. A Michigan transfer, Countess displayed great versatility as a member of the Auburn secondary this past fall. He lined up at several positions, but saw a ton of time in the slot. He's relentless as well as athletic, and his skill set translates well to Jim Schwartz's scheme, something Greg and I touched on here.
With the 12th pick in the seventh round, the Eagles got perhaps one of the steals in the draft with LSU defensive back Jalen Mills. A standout at the Senior Bowl in January, Mills started all 39 games leading into his senior season before breaking his leg in August during Training Camp. The injury limited Mills to just six games, but the addition of another player with size, versatility and athletic ability to this secondary will make for a really fun competition this summer. Mills' ball skills consistently stood out on tape as well (he racked up 17 ball disruptions during his career in Baton Rouge), a trait that I broke down with Greg in our All-22 video reaction.
Seven picks after selecting Mills, the Eagles went back to the SEC for the third straight selection with defensive end Alex McCalister. He's not the perfect prospect on the field, but he has a trait that you can't teach - that's his ability to bend the edge and accelerate while turning the corner as a pass rusher. Having this trick up your sleeve is a good one to have when getting after quarterbacks in the NFL. Greg and I explain why that could make him an outstanding fit in Jim Schwartz's defense.
The Eagles wrapped up their draft with the selection of Oregon linebacker Joe Walker. What do you need to know about the former Duck? Well, his SPARQ score (measuring overall athleticism) ranked third overall in the draft class among off-the-ball linebackers. The only two players ahead of him, Darron Lee and Leonard Floyd, went in the top 20 selections in the draft. Walker was one of the top junior college players in the country when he arrived in Eugene, and he was a steady contributor on both defense and special teams with Oregon. If he can reach his full potential, you may see how well he fits inside Jim Schwartz's attack defense.
Fran Duffy is the producer of "Eagles Game Plan" which can be seen on Saturdays during the season. Be sure to also check out the "Eagle Eye In The Sky" podcast on the Philadelphia Eagles podcast channel on iTunes. Prior to joining the Eagles in 2011, Duffy was the head video coordinator for the Temple University Football team under former head coach Al Golden. In that role, he spent thousands of hours shooting, logging and assisting with the breakdown of the All-22 film from the team's games, practices and opponents.