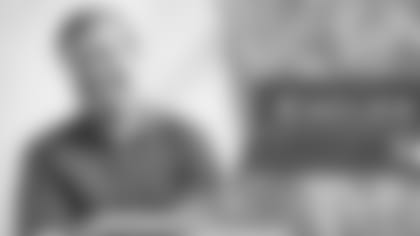 The year was 1995, 50 years after the color barrier came down in professional football. I was in Canton, Ohio, for the dedication of the expanded Pro Football Hall of Fame and found myself seated next to Marion Motley, the great fullback who was part of the game's integration following World War II.
We began talking and Motley, who admitted he didn't follow the NFL that closely, was surprised to learn the Eagles had a black head coach (Ray Rhodes) and not one but two black quarterbacks (Randall Cunningham and Rodney Peete).
"Is that right?" Motley said. "What's the coach's name? Ray Rhodes? How's he doing?"
Told Rhodes was doing well in his first season, Motley nodded and smiled.
"That's good," he said. "I wish him well. I know it wasn't easy for him getting there."
Motley knew from experience. He helped pave the way for Rhodes, Cunningham and Peete, for all the black players and coaches who now work in the NFL. He was one of four players who, in 1946, broke the color line in modern professional sports. They were playing pro football a year before Jackie Robinson integrated baseball by joining the Brooklyn Dodgers. If you asked most people, they'd swear it was the other way around.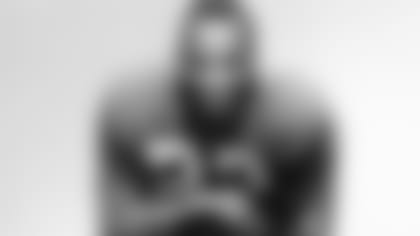 "Jackie's signing got a lot more publicity because baseball was much bigger than pro football in the '40s," Motley said. "What we did (in football) helped get Jackie into the major leagues. There was a quote from (Dodgers general manager) Branch Rickey who said, 'If these men can play a contact sport like football then Jackie Robinson can play baseball.' So we really opened the door in two sports."
The men who led the way were Motley and Bill Willis of the Cleveland Browns in the All-America Football Conference and Kenny Washington and Woody Strode who signed with the Los Angeles Rams in the NFL. Washington - who played in the same UCLA backfield with Jackie Robinson - lasted only two seasons in the NFL before a knee injury ended his career. Strode was 31 when he signed and he played only one season before quitting to become an actor.
But Motley and Willis had great careers playing eight seasons for the Browns. Motley, a fullback and linebacker, was inducted into the Pro Football Hall of Fame in 1968. Willis, a two-way guard, was inducted nine years later. They are revered by those who know their story. That night Steelers great Franco Harris walked over to Motley and said, "It's always an honor to speak with you."
All the hate that Jackie Robinson faced in baseball, Motley and Willis faced first in football. Like Robinson, they knew if they failed to produce or if they fought back at those who cursed and spat at them, they would set back the cause of all black players. The burden was tremendous, but Motley and Willis shouldered it with remarkable strength. Whenever they were angered by something that was said or done on the field, they channeled that emotion into the next play.
"We'd knock the hell out of the guy," Motley said. "We hit him hard enough that we didn't have to say anything."
At 6-1 and 240 pounds, Motley was a frightening runner in an era when linemen averaged 220 pounds. In 1950, Motley led the NFL with 810 yards rushing and a 5.8 yard per carry average. He ended a streak of three consecutive rushing titles by the Eagles' Steve Van Buren.
The draw play, now part of every team's offense, began with Motley. It happened by accident as Browns quarterback Otto Graham faded to pass, stumbled and as he was going down handed the ball to Motley who was setting up to block. Motley ran right past the defensive linemen rushing upfield for big yardage. Coach Paul Brown had the play in his game plan the following week.
Willis was a 6-2, 215-pound lineman who dominated blockers with his quickness. No one could figure out how Willis got such a great jump. His secret: He watched the center's fingers and the instant he saw them tighten on the football, he took off.
"When Paul signed us, there were a few (Browns) who weren't too happy," Motley said. "Paul addressed that at the first meeting. He said, 'If you can't get along with your teammates, you won't be here.' He didn't have to spell it out, everyone knew what he meant.
"Once we began practice, the matter was settled. The other players saw that Bill and I could help the team so they shut their mouths. As time passed, we got to be real close (as a team). The guys would stick up for us if they saw (opponents) pulling anything dirty.
"Other teams did things to provoke us. They wanted us to get mad and start a fight. Then they could say, 'See what they're like? They shouldn't be in the league.' If Bill and I got into a brawl, it might have been 20 years before another black player was signed."
In their first few seasons, Motley said, even the officials looked the other way when opponents roughed them up. It wasn't until they had proved themselves as great players that they got the benefit of some calls.
"Guys were always sticking their fingers in my eyes and punching me when I was on the ground," said Motley, who played alongside Willis at Ohio State before signing with the Browns. "My hands were all scraped and bloody from guys stepping on them with their cleats. I never said anything. I'd look at the ref and he'd look away.
"Then one day a guy stepped on my hand and the ref picked the ball up and walked off 15 yards. The (player) said, 'What the hell is that for?' The ref said, 'Personal foul. And if you do it again, you're out of the game.' I knew then I had respect."
There were only 13 African-Americans known to have played pro football through the 1920s, including Fritz Pollard, a player-coach with Akron in 1925 and '26. In 1933, all black players disappeared from the pro ranks and the game was lily-white for 13 years until Motley, Willis, Washington and Strode were signed in 1946.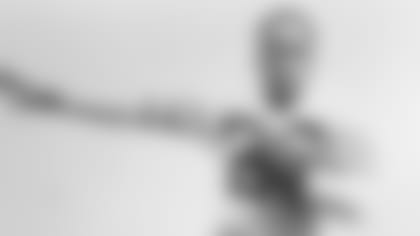 The Eagles integrated their roster in 1952 with the addition of halfbacks Ralph Goldston (above, left) and Don Stevens (right). Goldston was an 11th-round draft pick from Youngstown State and Stevens was a 30th-round pick from Illinois. The same year the Eagles used their first-round pick on Johnny Bright, a halfback from Drake, but he signed with the Canadian Football League. He said he did not want the pressure of being the first black player on the Eagles. Goldston and Stevens were unaware of the history.
"I didn't know about any color line," Goldston said in 2005 when I interviewed him for The Eagles Encyclopedia. "I didn't find out I was the first (African-American) until I was there awhile. It wasn't a big deal. Don and I were treated the same as the other rookies."
Jim Gallagher, an Eagles executive from 1949 until his retirement in 1995, agreed. "It wasn't an issue," he said. "The papers didn't make a point of it. None of us talked about it. We were just looking for good players."
In 1952, the Eagles were coming off two poor seasons and Van Buren was at the end of his brilliant career. The team needed to add speed to its backfield so it drafted Goldston and Stevens.
"I felt if the Eagles drafted me there wasn't a problem (with race)," Goldston said. "Other black players were doing well in pro football. I was just grateful for the opportunity. It worked out well for me."
The Eagles did have issues when they traveled. Goldston and Stevens were sometimes forced to stay in a different hotel. Said Goldston: "All it meant was Don and I didn't have a curfew. The other players had bed check, but we were on our own."
While Goldston was in Philadelphia, he lived with a minister and his wife at 24th and Montgomery. He walked to and from practice at Shibe Park on Lehigh Avenue. As a rookie, he cracked the starting lineup and led the Eagles in rushing touchdowns with three. He finished the year with 210 yards on 65 carries, a 3.2 yard average. Stevens was used mostly on kick returns.
Reporters made occasional references to race such as a Philadelphia Inquirer story on the 5-11, 195-pound Goldston that predicted, "a great year for the hard-hitting Negro," but the fact that he and Stevens were the first black players in the team's history was never addressed.
"The way we fit in, I guess no one thought twice about it," Goldston said.
Goldston played four seasons with the Eagles before finishing his career with Hamilton in the CFL. Stevens was with the Eagles in 1952 and again in '54.
An award-winning writer and producer, Ray Didinger was inducted into the Pro Football Hall of Fame in 1995. He has also won six Emmy Awards for his work as a writer and producer at NFL Films. The five-time Pennsylvania Sportswriter of the Year is a writer and analyst for Comcast SportsNet. Didinger will provide Eagles fans a unique historical perspective on the team throughout the year for PhiladelphiaEagles.com. You can read all of his Eagles History columns here. He is also the author of The New Eagles Encyclopedia.