Devour the Competition is an initiative created by the Flik Hospitality staff to help the players prepare for the game through delicious food. The chefs prepare a meal during the week of the game that is inspired by the Eagles' opponent.
To get ready for Sunday's game against the Seattle Seahawks, the chefs crafted Pike Place Fish Market Sandwiches. The Pike Place Fish Market was founded in 1930, but transformed when it nearly went bankrupt in 1986. Among the changes instituted to ignite the business was the now-famous tradition of tossing the fish that a customer orders across the market. Today, 10,000 people visit what is now one of the iconic tourist destinations in Seattle daily.
2 teaspoons finely chopped fresh rosemary leaves
4 skinned and cleaned halibut fillets, (5 ounces each)
3 tablespoons blackened redfish rub
2 large sweet onions, cut into thick rings
2 tablespoons extra-virgin olive oil
4 pieces soft baguette, each about 7 inches long, split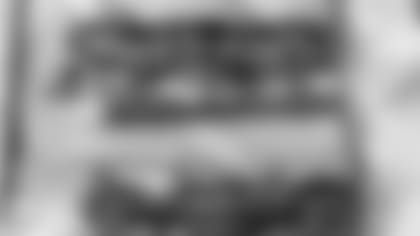 Heat a grill to high (450 F to 550 F). Combine mayonnaise, rosemary, and lemon juice. Refrigerate until using.
Season fish with salt and redfish rub.
Put onions and olive oil in a 10-inch cast-iron skillet over high heat. Grill, covered, stirring often, until onions are caramelized, about 20 minutes. Remove skillet from grill and set aside.
Grill bread cut side down until toasted, about 45 seconds. Transfer to a cutting board.
Set fish skinned side up on cooking grate and grill 3 minutes.
Using 2 wide spatulas, turn fish over and grill until cooked through (145 F), about 1 to 2 minutes more. Transfer fish to platter.
Spread cut sides of bread with seasoned mayo. Stack lettuce, then tomato slices, fish, and onions inside sandwiches. Use picks to hold each sandwich closed and cut them in half.