Welcome to our new feature, 5 Things To Know Today. We want you to start your day off the right way – by knowing what's happening with your Philadelphia Eagles. Check it out ...
1. It's Eagles-Giants Week on the road, and that means anything can happen at MetLife Stadium on Sunday. This season marks the 35th Anniversary of the Miracle of the Meadowlands, which we will feature throughout the week. Here is a look at the play once again (you've seen it before, right?) complete with Merrill Reese's legendary radio call ...
2. Eagles Live! comes your way at 10 a.m. from the NovaCare Complex and we have head coach Chip Kelly in an exclusive one-on-one interview, a Cover 2 feature discussing the ways the Eagles need to improve the season, and a visit from Merrill Reese prior to Kelly's press conference with reporters. Also, we take your phone calls and predictions for Eagles-Giants on Sunday.
3. Did You Know?: Running back LeSean McCoy is atop the NFL's leaderboard in both rushing (468) and scrimmage yards (608), while also ranking first in first-down rushes (23) and rushes of 10 yards (13). Hall of Fame running back Steve Van Buren was the last Eagle to lead the NFL in rushing yards in a season, when he gained 1,146 yards in 1949.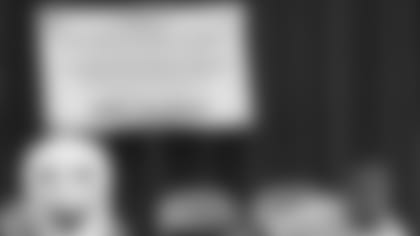 4. In celebration of Hispanic Heritage Month, the Eagles joined students at Cayuga Elementary School on Monday for a special family literacy day to celebrate the importance of reading and childhood literacy at home. Thanks to the NFL, every child received a $5 Reading Certificate to use at the Scholastic Read & Rise Book Fair to help them experience the joy of owning their own book to take home. Eagles defensive end Fletcher Cox read to students and was on hand to help the children pick out their books. Fletcher also spoke to them about the importance of getting 60 minutes of exercise a day as part of the NFL PLAY 60 campaign.
5. When it's Eagles-Giants, you know it's something special. And there is a lot about this series that is unique. Here are some notes about this great rivalry.
• The Eagles trail the Giants in the all-time series, 76-84-2
• In New York, the Giants lead the series, 47-34-1
• At MetLife Stadium, the Eagles are 2-1
• The series between these two teams began in 1933 as the Giants defeated the Eagles at the Polo Grounds in Manhattan
• Philadelphia has faced the Giants (162) more than any other team in the history of the franchise
• The Eagles have taken eight of the last 10 from the Giants