1. GET HYPED FOR SUNDAY'S BIG SHOWDOWN
Eagles-Cowboys: Those two words are enough for Eagles fans, but add in that this battle is for first place ... and it's at Lincoln Financial Field! Check out this hype video and be ready to make Dallas' day miserable on Sunday ...
2. WEAR YOUR JERSEY TO ACME ON SUNDAY AND GET A DISCOUNT!
Do you have everything you need for your Eagles tailgate this Sunday? Or maybe you just need to get your grocery shopping done? Head to ACME Markets on Sunday and wear your Eagles jersey and you'll receive 10% off your purchase! Start your tailgate off the right way, by shopping at your local ACME.
Click here for restrictions, details and exclusions.
3. TROY AIKMAN: CHIP KELLY IS A "FOOTBALL NERD"
FOX analyst Troy Aikman is impressed with head coach Chip Kelly. "I'm a big fan. You can tell he's a football nerd. He loves being in the film room studying it, coming up with different ways to attack defenses and get better. I like being around those types of guys. He brings a real energy to this program, something that was probably needed ... I like him a lot."
Aikman, who of course won three Super Bowls as the quarterback of the Cowboys, says the offensive scheme is "two or three offenses kind of rolled into one." The offense, says Aikman, stretches defenses out horizontally and vertically, and the running back is a powerful focal point with spread formations part of the equation.
"It's about creating space with your players, and it's also a numbers game as to what side is most advantageous, and that's what side they're going to attack."
Aikman insists the offensive structure is very "sound," and nothing close to a "gimmick offense" that some in the media thought prior to these six games.
4. GATE, PARKING INFO FOR SUNDAY
Are you attending Sunday's game? Here's all of the information regarding parking lot and gate-opening times.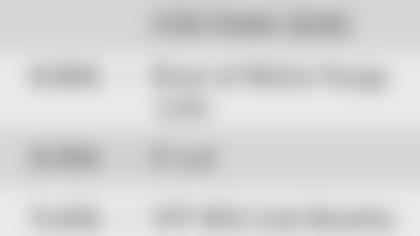 The 3-3 Cowboys come to town tied with the Eagles for first place in the division. The Eagles are looking to stay on top of the NFC East standings in this pivotal matchup. Michael Vick has announced that he will not play on Sunday, giving Nick Foles his second consecutive start.
The game will highlight the Eagles' and NFL's annual Tackling Breast Cancer effort. All fans in attendance will receive a Pink Rally towel courtesy of Snapple.
In addition, fans will have an opportunity to purchase exclusive pink Eagles' gear, with portions of the proceeds being donated to the Thomas Jefferson University Hospitals Breast Care Center.
5. EAGLES OFFENSE: BIG PLAYS, BIG POINTS
Here are a few more fun facts about the Eagles' offense, which is off to a dynamic start in 2013 …
• The Eagles lead the NFL with 42 plays of 20-plus yards, ahead of Seattle (prior to its game on Thursday) and Denver, by 12 plays.
• The Eagles have generated 38 points off of 10 takeaways, tied for fourth in the league.
• Wide receiver DeSean Jackson has 25 career touchdowns of 25-plus yards, one behind former All-Pro Mike Quick (26), who is in second place in that category in team history.