The day after the Eagles went on the road and defeated Tampa Bay 31-20 at Raymond James Stadium, we're into BEAT DALLAS week. It's going to be a fun few days ahead, starting with today. Head coach Chip Kelly meets the media today, one of the things to look forward to on this Monday …
1. HOW GOOD IS THIS OFFENSE?
Now we're starting to get historic with this Eagles offense. With their performance on Sunday, the Eagles became just the second team in NFL history to accumulate at least 1,500 passing and 1,050 rushing yards through the first six games of the season (1954 Rams – 1,612 passing, 1,136 rushing). Their 2,699 total net yards are the highest total in franchise history and the sixth-highest in NFL history through six games. They also became the third team in NFL history to pile up at least 400 yards of total offense in each of their first six games (the 2007 Patriots hold the league record, doing so in their first 8 contests and the 1983 Chargers did so in their first seven contests). This year marks the first time the Eagles have ever had six straight games with at least 400 yards.
Adding to the outstanding offense on Sunday in the 31-20 win over Tampa Bay was the performance in the red zone, a sore spot for much of the opening five games for the Eagles. Tampa Bay entered the game ranked second in the NFL in defensive red zone efficiency, allowing just 4 touchdowns in 14 defensive possessions inside the 20-yard line. The Eagles scored touchdowns on their first two trips inside the 20-yard line – a Nick Foles touchdown run and a scoring pass from Foles to DeSean Jackson – and then pulled back the reins late in the game to eat clock and set up for a field goal in the final minutes of the fourth quarter.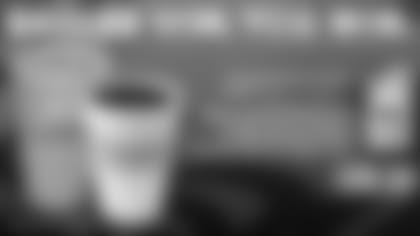 ](http://www.dunkindonuts.com/content/dunkindonuts/en/mlanding.html)
2. WHEN THE EAGLES WIN, YOU WIN
In case you haven't heard, we wanted to make you aware of a promotion we're doing with Dunkin' Donuts this season called Eagles Win You Win. The day after an Eagles win (home and away), head to your local Dunkin' Donuts for a FREE medium hot or iced coffee. All you have to do is download the free Dunkin' Donuts app on your mobile phone and the coupon will appear the day it's valid. So stop in this morning to start your Monday off right with a FREE coffee from Dunkin'.
3. TODAY'S BROADCAST SCHEDULE
Tune in as Eagles Live! comes your way at Noon on PhiladelphiaEagles.com and then listen in at 5 p.m. on Sportsradio 94 WIP for The Howie Roseman Show. LeSean McCoy is on the air on Sportsradio 94 WIP at 6 p.m. Then at 7:30 p.m. it's Eagles Prime Time Live on WXTU 92.5 FM featuring offensive linemen Jason Kelce and Todd Herremans.
Today's Broadcast Schedule
Time
Event
Noon
Eagles Live!
5 PM
The Howie Roseman Show (Sportsradio 94WIP)
6 PM
The Players' Lounge with LeSean McCoy (Sportsradio 94WIP)
7:30 PM
Eagles Prime Time Live with Todd Herremans and Jason Kelce (WXTU 92.5)
4. ROOKIE DRAFT PICK REPORT
The Eagles are getting a lot of mileage from their draft class, and six games into the season the rookies are playing very important roles in the team's season. We take a look at the 2013 draft class …
2013 Eagles Draft Class
Round
Player
Update
1
T Lane Johnson
Starting and making rapid strides
2
TE Zach Ertz
Emerging part of offense with 10 catches, 163 yards
3
DT Bennie Logan
Reserve with QB sack in each of last two games
4
QB Matt Barkley
Reserve QB
5
S Earl Wolff
Part of safety rotation
7
DE Joe Kruger
On Injured Reserve
7
CB Jordan Poyer
Has played in three games
5. THE BEST OF THE QUOTEBOOK
On if the Eagles opened up the offense after halftime: "I think we played our same offense we've run in the first six games of the year so far. We've been productive in our first six games. I think the difference in today's game – we did a really good game in a turnover battle. It was a tough one to start the game with. But again, we didn't throw any interceptions besides that one. I think our defense did a great job. They came on the field and help them to a field goal, which was huge for us. Then we converted in the red zone. We did a great job. We spent a lot of time this week in practice making sure we could execute down there and we did. So we're 2 for 2 in the red zone overall."
On running plays with six offensive linemen: "We've run it a lot since we started here. It creates some different matchup problems on how they're going to deploy themselves. You're using Jason Peters as a tight end. Are you going to put a defensive end on him? How are you going to time up all of your blitzes? I think it's really a credit to (Peters) when you've got someone that versatile. You don't miss anything from athleticism standpoint, but you get such a great push at the point of attack. I think it really helped."
On how different the offense is this season compared to last season: "It is different schematically, but I feel really comfortable here, I feel comfortable with our personnel, our plays, everything. It helps when you have a great relationship with the players, the coaches, and when you go into a game and you're all on the same page, you know you're going to fight for each other. I was really proud of the guys, Everybody stuck together and it was a great another team win. I was really proud of everyone."
On wanting to be the starter for the rest of the season: "I don't worry about it. I'm really proud of my team for winning right now. It was a hard fought game and I'm going to enjoy it with my teammates. No matter what happens, I'm going to be the same person. I know who I am and Mike (Vick) was tremendous tonight. Mike and Matt (Barkley) they were right there supporting me no matter what. It really helps when you have quarterbacks in the quarterback room with our coach Bill Lazor that will support you no matter what. I'm going to support Mike no matter what and I'm going to support Matt no matter what. It's pretty special."
On Tampa Bay cornerback Darrelle Revis: "Yeah pretty much throughout the whole game he was guarding me. Good matchup, good battle, and, like I said, I felt confident in myself to be able to go out t here and make some big plays which was able to happen."