Sunday's game is almost here. In 5 Things To Know Today, wide receiver Jason Avant talks about one of the most ridiculous catches you'll ever see in your life. Find out how you can cheer the Eagles this weekend and in the future on the road. Also, mark your calendars for a birthday party on Monday night ...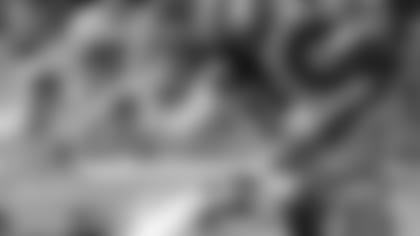 1. AVANT: A CATCH THAT REMAINS REMARKABLE
Wide receiver Jason Avant has made a lot of great catches in his eight Eagles seasons, but none of them were more spectacular than the one he made in Tampa last season in the Eagles' 23-21 victory. The situation: third-and-17 at the Tampa Bay 40-yard line in the second quarter of the game. Tampa Bay's defense blitzed quarterback Nick Foles and made him step up and move in the pocket. Foles flung a pass to the left sideline and Avant leaped and stuck out his right hand and came up with a diving, falling-back catch for a first down.
It was great then, and it remains a great, great, all-time catch.
"I recall it, of course, going after it and reaching up and the ball just kind of stuck to my hand," says Avant now. "It was just effort, playing to the whistle. I don't practice those kinds of catches. I know that Cris Carter did, and Larry Fitzgerald and Steve Smith say they do, and that's great for them, but I just work on the basics. I don't want to catch the ball that way unless I have to catch the ball that way.
"I've seen pictures of the catch and signed autographs on it, and it's nice that people think of the catch that way. For me, it was just a catch to keep a drive alive that helped us win a game.
"Someday, when this is all over, I will go back and get some tape and sit down and show my kids what their daddy did on the football field. Right now, I just keep working and improving. I'm still grinding. I still have more years left.
"I will say it was a good catch. The hardest part was probably getting to it. That was nowhere near the route I was supposed to run, but the play broke down a little bit and the ball was there and I went and got it."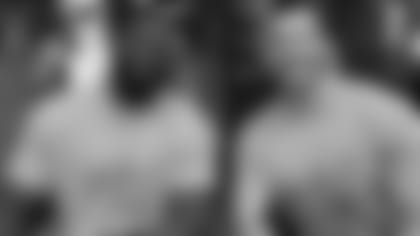 2. CONNOR BARWIN: PUBLIC TRANSPORTATION THE WAY TO GO!
Linebacker Connor Barwin lives in Center City and loves Philadelphia. He also loves the environment, which is why it was a natural fit to partner up with SEPTA and urge everyone to use public transportation as much as possible.
The fine folks at SEPTA – who have provided free transportation on Sundays for Eagles home games this season – sent Barwin a box of RIDE IT T-shirts and the shirts were a popular item in the Eagles locker room this week.
"I think SEPTA is the way to go," said Barwin. "It's affordable, it's clean and it's easy and on time. It's good for the air we breathe. I'm all for it and there are times when I use it to get to work here."
The other times Barwin travels is when he takes his electric-powered Tesla around the City. When he played in Houston, Barwin drove a Prius hybrid.
"It's something I believe in," he said. "Keep our air clean and do your part. It benefits everyone."
3. SUNDAY IN DELAWARE: MILLER AWAY GAME PARTY
The state of Delaware is the scene for this week's Miller Away Game Party at Grotto's on 1819 Penn Avenue in Wilmington. Former Eagles wide receiver Fred Barnett, along with cheerleaders Claudette and Danae and SWOOP will be on hand from 1-3 p.m. Fans on hand can also win some nifty autographed Eagles merchandise and join in the great environment for the road game in Tampa, Fla.
4. TODD HERREMANS IS HAVING A PARTY, AND YOU ARE INVITED!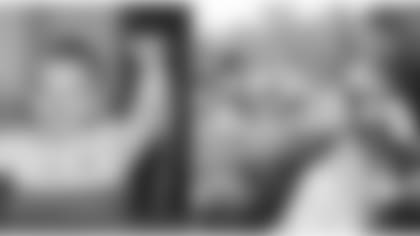 Todd Herremans turns 31 years old on Sunday and he's having a birthday party on Monday night to celebrate – and you are invited. The location is the Play2 Interactive room at Chickie's and Pete's in South Philadelphia. There will be games and gaming, and a great chance to hang out with Herremans and many of his teammates.
The event benefits the Herremans Foundation and costs just $40 for the night, a price that includes Chickie's and Pete's great food, drink and good times!
5. WHO'S GOING TO SUNDAY'S GAME?
A road trip to Florida means warm weather, of course, and thousands of Eagles fans in the stands at Raymond James Stadium. Eagles fans travel in large bunches for every road game, but there is something special about Tampa ... and Florida ... and weather in the 80's just as the temperatures are cooling in Philadelphia.
"This is definitely the most popular trip of the season," said Craig "Quimby" Chenosky, who estimates that as many as 550 fans bought packages from his company, Green Legion. "It's the largest travel group for us for a trip to Tampa that we've had and one of our most popular trips we've had."
Green Legion is still busy booking trips for the rest of the season, its 10th in business, and Chenosky cites Oakland as a popular destination.
"We've had a lot of interest in that and will bring quite a large number of fans there to stay in San Francisco for the game and take the bridge over to Oakland. Denver was a very popular trip, too," he said. "Eagles fans want to be part of it. They are great and they support the team at home and on the road."