On Sunday, the Eagles will clash with the Green Bay Packers at historic Lambeau Field. In this edition of 5 Things To Know Today, some of the Eagles players discuss playing on the Frozen Tundra. Also, find out how you can enjoy the game with fellow Eagles fans and check out a ridiculous stat regarding linebacker DeMeco Ryans ...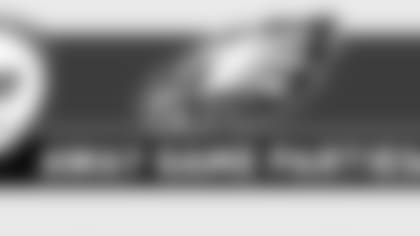 1. SUNDAY: MILLER AWAY GAME PARTY
Come watch the Eagles take on the Green Bay Packers at Barnaby's in Havertown, Pa. located at 1901 West Chester Pike. Raffle giveaways, cheerleaders, SWOOP and former Eagles Darwin Walker and Bill Bergey will be there to help cheer the Eagles onto victory. The game begins at 1 p.m., so get out to Barnaby's and enjoy the fun with a packed house of Eagles fans.
2. DeMECO RYANS: A TACKLING MACHINE AT LINEBACKER
It's fair to say that linebacker DeMeco Ryans is always around the football.
After amassing a team-high 148 tackles in 2012, Ryans already has 109 total tackles this season. Ryans has reached double digits in tackles in 13 of his 21 Eagles games since the team traded for him in the offseason leading into the 2012 campaign.
"He's playing outstanding football," said inside linebackers coach Rick Minter. "DeMeco is everything you want in a player – great leader, loves the game, and extremely productive when he's on the field. The rest of the team looks up to DeMeco. He is a natural leader who has really helped our defense improve every week."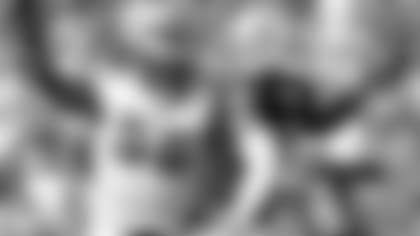 3. TRENT COLE GETTING BACK IN THE GROOVE
It was the third play of the Raiders game, and Trent Cole exploded off the snap, dipping around the tackle to bend the edge and crashing down on quarterback Terrelle Pryor. Pryor was able to escape Cole, who ended up grasping at air and eventually losing his balance, before completing a pass to wide receiver Denarius Moore for a long gain.
Undeterred, Cole would have his revenge on the very next snap. This time he batted the tackle's hands down as he looped around and took a bit of a wider path, as Pryor stepped up in the pocket and surveyed the field. Cole pursued him from the back and Pryor, sensing the pressure, tried to escape again. Not this time. Cole was able to get just enough of the elusive quarterback to trip him up and force him to fall to the ground. A force early on in the game, Cole was rewarded with his first official sack of the season.
"It was more just trying to go out there and do my job, that's how I feel," Cole said. "I'm at a different position now, it's a position I'm trying to get used to and improve week by week. It's good to have a sack, now I just want more of them."
If Cole continues to play the way he did against the Raiders, more sacks will surely follow. It could also be argued that this should be Cole's second sack of the season, as he appeared to trip up Chiefs quarterback Alex Smith in the third game of the season, though the sack ended up going to fellow outside linebacker Connor Barwin.
"That's the way it goes," Cole said. "I finally got one to count. It's good to have a sack. We have Green Bay coming up, so I have another chance at getting many more."
Against the Packers, Cole and company will contend with another athletic quarterback in Seneca Wallace who is slippery and a threat to make plays with his legs. Hopefully his performance against the Raiders is not only a sign of a player getting stronger as the season wears on, but that the floodgates are about to open for him as well.
4. EAGLES REFLECT ON HISTORIC LAMBEAU FIELD
For the first time since the 2007 season, the Eagles will be traveling to the hallowed football ground that is Lambeau Field. It's a stadium that is rich with history and names like Vince Lombardi and Bart Starr, and some of the Eagles are looking forward to adding to that history.
Tight end Brent Celek made his NFL debut at Lambeau in 2007, and is "excited" to get back on the field where his NFL career all got started.
"Being a kid growing up and being a football fan, that was a great place to watch games and to see Brett Favre do some magic on the field," Celek said. "Going back there to play- I'm going to enjoy it."
For center Jason Kelce, Sunday's game will be his first trip to Lambeau. One day he may look back at the game fondly, but for now, it's just another game on the Eagles schedule.
"I'm excited to play the Green Bay Packers," Kelce said. "It's cool that there is a lot of history behind the field and everything, but I really don't get caught up that much right now. Maybe when I look back on it in 10 or 20 years, I'll say, 'Oh I played in that stadium' or something like that, but now it's just another day at work."
5. SUNDAY: GREEN BAY'S SALUTE TO SERVICE
Each NFL team is participating in the league's Salute To Service campaign, and the Packers have some plans for Sunday.
• Each player's helmet will feature a decal representing a branch of the military. Players will also be using newly designed gloves, camouflage-branded Gatorade towels, New Era caps, winter knit hats, Nike KO hoodies and game balls with the NFL shield camo-ribbon decal. In addition, the stadium will feature camouflaged goal post wraps, in-stadium banners and pylon decals with the words "NFL Salute to Service" written on them. Game-used items will be auctioned off at NFL Auction (www.NFL.com/auction), with proceeds benefitting the league's core military non-profit partners.
• Fans seated in the stadium bowl are asked to help turn Lambeau Field into a camouflage ring with an accompanying message of "Packers salute military" during the national anthem. Game attendees will find a card taped to their seat with directions indicating when to hold it up and which side to have facing up. Fans will be prompted by a group at the bottom of their sections holding up cue cards reading, "Get Ready for Stunt," then "Go Stunt."