It's a victory Monday and quarterback Nick Foles will be the hot topic wherever you go after his record-tying seven touchdown passes in Sunday's 49-20 rout of the Raiders. In this edition of 5 Things To Know Today, check out another Eagles connection to the seven-touchdown club, get some free coffee to jump start your morning and make sure to join us for Eagles Live! at Noon ...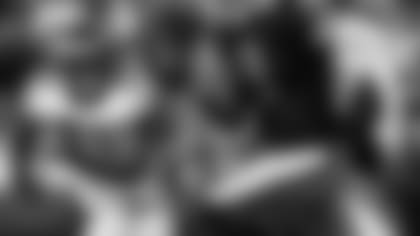 1. KENDRICKS STARS IN HIS SPY ROLE
Defensive coordinator Bill Davis asked linebacker Mychal Kendricks to spend much of Sunday spying Oakland quarterback Terrelle Pryor, something Kendricks had really never done at any level of his football career.
Pryor ran 10 times for 94 yards and completed 22 of 41 passes for 288 yards, but the Eagles also sacked Pryor twice, hurried him all day and had two interceptions. Most important, the defense limited Oakland to 20 points in the huge Eagles victory.
"He's fast, dude, he's fast. It's all about containing him when we wanted to do and then making him move when we wanted him to do that," said Kendricks, who had nine total tackles, including six solos. "When a quarterback is on the move, it makes his job tough. We don't want a guy to sit in the pocket all day and pick us apart. I think we did a good job."
Kendricks had some help from Connor Barwin, but mostly it was on the second-year linebacker from California. He did some of that in college when the Bears went to "Scope" coverage, but Sunday was really the first extended spying Kendricks has had to do.
"It isn't easy at all," said Kendricks. "It's doable. You have to be disciplined and communicate and make sure you stay after it. Pryor is tough. Great player."
2. SEVEN TOUCHDOWNS: RE-VISITING BURK'S GREAT DAY
Nick Foles tied an NFL record with seven touchdown passes on Sunday and now shares the mark with former Eagles quarterback Adrian Burk, who tossed seven touchdowns on Oct. 17, 1954 against Washington. Ray Didinger chronicled Burks' record-setting day earlier this season.
"No one could have foreseen what would happen that day, least of all me," Burk said in 1987. "Our game plan was to run the ball. We spent the whole week practicing plays for (halfbacks) Jerry Williams and Jim Parmer."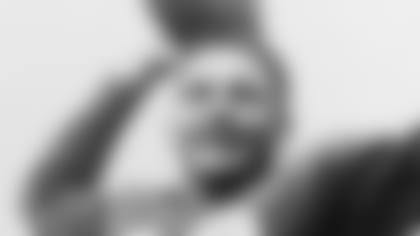 As the game unfolded, the Eagles had a lot of red zone opportunities and with the Redskins stacking the line, Burk found it easier to fake a handoff and throw a pass. Ends Pete Pihos and Bobby Walston each had three touchdown catches and halfback Toy Ledbetter had the other.
"It seemed like every time I threw a pass, it was six points," Burk said. "It was just one of those days."
Burk finished with just 19 completions for 229 yards. Those are almost paltry numbers when compared to the totals amassed by Tittle (505 yards), Manning (462), Kapp (449), Luckman (433), Blanda (418) and Foles (406) in their seven-touchdown games.
None of Burk's touchdown passes was longer than 26 yards. Four of them covered 9 yards or fewer.  Because so many of the touchdown passes were short ones, it did not occur to Burk or his teammates that he was doing anything extraordinary.
Coach Jim Trimble lifted Burk after his sixth touchdown pass. Ed Hogan, the team's publicity director, checked the record book and saw that Burk needed one more touchdown pass to tie Luckman, the great Chicago quarterback. Hogan sent word to the bench and Trimble sent Burk back into the game to go for the record.
"We didn't know what was going on," said Pihos, who led the NFL in receptions that season. "I couldn't figure out why they were lifting Bobby (Thomason). We were in the middle of a drive. We didn't know anything about the record and Adrian didn't say anything when he came in the huddle. I'm glad I didn't know or I might have dropped the damn ball (for the seventh touchdown)."
The Eagles won the game 49-21. There were only 22,051 people in attendance and there was no NFL Network and no fantasy leagues tracking every pass so Burk's career day went largely unnoticed. He couldn't recall talking to a single reporter.
"We took the bus back to Philadelphia and there was no great elation," Trimble said. "Part of that was Adrian himself. He was such a modest person. As I recall, he gave all the credit to his receivers."
3. TODAY'S BROADCAST SCHEDULE
Monday's are always a busy day for the Eagles on the airwaves and today is no exception. We're live with Eagles Live! at Noon as we talk about the big win in Oakland. Head coach Chip Kelly meets the media at 1 p.m. and it is, of course, live here.
Make sure to tune in to The Howie Roseman Show on Sportsradio 94 WIP at 5 p.m., followed by LeSean McCoy's show on 94. Both shows are live at Chickie's and Pete's in South Philadelphia.
Then at 7:30 p.m. it's Eagles Prime Time Live on WXTU 92.5 FM featuring offensive linemen Todd Herremans and Jason Kelce.
Today's Broadcast Schedule
Time
Event
Noon
Eagles Live!
5 PM
The Howie Roseman Show (Sportsradio 94WIP)
6 PM
The Players' Lounge with LeSean McCoy (Sportsradio 94WIP)
7:30 PM
Eagles Prime Time Live with Todd Herremans and Jason Kelce (WXTU 92.5)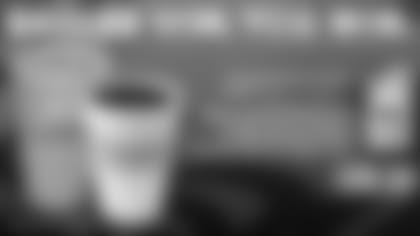 ](http://www.dunkindonuts.com/content/dunkindonuts/en/mlanding.html)
4. WHEN THE EAGLES WIN, YOU WIN
In case you haven't heard, we wanted to make you aware of a promotion we're doing with Dunkin' Donuts this season called Eagles Win You Win. The day after an Eagles win (home and away), head to your local Dunkin' Donuts for a FREE medium hot or iced coffee. All you have to do is download the free Dunkin' Donuts app on your mobile phone and the coupon will appear the day it's valid. So stop in this morning to start your Monday off right with a FREE coffee from Dunkin'.
5. TIME OF POSSESSION: WHAT IS IT GOOD FOR?
Oakland dominated the time of possession on Sunday, controlling the football for 37 minutes, 54 seconds compared with 22:06 for the Eagles. Yet the Eagles crushed Oakland on the scoreboard.
In the other three wins of the season, the Eagles have had mixed results in the time of possession category. At Washington, the Eagles had the ball for 32:39 versus 27:21 for Washington. In the win over the Giants, the Eagles again had an advantage, 32:07 to 27:53. In Tampa Bay, though, the Bucs had the football for 33:46 and the Eagles had the football for 26:14.
So what does it mean? Well, head coach Chip Kelly has said repeatedly that time of possession is not a number he counts as an impactful statistic, and it looks like he is correct.