Thanksgiving is over. Black Friday has come and gone. It's time to get back to football. Fans have to wait just one more day before the Eagles host the Arizona Cardinals in a matchup of two of the hottest teams in the NFC. Here's a look at the 5 Things To Know Today for the final day of November ...
1. BLACK JERSEYS FOR SUNDAY
The Eagles wear their alternate black jerseys on Sunday (with white pants) and hope to have a similar outcome as when they wore the black jerseys against Arizona at Lincoln Financial Field in 2008. On that Thanksgiving night, the Eagles beat Arizona 48-20 to help turn the season around and launch a run to the NFC Championship Game (a game in which Arizona turned the tables on the Eagles). Running back Brian Westbrook ran for 110 yards and two touchdowns and scored twice more on receptions in that 2008 regular season game and quarterback Donovan McNabb tossed four touchdown passes. The Eagles improved to 6-5-1 with the win and won three of their next four games to sneak into the postseason.
2. BROADCAST INFORMATION FOR SUNDAY
FOX broadcasts this game with Kenny Albert providing play-by-play and Daryl Johnston as the color analyst. Tony Siragusa reports from the sidelines for the regional broadcast. Merrill Reese and Mike Quick, of course, form the broadcast team for the Eagles Radio Network with Howard Eskin on the sidelines and Chris Carrino and Brian Baldinger team up for the national radio broadcast on Compass Media. Rickie Riccardo leads the broadcast team for the Spanish broadcast on 1340 AM in Philadelphia.
3. BEST OF CHIP: COACH NEVER DISAPPOINTS
When asked whether it helps the other players in the huddle to know who the starting quarterback is, Kelly's response was simply, "We don't huddle."
Kelly coined a name for his offense: "Here is our offense. We run the See Coast offense. If we see something and we like it and we think it fits, we're going to run it. The Philadelphia Eagles run the See Coast offense; let's run that today and we'll go from there."
Arizona head coach Bruce Arians said on a conference call this week that the read-option is "a great college offense." Kelly explained that the Eagles don't run the read-option which eventually led to the See Coast Offense comment. No matter what offense he runs, Kelly is confident in his approach.
"I don't care what other people think. It doesn't bother me. I mean, to spend time for me to think about what someone else thinks is counter to anything I've ever believed in my life. If I believe what other people think, then that means I value their opinion more than I value my own."
When Kelly named Nick Foles the starting quarterback on Tuesday, he wanted to make sure that he's not looking his shoulder if makes a mistake.
"I don't think our guys are going into games worrying about if they make a mistake. I want our players to always play from a desire to excel, not a fear of failure, so just go out there."
Yes, the Eagles control their own playoff destiny with five games remaining, but as Kelly pointed out, "Finish line means nothing if you don't take care of it this week."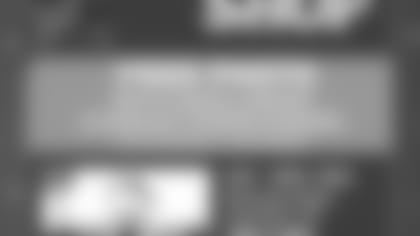 4. SANTA SWOOP IS COMING TO TOWN (OR THE ROCKVALE OUTLETS)
Are you one of the millions who has already gotten a head start on the holiday shopping season? If you're going to be at the Rockvale Outlets in Lancaster, Pa. or if you are looking to pick up some great Eagles gear for that special fan (even if it's you), stop by the Eagles Pro Shop where there are not only great deals but Santa SWOOP and the Eagles Cheerleaders will be in attendance. You can even have your holiday photo taken with them. In fact, kids 14 and under can get a FREE photo with Santa SWOOP and the Eagles Cheerleaders. They will be at the Eagles Pro Shop at the Rockvale Outlets from Noon-2 PM.
If you're unable to make it to Lancaster, Pa. today, Santa SWOOP will be at the Eagles Pro Shop at Lincoln Financial Field next Saturday and at the Eagles Pro Shop at the Market Place at Garden State Park in Cherry Hill, N.J.
5. BIG PLAYS LEAD TO BIG POINTS
Philadelphia leads the NFL with 67 offensive plays from scrimmage of 20-plus yards, and those explosive plays have led to a lot of points. When the Eagles are able to gash defenses, they've been able to score points. And when they haven't, the offense has been stunted. In the losses to Dallas and New York, the Eagles had a total of three plays of plus-20 yards and, not surprisingly, failed to score an offensive touchdown. In the current three-game winning streak, the Eagles have had 22 plays of 20 or more yards – 8 in Oakland, 8 in Green Bay and 6 against Washington.
Meanwhile, Arizona ranks tied for sixth in the league in fewest plays of 20-plus yards allowed with 36. They have allowed seven explosive runs, which is tied for 17th (with the Eagles, Lions and Bucs). Through the air, the Cardinals have allowed just 29 explosive plays, good for seventh in the league. All six of the big-play touchdowns they have allowed (tied for 10th in the league) have come on pass plays.