Happy Thanksgiving, Eagles fans! We hope that before you dig into some turkey and stuffing, you'll spend some of the holiday with us on a special Eagles Live! at 11 AM as head coach Chip Kelly will preview Sunday's matchup with Arizona. Following practice, the NFC's Offensive Player of the Month and starting quarterback Nick Foles will talk about the many things he's thankful for this season ...
From our Eagles family to yours, have a wonderful Thanksgiving. Here's a video showing the best things about the holiday, Eagles style.
2. THROWBACK THURSDAY: CHIP KELLY AT NEW HAMPSHIRE
NFL Gameday Morning this Sunday will feature a sitdown interview with head coach Chip Kelly. Here's a snippet of the feature on Kelly, a look at the head coach when he was the offensive coordinator at New Hampshire. The innovative, aggressive playcalling was evident during his seven-year tenure as offensive coordinator from 1999-2006.
3. EARLY BIRDS: CASEY, GRAHAM FIRST TO WORK
Many people work from 9 AM to 5 PM every day, but how many people sleep from 9 PM to 5 AM?
Tight end James Casey follows that schedule strictly, and even though he is only in his first season with the Eagles, he has become well-known for being the first player to arrive at the NovaCare Complex every day.
"I get in around 5:45 or 6," Casey said. "I don't think there is anybody else in the building. I might be the first. There may be some strength guys in there working out, but I'm one of the first guys here. They always say to try to be the first one in and last one to leave, but I take pride in it. I've done it my entire career. For four years in Houston, I was always the first guy in the building. It's just something that I feel is kind of important. I'm kind of an early riser and I want to be here and get prepared. I'll come in and watch film and those different types of things, but I think it's helped me to last this long in the NFL, so I'm going to keep doing it to make this NFL thing last as long as possible."
Casey wasn't always been an early bird, but he quickly adopted the new routine when playing the game of football became his occupation. After stopping for a quick cup of coffee on his way in, Casey commits the rest of his work day to being the best that he can be.
"When I first got to the league, I had a big chip on my shoulder and I still do, and I always try to carry that chip around that you have to work harder than everybody else and try to do more than everybody else," said Casey. "I try to live by the motto that to achieve what others don't, you have to do what others won't, so I take that philosophy into everything and I try to get here as early as possible."
Linebacker Brandon Graham has unofficially secured the first player-designated parking spot right next to the main walkway each morning, but he admitted that he can't beat Casey to the office.
"He's a beast. Every morning I try to beat him, but I can't get up that early," said Graham, who arrives between 6:30 and 6:45. "I'm just trying to get a little extra in. I want to try to show (the coaches and my teammates) that I'm here to work. I might not be the last person in here, but I get my work done when I'm here."
Graham admitted that he has not always been a first-one-in type, but that he re-dedicated himself in the offseason as he got ready to transition to Bill Davis' 3-4 defense.
"It was something where I looked at myself and asked, What can I do better?" Graham said. "That was one of the things I could do better, make sure I'm here – or at least try to be here before everybody."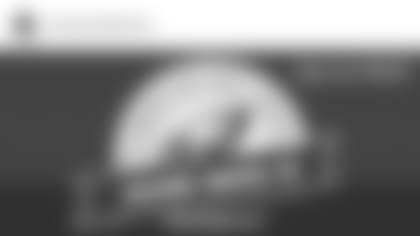 4. ONE MONTH FROM TODAY: EAGLES BLOOD DRIVE
The Eagles are the American Red Cross are hosting their 6th Annual Eagles Blood Drive on Saturday, December 28 at Lincoln Financial Field. All presenting donors will receive a limited edition Eagles hat, along with the opportunity to meet SWOOP, the Eagles Cheerleaders and Eagles Alumni. All presenting donors will also be entered to win a pair of tickets to the 2014 Season Home Opener. Appointments are available by visiting www.redcrossblood.org/flyeaglesfly. We hope to see you there!
5. CORNERBACKS READY FOR FITZGERALD
On Sunday, the Eagles will face one of their biggest nemeses at the wide receiver position. Arizona Cardinals wide receiver Larry Fitzgerald has done a lot of damage to the Eagles in a relatively short amount of time. In just four career regular season games against the Eagles, Fitzgerald has racked up 418 yards and 6 touchdowns, and those numbers don't include the 2008 NFC Championship Game in which the seven-time Pro Bowl wide receiver caught nine passes for 152 yards and had three touchdowns … by halftime. 
This time around, the Eagles secondary is made up of new faces, including cornerbacks Bradley Fletcher and Cary Williams, who both have prior experience lining up against Fitzgerald.
"You just have to play the ball," said Fletcher, who faced off with the 6-foot-3, 225-pound receiver many times as a member of the Cardinals' division rival St. Louis Rams. "You can't wait for him to make plays. When the ball is in the air, you have to be aggressive."
"I think that Larry is a great player," Williams said. "I think he's proven that over the years. He's going to make some catches and make some plays, but I feel like I'm going to make some plays as well. So as far as I'm concerned, I'm not backing down from the guy. I think he's a tremendous player.
"We played before in years past and I boded pretty well, but at the end of the day this is a new year and a new season, and he's a new guy. … As far as I'm concerned, I'm just going to go out there and play my defense the way that I've been playing and play within the confines of the defense and do what coach asks me to do. I'm not going to get overly aggressive. I'm going to play within my game."
The Eagles typically keep their corners on the same side of the field for the whole game, so the task of containing Arizona's playmaking wideout will be a team effort.
"Fitzgerald lines up in a lot of different spots," said Fletcher. "He can be in the slot or he can be outside to the left or to the right. We just have to play our defensive scheme and then go play the ball when it's in the air. … We're all going to see him at some point during the game, so we just have to be at the top of our games."
Where Fitzgerald will lineup on the field remains a mystery, but one thing is for certain - the Eagles corners will be more than ready to play against one of the game's best.
"As a defensive back, you enjoy this challenge," said Fletcher. "That's what you want. You want to play the best and that's what we look forward to."
"That's the great part about this game," Williams agreed. "You get two competitors going at it and fighting and scrapping for every inch."