Can Nick Foles continue his hot streak and deliver the Eagles' first home win since September 2012? Foles will address the media following practice at around 1:50 p.m. Before the start of practice, Chip Kelly will host his final press conference in advance of Sunday's game against Washington at 11:40 a.m. which will be followed by Eagles Live! at Noon. Until then, we've got some great notes for you to dig into in this edition of 5 Things To Know Today ...
1. TRENT COLE: ADJUSTING NICELY AT OLB
Trent Cole played eight years at defensive end and established himself as one of the premier players in the NFL, ranking third in franchise history in quarterback sacks and earning two Pro Bowl bids. When the Eagles switched from a 4-3 defense to a 3-4, Cole moved to the outside linebacker position after years of lining up with his hand in the dirt.
And even though Cole has just one quarterback sack, he's been outstanding against the run. So good, in fact, that Pro Football Focus, a group that provides metrics measuring the NFL, says that Cole is the best outside linebacker in a 3-4 against the run and ranks Cole overall as the fifth-best OLB in a 3-4 defense.
"I know it works now. It takes time and now I see how everything happens. Everybody has to do his job. That's what I've learned about playing in a 3-4 defense," Cole said. "I haven't changed. I've always been a run and pass type of player, an all-around type of player. Now I'm playing a different position and I'm enjoying it. Wherever they play me, I'm going to play my hardest and enjoy it. I'm doing my job and I'm doing what I'm supposed to do."
2. ANDERSON EXPLAINS THE RULES ON HIS TOUCHED PUNT
Special teams ace Colt Anderson was involved in an interesting play on Sunday in Green Bay when he tried to pick up a punt that had been touched by the Packers, and instead had the ball knocked away and Green Bay recovered in the end zone. The fans, certainly wondered why in the world Anderson would touch a punt inside the Eagles' 5-yard line.
Turns out, he had a complete understanding of the situation.
"The ball had already been touched by Green Bay, so I saw the opportunity to maybe make a play," said Anderson. "I knew the rules."
The rules say this: Had Anderson picked up the ball and returned it for a touchdown, the Eagles would have been awarded the score. Had he picked it up and fumbled it away to Green Bay, the ball would have reverted back to the 16-yard line, where Green Bay originally touched the ball.
Only in one instance would it have been a poor outcome for the Eagles: Had Anderson returned the ball and fumbled it over to Green Bay, and had the Eagles been penalized during the return, then Green Bay would have been awarded possession.
In the end, everything was OK.
"My head coach at Montana was also the special teams coach, so I've studied all the rules for a long time," said Anderson. "I knew the situation there. I just figured it was worth trying to make a big play."
3. WINNING AT HOME, SWEET, HOME
The Eagles haven't won a game at Lincoln Financial Field since September 30, 2012, a span of 10 losses. The players have been reminded of that all week by reporters in the locker room.
"Oh yeah, we know," said tight end Brent Celek. "We're trying. We know the fans deserve it. They're great fans. They support us all the time and I know they're frustrated. All we can do is keep working hard and go out and beat the Redskins."
Said wide receiver Jason Avant: "We put pressure on ourselves in every game, so it's no different when we are playing at home or away. Washington has a great team and the Redskins are a division rival. We know what's at stake on Sunday. It's a big game, just like every other game."
4. BOYKIN EMBRACES DOUBLE DUTY
Cornerback Brandon Boykin has had a breakout year on defense as he leads the Eagles with three interceptions. However, Boykin is also an integral part of the team's special teams units as well.
For the past two weeks, Boykin has taken over as the primary kick returner. Against Oakland, Boykin returned a kickoff for 41 yards, the longest by an Eagle this season. He was back to return the kickoffs last Sunday in Green Bay, but did not get a return opportunity. Head coach Chip Kelly called the return situation a "fluctuating" one on Wednesday saying he will likely utilize a rotation. Boykin has no issue with stepping up and handling return duty if called upon.
"It's not a problem. The return game is just one play. You go out there, get a return and try to get as many yards as you can. I'm able to balance it," Boykin said. "I'm pretty much on every phase. It's a huge part of the game and I think we're improving. We're doing a great job of giving our offense field position and our defense."
Boykin played a total of 54 snaps on defense and an additional 23 on special teams in the win over the Packers. The Eagles also have Damaris Johnson, Bryce Brown and potentially new receiver Brad Smith in the mix as well at kickoff returner.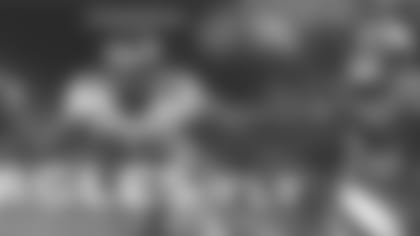 5. PHILADELPHIA DAILY NEWS POSTER SERIES
Today, we continue our Poster Series in the Philadelphia Daily News, in which the second of four commemorative Eagles posters can be yours! These are collectible posters that you are not going to want to miss. Get your Philadelphia Daily News now with the LeSean McCoy poster to add to your collection.