Happy New Year, Eagles fans! Now that last night's festivities are over, it's time to get ready for Saturday night's party against the New Orleans Saints. Even general manager Howie Roseman has called on you to bring the noise to disrupt the rhythm of the Saints' high-powered passing attack. Here is the first edition of 5 Things To Know Today for 2014 ...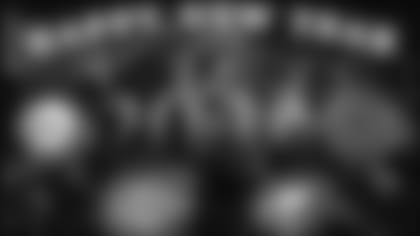 1. THURSDAY: PLAYOFF PEP RALLY
The Official Philadelphia Eagles Playoff Pep Rally will be held at Chickie's & Pete's on Packer Ave. in South Philadelphia on Thursday, January 2nd. Join us from 5:30 to 7:30PM as Eagles players and cheerleaders sign autographs* while the Eagles Pep Band and Drumline perform for fans.
SportsRadio 94WIP will also broadcast live from Chickie's and Pete's, and fans in attendance may have a chance to win free prizes and giveaways. The Pep Rally will have everything fans need to get ready for gameday!
*Please note that only a limited number of autographs will be available and are not guaranteed for all fans in attendance.
2. THE BEST AGAINST THE BLITZ
Saturday night's battle features two former high school stars who were quarterbacks at Westlake High School in Austin, Texas. Nick Foles and Drew Brees have been two of the most prolific quarterbacks in the NFL this season. They are also the two best quarterbacks against the blitz.
Offensive coordinator Pat Shurmur knows that Foles will need to be ready for Saints defensive coordinator Rob Ryan's pressure-based attack.
"I don't think he's going to change what he does," Shurmur said. "We anticipate he'll come after us."
Defensive coordinator Bill Davis explains the challenge of coming after Brees is his quick release.
"This offense is so efficient, and it is run on Drew Brees and his decision making and quick release, and he really makes you defend the field both horizontally and vertically because all five of his eligible receivers are up and active like a lot of the younger quarterbacks cannot pull that off and a lot of the older quarterbacks can't but he's been in the system and been with Sean (Payton) for a while and they just really stretch you, again, both vertically and horizontally."
The Best Against The Blitz
Player
Comp./Att.
Yards
TD/INT
Rating
Nick Foles
53/82 (64.6%)
880
6/0
125.1
Drew Brees
109/159 (68.6%)
1,422
11/2
114.3
3. TODAY: GOODE TIMES ON @EAGLES TWITTER
Get your Twitter thumbs ready. #AskAnEagle is back and linebacker Najee Goode is taking over @Eagles today after practice at 1:50 PM. Start sending in questions now for the special teams stud (Remember this play?) and Philadelphia supporter as he and the team prepare to Fly On this Saturday night.
Some birdseed to get your interview juices flowing:
Nickname: Gigawatt (hence, his Twitter handle @GigaWAttGoode)
He's a fan first, player second: The LB's father John Goode appeared in 14 games at tight end for the Eagles in 1985 and Najee has cheered alongside #EaglesNation ever since.
Need for speed: In addition to football, Goode also succeeded in track, where he lettered and set school records in discus. He's a big fan of Olympic record-breaker Usain Bolt and Goode's passion extends to cars like the Ford Mustang GT 500, "the fastest car in the NFL," the linebacker said.
4. JACKSON: IT'S ALL ABOUT THE TEAM
Wide receiver DeSean Jackson knows what it takes to be successful in the playoffs. As a rookie in 2008, he caught 11 passes for 207 yards and scored a touchdown in the postseason. His 62-yard touchdown reception in the NFC Championship Game briefly gave the Eagles a fourth-quarter lead.
Jackson has played in just two playoff games since. The important message that Jackson is helping deliver in the locker room is that it's great to win the division title in Chip Kelly's first year as head coach, but that's far from the ultimate goal.
"We just continue to let guys know it's alright to be division champs, but we're not satisfied with it," Jackson said. "Throughout the season, this is what we prepared for. Once you're here, there's no mistakes possible. That's essentially what we have to do. Just knowing the game comes down to bonus plays and bonus penalties.
"It's for the team. Everybody's put so much hard work into this and one little thing can easily end it all for us and send us home."
After that first season, Jackson wasn't sure how tough it would be to make it back again.
"You never know. It's the NFL. There are great teams out there every year. It's a really competitive league," he said. "I know what that taste in my mouth feels like from being so close my first year. I'm going to do everything I can to help my team get back there."
5. WHEN THE SAINTS GO MARCHING HOME
An Eagles win on Saturday would mark their first home victory over the Saints since 2003 and their first win against New Orleans since 2007. The Eagles have squared off against the Saints twice in the postseason, but never in Philadelphia. Here is a brief look at those first two playoff meetings.
January 3, 1993 – NFC Wild Card Round
Eagles 36, Saints 20
The Eagles notched their first road playoff win in 44 years as Randall Cunningham hit Fred Barnett for touchdown passes of 57 and 35 yards in the come-from-behind victory. Trailing 20-10 heading into the fourth quarter, the Eagles exploded for 26 unanswered points in the final stanza to secure the victory.
Cunningham finished 19-of-35 for 219 yards and two touchdowns while Heath Sherman rushed for 105 yards on 21 carries. The vaunted Eagles defense picked off Bobby Hebert three times, two of them from Eric Allen, who closed out the game with an 18-yard interception return for a touchdown.
January 23, 2007 – NFC Division Round
Saints 27, Eagles 24
It was only fitting that the Eagles experienced a case of déjà vu in New Orleans as the Saints beat the Eagles 27-24 -- the same exact score of their meeting earlier in the regular season. The only difference is that this one ended the Eagles' season, which was initially saved by quarterback Jeff Garcia, who led the Eagles to six straight wins including a Wild Card round victory over the Giants after Donovan McNabb tore his ACL.
The game opened with a bang as cornerback Sheldon Brown leveled running back Reggie Bush in one of the more memorable hits in Eagles history. But Bush, a rookie No. 2 overall pick at the time, would have the last laugh. Bush scored on a 4-yard touchdown run in the first half and Deuce McAllister became the first Saints player to rush for over 100 yards in a playoff game, gaining 143 and scoring on a 5-yard touchdown run and an 11-yard touchdown reception in the third quarter.
The Eagles attempted a comeback effort late and had converted a fourth-and-5 from near midfield only to have it nullified by a Scott Young false start penalty. Young was in the game for an injured Shawn Andrews. The Eagles punted on fourth-and-15 and never got the ball back.