Eagles fans are waking up this morning feeling pretty good. Not only did the Eagles win their fifth-straight game over a first-place Detroit Lions team, but it was a game that fans will remember forever. Running back LeSean McCoy rushed for a franchise-record 217 yards on a Lincoln Financial Field turf that was blanketed by eight inches of snow. In this edition of 5 Things To Know Today, find out more details about the Snow Bowl victory and what it means for the Eagles' playoff hopes ...
1. OFFENSIVE COORDINATOR CARY WILLIAMS?
Head coach Chip Kelly credited an unusual person for helping the Eagles' second-half offensive turnaround - cornerback Cary Williams.
At one point early in the second half, Williams went over to his head coach to provide some insight into what the conditions were like for the defensive backs on the snowy Lincoln Financial Field.
"It was funny, Cary Williams was the one who came up to me, and he was like, 'Coach, this is what you've got to do because you can't make up speed if the guy makes a stick move on you just because of the footing,'" Kelly said. "Cary was kind of the one, and it's coming from a defensive guy saying, 'Hey, if you have an opportunity to either throw a post or throw a corner route, it's hard to make up.'  Finally we hit Riley (Cooper) on it, it was almost like that kind of got us going, got our confidence back a little bit, and then we got rolling there."
"I really don't comment on anything that goes on offense," Williams said after the game. "I just try to handle my business. I figured if I was going through it, then those other defensive backs were going through it. If it was difficult and frustrating for me then I'm sure it was difficult and frustrating for them. I just relayed the message, and coach (Kelly) has enough confidence in me that he relayed the message to the offense.
"I felt like post patterns would have worked. I got beat on a post. It wasn't the fact that I couldn't run with Calvin (Johnson), it was the fact that when I tried to turn, I was sliding initially. I didn't get the initial grab into the ground the way I wanted to. I saw a lot of times (Detroit's defense) was slipping and that they were having an issue with sliding. I just told Coach, 'Let's go up top on these guys, whether it's a post or a fade.' It's hard for us to stop and then turn and run, and gain enough speed because the receiver already has all the momentum."
For his part, Williams was surprised that Kelly took his advice to heart.
"I just haven't had that happen in my career where you could go up to a guy and tell him what's the best thing to do," Williams said. "I am just grateful that Chip listened. I really didn't expect him to listen, but I am happy he did. The bonus was we won the game.
"He listened. That's crazy."
2. WILLIAMS' ADVICE PAYS OFF: COOPER'S CATCH SHIFTS MOMENTUM
Riley Cooper has accrued quite the collection of acrobatic catches over the past few seasons.
Whether it's pulling down jump balls in the end zone or leaping to make a one-handed grab like he did last weekend against Arizona, Cooper has been known to make the most difficult of catches look easy.
On Sunday, the Eagles' athletic receiver may have topped them all by somehow bringing in a 44-yard pass from quarterback Nick Foles. Cooper kept his focus on the ball through a driving snowstorm and made an over-the-shoulder catch which set the Eagles up for their first touchdown of the day on the very next play.
After a first half that featured sloppy plays which resembled the weather, Cooper's third-quarter grab sparked the Eagles' comeback and eventually led to a 34-20 victory.
"We just kept going at them," Cooper said, "In a game like this, it's isn't going to be perfect. There are going to be drops. There are going to be bad throws. There are going to be missed assignments. When you're in a game like that, with so much snow, there is going to be stuff like that. We just kept going and going. We ended up with the win."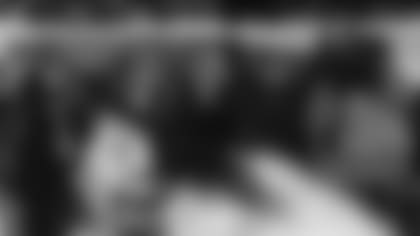 3. ONLY CELEK AND FOLES KNEW OF FINAL SLIDE
Up 34-20 late in the fourth quarter, the Eagles got the ball back with a chance to ice the clock and shore up a fifth-straight victory. After forcing the Lions to burn their final two timeouts, the Eagles faced fourth-and-12 from Detroit's 35-yard line.
Almost everyone in Lincoln Financial Field was expecting another run, but Nick Foles went play-action to find a wide open Brent Celek who ran untouched into the - wait, what?
Instead of taking the personal glory of a receiving touchdown, Celek went into a full-out slide at Detroit's 10-yard line, knowing that the first down, and in essence the game, had been secured.
"I knew as soon as we called that play, if I caught it, I was going to get the first down and slide," Celek said. "Listen, you do a kickoff, guys can get hurt. You go back on defense, guys can get hurt. It's just not a smart move for the team.
"It felt good. It felt real good. Just knowing the game was over. Being able to slide and hey, that's it. It was a good feeling."
Not only were the Lions and the 69,000-plus Eagles fans expecting a run, but so too were nine of the 11 Eagles on the field. The play design was a secret to every Eagle on the field except for Celek and Nick Foles.
"It was something we had talked about on the sideline and Brent and I were really the only ones who knew what was going on," said Foles. "We had seen that throughout the course of the game. You have to make big plays, you have to do stuff like that to win games in the situation.
"(It was) a veteran move right there. I don't know how many people would have wanted to score a touchdown, but Brent being a team player goes down and slides because he knows that they don't have any timeouts. We are just going to kneel and win the game."
4. YOUR MOVE, DALLAS: THE PLAYOFF UPDATE
After a wild Sunday in the NFL, the Eagles own the league's longest win streak, but more importantly they are in first place by a half-game over the Dallas Cowboys. Dallas has its chance to respond tonight in Chicago when they play the Bears on Monday Night Football. The game is important for the Bears as well. By virtue of the Eagles' win over the Lions, Chicago would move into a tie for first place in the NFC North with a victory.
If the season ended on Sunday, the Eagles would be NFC East champions and own the No. 3 seed for the NFC playoffs. If Dallas wins tonight, the Cowboys would have the head-to-head tiebreaker over the Eagles by virtue of the Week 7 win. The two teams do square off again in Week 17 at Dallas.
The Eagles are also very much alive in the Wild Card race, if it comes down to that. The Carolina Panthers and the San Francisco 49ers currently own the two Wild Card spots as each team boasts a 9-4 record.
Down The Stretch They Come
Team
Week 14
Week 15
Week 16
Week 17
Eagles
Beat Detroit, 34-20
at Minnesota (3-9-1)
Chicago (6-6)
at Dallas (7-5)
Dallas
at Chicago (6-6)
Green Bay (6-6-1)
at Washington (3-10)
Eagles (8-5)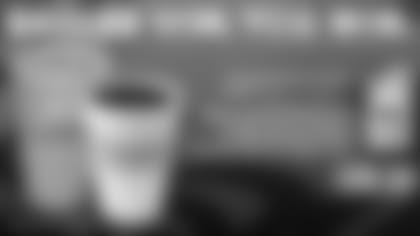 ](http://dunkinphil.info/)
5. GET YOUR MONDAY STARTED WITH FREE DUNKIN' DONUTS COFFEE
When the Eagles Win You Win. The day after an Eagles win (home and away), head to your local Dunkin' Donuts for a FREE medium hot or iced coffee. All you have to do is download the free Dunkin' Donuts app on your mobile phone and the coupon will appear the day it's valid. So stop in this morning to start your Monday off right with a FREE coffee from Dunkin'.