Gameday is here! The Eagles host the Detroit Lions today in a matchup that will feature a pair of first-place teams. The Eagles have won four straight games. Detroit is coming off of a signature win over the Green Bay Packers on Thanksgiving. Here are your 5 Things To Know Today for this pivotal showdown ...
1. HOW WILL WEATHER IMPACT THE GAME?
The Eagles and the Lions feature two of the most prolific offensive attacks in the NFL. In addition to the opposing defenses, the elements could factor into today's game. According to 6abc's Accuweather, the weather forecast calls for snow and sleet developing before halftime of the game. Accumulation will occur before the wintry mix changes to rain at night. A coating of 1 inch is possible in Philadelphia. Wind, however, is expected to play a factor. Two things to watch will be how the teams hold onto the football and whether the footing is affected. This is the Eagles' second game on the newly installed turf at Lincoln Financial Field.
"I played in those conditions my junior year at Oregon," quarterback Nick Foles explained. "I just play the game. The ball is going to feel differently, but you've got to realize that they're playing in the same conditions, so it's evenly matched. You can't worry about that and you can't make excuses for the weather.
"It's fun playing games with different weather. It's not always going to be sunny and 80 degrees. Sometimes you are going to play in games like that and you just go out there and have fun and play like you're a kid again. Just enjoy the game."
2. THE LIONS OFFENSE: MORE THAN MEGATRON
Lions All-Pro wide receiver Calvin Johnson is the focal point of Detroit's passing attack, which ranks second in the NFL. Johnson is the league's leader in receiving yards with 1,299 and he's tied for first with 12 touchdowns. However, the Lions offense is more balanced this year with the addition of free agent running back Reggie Bush, who is a rushing and receiving threat out of the backfield. He is fifth in the NFL in yards from scrimmage with 1,302 - 854 rushing and 448 receiving.
"The Lions needed that explosive element in the running game ever since Jahvid Best suffered multiple concussions," said DetroitLions.com's Tim Twentyman. "The Lions saw way too many two-deep looks and safety shells. Wide receiver Calvin Johnson is double-covered almost every time he steps on the field, and someti mes teams defend him with three players. They needed a running back who can take advantage when there are only six men in the box, and that's what Reggie's done."
3. OUR GAMEDAY COVERAGE BEGINS AT 11 AM
FOX will broadcast Sunday's game to a regional audience with Kevin Burkhardt calling the play-by-play and former NFL safety John Lynch providing color commentary. Erin Andrews will report from the sidelines.
PhiladelphiaEagles.com's coverage begins at 11 a.m. with the airing of our three television shows - Game Plan, Inside The Season and Unscripted. At 12:30 p.m., we will have the Kickoff Show with live look-ins from Lincoln Financial Field. At halftime, we will bring you the Halftime Report as the great wide receiver duo of Fred Barnett and Calvin Johnson will be honored. Once the final whistle sounds, Dave Spadaro, ESPN's Adam Caplan and former Pro Bowl linebacker Jeremiah Trotter bring you recap, analysis and reaction on the Post-Game Show presented by Ricoh.
Today's Broadcast Schedule
Time
Event
11 AM
Eagles Television Network Programming
12:30 PM
Kickoff Show
1:30 PM (Approx.)
Halftime Report
4 PM
Post-Game Show presented by Ricoh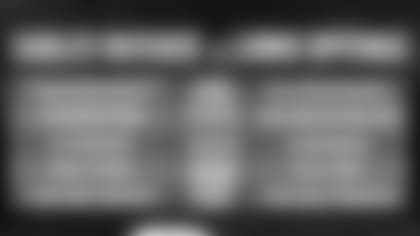 4. THE STREAK IS ON THE LINE
The Eagles defense has not allowed a team to score more than 21 points since the Week 4 game in Denver, an eight-game streak that is currently the longest in the league. Meanwhile, Detroit has scored fewer than 21 points just once all season back in Week 5 at Green Bay, a 22-9 loss.
A key will be the Eagles' ability to get off the field on third down. The Eagles rank 26th defensively in third-down defense this season. The Lions' explosive attack ranks fourth this season in third-down situations.
"It's upsetting to be honest with you," defensive coordinator Bill Davis said. "That's advantage defense, and we should be making those plays. The third-and-4s or threes and fives are where they should be getting them, but the third-and-long (plays) are plays where we have the advantage and we need to hold onto it and get ourselves off of the field.
"The execution of those third-and-longs has got to increase, because third down really is a turnover down. It's when we turn the ball back over to our offense and let them do their thing. Just like we emphasize the turnovers, our third-and-long has got to get better."
5. FANS CONNECTING WITH FANS


Fans can email gameday photos to pix@philadelphiaeagles.com. These photos will be shared with Eagles fans everywhere and can be viewed on our gameday page as well as PhiladelphiaEagles.com/virtuallinc. Fans can follow the #DETvsPHI action on PhiladelphiaEagles.com/social, which features all of your favorite social media platforms. Twitter has real-time team updates, Instagram has behind-the-scenes photos and Facebook is a great place to interact directly with other fans.