Eagles fans, you only have to wait one more day before the monster showdown with the Detroit Lions. On this Saturday, check out the best of head coach Chip Kelly, important traffic info for the game and a "homecoming" for two key players on defense ...
1. THE BEST OF CHIP KELLY
Head coach Chip Kelly never fails to entertain during a press conference. Here is a look at his best quotes leading up to Sunday's game ...
On how long Nick Foles will be the quarterback: "He's the starting quarterback for the next 1,000 years."
On what the Eagles can do better in the fourth quarter of games: "It's all the little things (execution, missed assignments, penalties), but it's part of being a good football team is you have to learn how to finish games. It's something we've got to continue to work on."
On getting the players to focus on each game: "We've got a bunch of guys that are all on the same page that understand what the mission is. It's a one-week mission. It's not a one-year mission. It's not a thousand-year mission. It's a one week mission, and that's what we're going to focus and concentrate on. (Foles) does an outstanding example of doing that and I think everybody else is doing that right now and that's why we've won four games in a row."
On what makes Zach Ertz special: "I think number one, it's athletic ability. Can you get in and out of cuts suddenly and in transition? I think that's one thing with Zach, for such a big target, he's kind of deceptive. He's deceptively fast. He doesn't look like he's moving as fast, but all of the sudden he's right on top of you. He can change direction very quickly. I think what you're seeing now is that things are starting to slow down for Zach. It's really fun to see him all of a sudden, plays that he missed earlier in the year, he's starting to make now."
On whether this is his ideal offense: "I don't have an ideal. Our goal, very simply, is to move the ball and score points. I don't really care what it looks like. And the offense we run here is not the Oregon offense.  It's the Philadelphia Eagles offense that was put together by a group of really smart guys on the offensive side of the ball and everybody contributed to it. So there's some things we did at Oregon and some things that Jeff Stoutland did at Alabama; there's some things that Bob Bicknell did at the Buffalo Bills; there's some things Billy Lazor brought from when he was in the NFL and when he was at Virginia.  There's things Pat (Shurmur) brought from Cleveland. So it's all of us putting it together."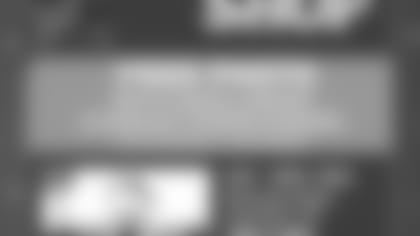 2. TODAY: SANTA SWOOP IS COMING TO LINCOLN FINANCIAL FIELD
Are you one of the millions who has already gotten a head start on the holiday shopping season? If you're going to be out shopping or if you are looking to pick up some great Eagles gear for that special fan (even if it's you), stop by the Eagles Pro Shop at Lincoln Financial Field where there are not only great deals but Santa SWOOP and the Eagles Cheerleaders will be in attendance. You can even have your holiday photo taken with them. In fact, kids 14 and under can get a FREE photo with Santa SWOOP and the Eagles Cheerleaders. They will be at the Eagles Pro Shop from Noon-2 PM.
If you're unable to make it to Lancaster, Pa. today, Santa SWOOP will be at the Eagles Pro Shop at the Market Place at Garden State Park in Cherry Hill, N.J on December 14.
3. IMPORTANT TRAFFIC INFO FOR SUNDAY'S GAME
Please note that there is a new Packer Avenue Traffic Pattern for AFTER the game which will be utilized starting this Sunday ...
All traffic on Packer Avenue will be split at Darien Street (East and West).
Northbound traffic on Darien Street will have two options - 1. Continue North onto the ramp for the Walt Whitman Bridge. 2. Travel East to Front Street then northbound.
Vehicles traveling North on 10th Street from the Citizen Bank Park lots will have to make a left turn and proceed West to Broad Street.
Vehicles traveling North on 7th Street will have two options - 1. Turn right and continue East on Packer Avenue to Front Street. 2. Turn left and continue West to enter the on-ramp for the Walt Whitman Bridge (only).
Vehicles North on 3rd Street and North on Lawrence Street will only be permitted to turn right and continue East on Packer Avenue to Front Street.
Traffic will not be permitted to continue North on 7th Street or North on 10th Street from Packer Avenue.
Traffic will not be permitted to turn South onto any of the cross streets along Packer Avenue, from Front Street to Juniper Street. Southbound turns will not be permitted until Broad Street.
Eastbound traffic will not be permitted on Packer Avenue, from Broad Street to 10th Street.
4. A "HOMECOMING" FOR TWO OF THE EAGLES LINEBACKERS
Connor Barwin and Brandon Graham grew up rooting for the Detroit Lions, but on Sunday they will be playing to beat them.
Growing up in Detroit, Barwin developed a deep love for his surroundings. In fact, the first-year Eagle has the city's skyline tattooed on the inside of his right bicep. Though he will always remember the place where he grew up, he never considered himself a diehard fan of the hometown football team.
"I think I was probably just like everyone else growing up, said Barwin. " I was a Barry Sanders fan and I was a hometown fan. I'm still a Tigers fan and that kind of stuff, but I wasn't any kind of diehard fan. I went to maybe two games at the Silverdome growing up."
Graham, meanwhile, is coming off of his best performance of the season, recording 2.0 sacks in only 13 snaps last time out against Arizona. With a number of friends and family members coming to this Sunday's game, Graham hopes to keep things rolling.
"It's something special to me, because I have about 25 people driving down," Graham said. "It's always nice to play in front of my hometown fans. They're always watching back at home, but now I know for sure, so I'm going to try to do the best I can. I'm going to go out there and do what I can do."
5. BRAD SMITH GETTING A FEEL FOR THE OFFENSE
Brad Smith hasn't been an Eagle for a full calendar month yet, but according to his head coach, he's already picked up most of the offense. Chip Kelly believes that Smith's quarterback background from his days at the University of Missouri have played a big role in his understanding of the Eagles playbook.
"One thing about Brad that struck me from day two here was how much he retained from just his first meeting," Kelly said. "He's extremely smart, a very, very intelligent football player and I think his background is kind of interesting, because he was a quarterback
"A lot of times receivers know what route they run on each individual play, but they don't know what everybody else is doing.  Well, Brad has always learned it from the eyes of a quarterback and I think that helped him in his ability to pick things up."
Smith agrees that his ability to see the whole play develop in his mind has helped him as he continues to learn the ins and outs of Kelly's system.
"It's more conceptual, so even if you don't know the exact technique that Coach wants, you can conceptualize and know where everyone's supposed to be," said Smith. "As long as you get to that spot, it normally helps, so it's definitely been beneficial.
Signing with the Eagles in November, Smith found himself in the disadvantageous position of having to learn a new offense while all of his teammates are much farther ahead on the learning curve. To Smith's credit, he's buried his head in the playbook, and it's starting to pay off.
"At first (it was difficult), when you come in to anything, especially at this point in the season, it's different because it's more game-planning," Smith explained. "You usually have your base stuff and then you start making variations of it. I'm trying to learn variations and learn the base at the same time. It's definitely not easy, but the coaching staff has been tremendous with helping me.
"I'm learning. I'm just trying to get into Coach's mind and trying to figure out all of the intricacies and even the base offense, but it's been good."