The Eagles continue their preparation for Sunday's game against the Lions on Thursday and we'll have complete coverage throughout the day. Our live coverage begins at 11:40 a.m. as Chip Kelly addresses the media one final time before the game. Following Kelly's press conference, Dave Spadaro brings you the latest news on Eagles Live! Following practice at 1:55 p.m., we will broadcast quarterback Nick Foles' press conference live. Until then, check out the latest nuggets from the NovaCare Complex in 5 Things To Know Today ...
1. McCOY REFUSES COMPARISONS TO SANDERS
LeSean McCoy has grown quite the reputation for being one of the most elusive running backs in the NFL. Opposing players often times have had a clear path to the Eagles back, only to find themselves grabbing for air and making sure their ankles are still attached as McCoy sprints off in another direction.
With the Detroit Lions coming to Lincoln Financial Field on Sunday, the comparison of McCoy to Lions' great Barry Sanders was brought up at a recent press conference. Though McCoy understands why some people tend to connect the two, he believes that he still has a lot to prove before being compared to one of the best to ever line up in the backfield.
"I don't really see it as a comparison," said McCoy. "I think Barry is probably the best running back to ever play this game. They compare us probably because of the cutbacks and the shake moves, but there's a big gap between us."
If McCoy can continue to play at this level, that gap will only get smaller and smaller as time goes by.
2. THE SOURCE OF DONNIE JONES' SECRET WEAPON
Punter Donnie Jones took home the NFC Special Teams Player of the Week award for the second straight game after he dropped a career-high and franchise-record seven punts inside the 20-yard line in last Sunday's win over Arizona. That total was just one shy of tying the NFL record.
Jones is second in the NFL with 29 punts inside the 20-yard line this season. Jones credits his success to a rugby-style kick which he unleashes in short-field situations. It's essentially an end-over-end kick and when it lands the backspin will keep it from rolling forward into the end zone. It's comparable to a golfer using backspin when chipping on a green. And since it is spinning end-over-end, the punt will never travel that far. Jones also credited the Eagles grounds team for Sunday's performance. He said the newly installed turf at Lincoln Financial Field kept the bounce of the ball to a minimum.
The ironic part about the rugby-style kick is that it's not always been a part of Jones' repertoire. He learned it prior to the 2012 season. His teacher was David Wing, a former Australian rules player who had a tryout with the Detroit Lions. Does the last name ring a bell? Wing's son, Brad, was Jones' competition in Training Camp this season. Jones honed the special craft in Baton Rouge, La. near LSU where both he and Brad Wing played in college. The elder Wing was reluctant at first to work with Jones since his son would soon be in the league.
"It took me a little while (to master it). I went to speak with him about how it worked in March 2012, and when I got into Training Camp with Houston, I still wasn't very comfortable with it," Jones said. "I did use it last year, but I feel a lot more confident with it this year. Maybe September of last year I started to feel OK with it.
"It's something that I work hard at, because every year it's hard to make it in this league. There is always somebody that wants your spot, so the more tools you can add to your tool box, the better chance you have of making it. That was my big thing - What can I do to improve my game? I'm still learning and I'm still getting better (at punting), 10 years in."
Jones can still boom the ball when necessary. He crushed a 69-yard punt against Arizona and a 70-yard vs. Washington.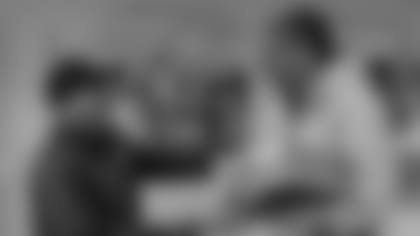 3. THE PIES HAVE BEEN DELIVERED!
Hey, when a team is on a four-game win streak there is nothing wrong with a little superstition.
Five weeks ago, SportsRadio 94WIP morning show host Angelo Cataldi delivered a pecan pie to head coach Chip Kelly. That Sunday, Nick Foles tosses seven touchdown passes in the 49-20 win over Oakland. Fans demanded that Cataldi continue to deliver pies on a weekly basis until the Eagles lose. Well, the Eagles have not lost since that first delivery and hopefully the streak will remain intact after Cataldi made his weekly delivery of the MANNA pies on Wednesday - a pecan pie for Kelly, and two apple pies - one for offensive coordinator Pat Shurmur and the other for defensive coordinator Bill Davis.
Wait? After coaching the recipient of the Special Teams Player of the Week award in two straight games, where's the one for special teams coordinator Dave Fipp?
4. KELLY HAPPY FOR HIS FORMER QUARTERBACK
Earlier this week, University of Oregon redshirt sophomore quarterback Marcus Mariota announced that he would be returning to school next season, rather than enter the upcoming NFL Draft.
According to his former head coach Chip Kelly, Mariota is making the right move by staying in school and earning his degree, while also taking another season to hone his craft as a quarterback.
"I'm happy for him," Kelly said on Wednesday. "I know he comes from a great family. His mother and father value education. He's going to stay and get his degree. He's a really special young man.  Everybody in the league will have to wait a couple years."
In 2012, Mariota was named the Pac-12 Offensive Freshman of the Year. He also earned Pac-12 All-Conference first team and Pac-12 Academic All-Conference honorable mention accolades.
"I loved coaching him," Kelly said. "He's exactly what you want in a football player. I know everybody in Eugene is happy. Eugene is a special place. Take it from a guy who had a real tough time leaving there. I think it's a good decision ... They have a great plan in place at Oregon. Mark Helfrich does a great job there. I'm sure he provided them with everything he needed."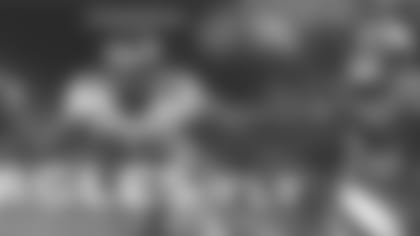 5. PHILADELPHIA DAILY NEWS POSTER SERIES
Today, we continue our Poster Series in the Philadelphia Daily News, in which the third of four commemorative Eagles posters can be yours! These are collectible posters that you are not going to want to miss. Get your Philadelphia Daily News now with the Mychal Kendricks poster to add to your collection.