Today, the Eagles travel to Texas to get ready for Sunday night's showdown with the Dallas Cowboys for the NFC East title. With the final game of the 2013 regular season just over a day away, here is a look at some game-related items as well as the Eagles quarterback coming through in the clutch once again ...
Congrats to running back LeSean McCoy and tackle Jason Peters on being selected to play in the 2014 Pro Bowl. They are certainly very deserving of the honor.
However, the Eagles would not be 9-6 and in a position to win the division if it wasn't for the contributions of many other players.
Quarterback Nick Foles' historic campaign earned him a first alternate bid. Wide receiver DeSean Jackson and guard Evan Mathis each were named second alternates.
Punter Donnie Jones has been key in controlling field position. He's set the franchise record for punts inside the 20-yard line and currently has the franchise mark for net punting average. Center Jason Kelce rebounded from last year's ACL injury to be the leader of the offensive line that paves the way for the league's best rushing attack. Linebacker DeMeco Ryans, a two-time Pro Bowl selection, has a career-high 169 tackles and is the leader of a much better than expected unit.
From a national perspective, it appears Foles and Mathis were the ones who got robbed of an all-star bid.
"Foles is a player that some are starting to push for league MVP, thanks to his work in guiding the Eagles to the edge of a playoff spot," wrote Sports Illustrated's Chris Burke. "Heck, 25 touchdown passes to two interceptions sorta speaks for itself."
"For the past few years, there hasn't been a more athletic and effective guard in football than the Philadelphia Eagles' Mathis," Shutdown Corner's Eric Edholm wrote. "Go watch any LeSean McCoy highlight from this season, and there's a good chance that Mathis is leading the way. The New Orleans Saints' Jahri Evans and the San Francisco 49ers' Mike Iupati, both quite fine players, were reputation picks nonetheless. Both have missed multiple games this season, and Evans (run blocking) and Iupati (pass blocking) have had visible weaknesses in their games this season."
2. THE LATEST FROM DALLAS
No Tony Romo. No Sean Lee. And now a banged-up DeMarcus Ware.
Ware has been one of the most prolific pass rushers in the league since he entered the league in 2005. The future Hall of Fame selection has 117 career sacks. But Ware hasn't been the same edge rusher dealing with a quad injury, a back injury and a right elbow injury during the course of the season. The quad injury forced him to miss the first three games of his career.
On Thursday, Ware injured his left elbow in practice. It was bad enough that he underwent an MRI on Friday and was listed as questionable on the team's injury report.
Meanwhile, wide receiver Dez Bryant, who was named to the Pro Bowl, has been dealing with a back injury of his own. Bryant is probable, meaning that he is definitely playing, and he said that he and his teammates are rallying around backup Kyle Orton, who is making his first start since 2011.
"We've got to go out there and fight," Bryant told DallasCowboys.com. "We're going to go out, lay it all out on the line and get this 'W' for Tony."
As we do each and every Saturday, here is a look at the best of head coach Chip Kelly from the week that was. And with the NFC East championship on the line, Kelly was in top form.
1. On the conventional wisdom that Chip was going to sit his starters in preparation for the Cowboys game: "We're from Philadelphia and we fight.  That's it. If there's a game on, we're playing, end of story."
2. Biggest differences from Vikings game compared to Bears game: "When you win, you get better. When you lose, you try to get better. That is the deal. That's what this team is all about. They are focused. We stumbled when we were in Minnesota. Minnesota beat us and played better than us that day. But we weren't going to let Minnesota beat us twice."
3. On his message to the team following the Bears game: "One down, one to go."
4. On the difference between the team now and the first game against Dallas: "We're just more experienced. We've been together longer. I think we have a better understanding as a coaching staff of our players and what they can do and putting those guys in a position to make plays.
"I think everybody is a byproduct of their experiences and I think that the reps that all those guys have gotten – I think it was Nick's second or third game playing, he's gotten a lot more reps in there too – people getting comfortable, understanding the situation and knowing when guys are going right, guys are going left. I just think the experience factor is a lot different than when we played them earlier in the season."
5. On Jason Kelce's leadership and overall value to the team: "I've always felt that you know you have a really good team when your best players are your hardest workers. You look at DeMeco Ryans and Trent Cole and Jason Kelce and Jason Peters and Brent Celek and McCoy and DeSean, and it goes on. There's not one guy you're going to say, 'Look, we don't get a real lot out of him in practice but he's a gamer.' We don't have a bunch of gamers, we have a bunch of guys that really understand that we win because of our preparation, and (Kelce's) a prime example of that."
Nick Foles has delivered on the field for the Eagles all season, so it should come as no surprise that he delivers off the field as well. With the holidays, Foles made sure to thank the men who protected him this season by purchasing the Microsoft Xbox One for each of his offensive linemen.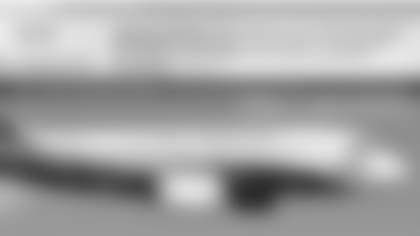 5. TODAY: WIN BIG WITH THE #FLYWITHUS SWEEPSTAKES
The day before each away game, Eagles fans have the opportunity to win a $250 travel voucher courtesy of U.S. Airways. Follow the Eagles official twitter account, @Eagles, and re-tweet a special message that will be posted the day before each away game. By re-tweeting, you will be entered in the #FlyWithUS Sweepstakes. Click here for more information and follow the @Eagles twitter account for your chance to win.