Three days away! The Eagles' showdown with the Dallas Cowboys for the NFC East title is almost here. After an abbreviated Christmas day, the Eagles will do more work on Thursday before resuming a normal schedule Friday. In 5 Things To Know Today, wide receiver Jason Avant discusses the playoffs and you have to watch the Sound FX feature with Trent Cole, who was mic'd up Sunday against the Bears ...
1. AVANT'S ADVICE: DON'T BE A HERO
Wide receiver Jason Avant is no stranger to the playoffs.
As one of the longest-tenured players on the team, the eighth-year veteran has played in seven playoff games not including the win-or-go-home Week 17 clash with Dallas in the 2008 season.
With a relatively young team, the average age is 26.1 years old, there are a lot of players who are experiencing playoff football for the first time. Avant's advice to those players: don't be a hero.
"Just tell them to keep doing the same thing that you've been doing to get us in that position. Don't be a hero," Avant said. "Just keep going out and do the same things over and over and you make plays together as a team. A lot of times there are individuals looking to steal the spotlight. Play the game within yourself and continue to get better."
In those seven playoff games (three starts), Avant has 20 catches for 238 yards and a touchdown. The touchdown came in the Eagles' last playoff game, the 2010 Wild Card matchup against Green Bay.
Cowboys LB Sean Lee's neck injury is more significant than team thought, which is why he will not play Sunday vs. Eagles. — Adam Schefter (@AdamSchefter) December 26, 2013
2. REPORT: SEAN LEE OUT FOR COWBOYS
The big storyline leading up to Sunday's game is whether or not quarterback Tony Romo will play for Dallas.
Romo did not practice on Wednesday and his head coach Jason Garrett described him as "not being overly comfortable" with a back injury.
However, there is another injury worth keeping an eye on. Linebacker Sean Lee has been sidelined with a neck injury and, according to ESPN's Adam Schefter, will not play against the Eagles.
The absence of Lee would be a huge blow to a Cowboys defense that has struggled this season. They are 25th in the NFL in scoring defense and last in total defense.
In the first meeting with the Eagles, Lee had 11 tackles and an interception as he earned NFC Defensive Player of the Week honors.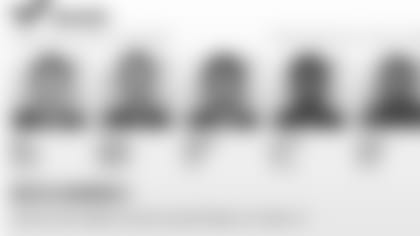 ](http://www.nfl.com/voting/players-air-and-ground/2013/REG/16)
3. VOTE FOR LeSEAN McCOY: FEDEX GROUND PLAYER OF THE WEEK
FedEx may not have been able to deliver holiday gifts on time, but you can help running back LeSean McCoy earn FedEx Ground Player of the Week honors.
McCoy rushed for 133 yards and two touchdowns against Chicago as he earned the NFC Offensive Player of the Week award. It was McCoy's sixth 100-yard performance of the year. He leads the NFL with 1,476 rushing yards and is just 37 yards short of setting a new single-season franchise mark.
The All-Pro running back declared on Tuesday that he will win the NFL's rushing title and break Wilbert Montgomery's single-season mark on Sunday against Dallas. Which one is more important to him, though?
"They're the team I play for that drafted me. I signed my contract to be here for awhile," McCoy said. "Keeping it here in the franchise is something special."
4. COLE GOES BEAR HUNTING INDEED
Trent Cole was mic'd up by NFL Films for Sunday night's win over Chicago and he had a monster performance with three sacks, tying a career high.
Here are some of the highlights:
"I never felt this good in my career," Cole said to fellow linebacker Connor Barwin pre-game.
"This is the 2013 bear hunting camp at Lincoln Financial, baby," Cole said to defensive end Fletcher Cox.
"They stuck a running back on me. They disrespected me," Cole said of beating Bears running back Matt Forte to get his first sack on quarterback Jay Cutler.
And that's just a small sample of what Cole had to say during the 54-11 win.
5. POLK DELIVERS UNIQUE BACK-TO-BACK PLAYS
Running back Chris Polk capped off the scoring Sunday against the Bears with a 10-yard touchdown in the fourth quarter. Polk was right back on the field for the ensuing kickoff return and he ran down the field and made the tackle.
"I surprised myself on that one," Polk said. "I just had to go out there and make a play. I just wanted to help our team win."
The 5-foot-11, 222-pound Polk has three touchdowns on just 11 carries in 2013. A warrior of a running back, Polk can tote the rock, deliver a block and make a tackle. Which of the three is Polk's favorite to do?
"I would say tackle because big blocks and touchdowns they expect me to get," Polk said. "I'm not known for being a tackler."