The Eagles got their signature win of the 2013 season Sunday when they defeated the Arizona Cardinals, 24-21. With the win, the Eagles kept pace with the Dallas Cowboys for first place in the NFC East. In this day-after edition of 5 Things To Know Today, learn more about Nick Foles' amazing streak, cornerback Bradley Fletcher returned in a big way and, of course, your free coffee courtesy of Dunkin' Donuts. Make sure to join us on Eagles Live! at Noon featuring head coach Chip Kelly's press conference ...
1. FOLES' RUN ONE FOR THE RECORD BOOKS
During the Eagles current four-game winning streak, quarterback Nick Foles is 72 of 106 (69.2 percent) for 1,169 yards with 13 touchdowns and no interceptions. His 144.2 passer rating over that span is the sixth highest by an NFL quarterback during a four-game stretch since 1960.
Foles has thrown a team-record 233 passes without an interception, dating back to December 23, 2012 vs. Washington, which supplanted Michael Vick's team record of 224. Foles has thrown 19 touchdowns this season without an interception, needing just one more to tie Peyton Manning (20 in 2013) for the NFL record.
Foles become the second Eagle to boast a rating over 100 in four straight games, joining Donovan McNabb, who did so in 2004.
Best QB Rating Over A Four-Game Span Since 1960
Player
QB Rating
Year
Milt Plum
152.7
1960
Craig Morton
151.3
1969
Kurt Warner
147.4
1999
Milt Plum
146.8
1960
John Hadl
145.7
1973
Nick Foles
144.2
2013
2. BRADLEY FLETCHER SAVES THE DAY
After missing the last two games with a pectoral injury, Bradley Fletcher made his return to the lineup on Sunday. His return came not a moment too soon, as Fletcher played an instrumental role in the Eagles' victory.
Along with Cary Williams, Fletcher spent almost the entire game shadowing Cardinals receivers Larry Fitzgerald and Michael Floyd. He played physically with the Cardinals receivers throughout the game and made one of the game's biggest defensive plays.
The Cardinals got the ball back trailing by three points with 2:03 remaining in the fourth quarter, having scored on their previous possession. After gaining 5 yards on their first three plays, the Cardinals were faced with a fourth-and-5 situation with the game on the line. Palmer dropped back and threw to Floyd on the right side of the field, but Fletcher was able to get his hand in at the last second to break up the pass and help the Eagles secure their fourth-straight win.
"You have to get there when the ball gets there," Fletcher said afterwards. "It's a timing deal, and I was able to do that. ... We had a blitz on and I was holding my inside leverage and my ground. Then there was some contact at the break point, and I went and made the play."
With two passes defense on the afternoon, Fletcher increased his season total to a team-best 13 pass breakups on the season.
"I thought Cary played really well and I thought having Fletcher back really helped us," head coach Chip Kelly said.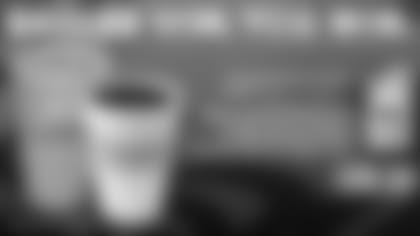 ](http://dunkinphil.info/)
3. GET YOUR MONDAY STARTED WITH FREE DUNKIN' DONUTS COFFEE
When the Eagles Win You Win. The day after an Eagles win (home and away), head to your local Dunkin' Donuts for a FREE medium hot or iced coffee. All you have to do is download the free Dunkin' Donuts app on your mobile phone and the coupon will appear the day it's valid. So stop in this morning to start your Monday off right with a FREE coffee from Dunkin'.
4. WORKMANLIKE McCOY STILL TOPS IN YARDS FROM SCRIMMAGE
It might be the most impressive 19-carry, 79-yard performance you'll see out of a running back.
LeSean McCoy grinded and churned out each and every yard against a stingy Arizona Cardinals defense that lived up to its billing as second best against the run in the NFL. Without many holes to slip through, he had to take what was there and settle for 3-, 4- and 5-yard gains mixed in with a lot of runs that went for 2 yards or fewer.
McCoy was able to break a long run of 19 yards, but his most impressive gain came on the Eagles' third scoring drive of the game. With the Eagles leading 10-7 and facing fourth-and-2 from the Cardinals' 34-yard line with under a minute to go, McCoy took the handoff from Nick Foles and darted up the middle for 5 yards and a first down. Two plays later, Foles would throw his second touchdown pass of the game and put the Eagles up 17-7.
McCoy knew going into the game that he was up against a major challenge and that there would likely be very little running room.
"I knew that," McCoy said of the prowess of the Cardinals defense, "but I figured I would bust one or two loose. I busted one, but it got called back. A team like that, you have to expect that."
Instead of getting frustrated, McCoy just put his head down and went to work. It wasn't flashy. It wasn't dynamic. He made some defenders miss in space, but for the most part the electric McCoy was bottled up while the workhorse, tough running McCoy shined. Per usual, he contributed to the passing attack, as well, catching five passes for 36 yards for a total of 115 yards, marking the seventh time this season McCoy has eclipsed the mark of 100 total yards from scrimmage.
The one thing the Eagles need more of is the McCoy from late in the games against Tampa Bay and Green Bay, the one who wore down opposing defenses on time-consuming drives that sealed the victories. If the Eagles offense continues to sputter in the second half, as it did against Arizona, it will find that should-be wins can turn into devastating losses very quickly.
"Just by executing and staying with it," McCoy answered in response to what the offense has to do to make sure it does not stagnate late in games. "We have to throw and run the ball better. We have to pay attention to the small details."
One sad note to pass along: For the first time all season, McCoy will not finish the week as the NFL's leading rusher. Adrian Peterson, on the back of his 35-carry, 211-yard performance against the Bears, leads the league at 1,208 yards. McCoy ranks second at 1,088 yards – but he is still tops in combined yards with 1,523. SO THERE!
5. EAGLES FELT REJUVENATED THANKS TO BYE WEEK
Facing off against an Arizona Cardinals team that had flown across the country for a 1 PM start on the East coast, the Eagles jumped out to a quick start, leading 7-0 after one quarter and 17-7 at halftime, during Sunday's 24-21 victory. Coming off their Week 12 bye, there was a noticeable difference in the relative freshness of the two teams, according to the Eagles in the locker room following the game.
"You notice it in the first day of practice after the bye," said left guard Evan Mathis. "Everybody is very fresh. It really refreshes your mind and your body and you come back ready to go. We had a really good week of preparation and I think it showed today."
"That bye came at a perfect time," added linebacker Connor Barwin. "My body felt a lot healthier going into this one and I came out of here without any injuries, so I feel good going into the last four games."
The timing of the bye was especially helpful for rookies like Lane Johnson and Zach Ertz, who are adjusting to the extensive schedule of their first NFL season.
"The late bye was great," said Ertz. "Fortunately, a lot of us young players went home. I went back to California, saw my family, had a little Thanksgiving meal last Sunday. It was nice to kind of take your mind of everything. The bye week was great."
"Absolutely," said Johnson. "I've been going ever since January, through the (NFL Scouting Combine) and things like that. This week off was crucial. I feel like I got my legs back and I feel like we were playing with a lot more energy today."