The Eagles return to the NovaCare Complex on Tuesday for film review and practice as the team begins to get ready for Sunday night's primetime matchup with the Chicago Bears. Join us at 11:25 a.m. as offensive coordinator Pat Shurmur and defensive coordinator Bill Davis recap last Sunday's game and look ahead to the Bears showdown before ESPN's Adam Caplan joins Dave Spadaro to co-host Eagles Live! Until then, find out the latest on the injury front and where the Eagles will need to be much improved if they hope to stop the Bears' explosive offense ...
1. HOPE FOR CB BOYKIN TO PLAY?
General manager Howie Roseman revealed on his radio show Monday that cornerback Brandon Boykin did indeed suffer a concussion on a kickoff return in the second half. Roseman said that Boykin must go through the league's concussion protocol before he can return. However, Eagles radio sideline reporter and FOX 29 sports anchor Howard Eskin tweeted on Monday night that Boykin is still expected to be able to play this Sunday against the Bears.
Boykin is not the only injury to keep an eye on in the secondary. Safeties Colt Anderson and Kurt Coleman were also injury in Sunday's game. Anderson exited with a knee injury and Coleman hurt his hamstring. There is not as much optimism regarding their availability for Sunday. Per Eskin, neither Anderson or Coleman is expected to play.
Potentially down those two safeties, will the Eagles get rookie Earl Wolff back? Wolff has missed the last four games with a knee injury. Roseman did not make any declarations regarding Wolff's return.
"We'll know better this week as he goes out to practice," Roseman said. "(Wolff) did a little bit more last week. He's urgent. He wants to play. We have to make sure that he's ready to go, because obviously that's a position where if you're not ready, people are going to exploit it."
The Bears also announced two key injury updates on Monday. Pro Bowl cornerback Charles Tillman's season is over. He was on Injured Reserve - Designated to Return after tearing his triceps last month. The team announced that he will not be able to play again this season. Pro Bowl linebacker Lance Briggs could return this Sunday from a shoulder injury that has kept him out since October 20.
The Bears rank 27th in total defense.
2. DOUBLE TROUBLE: JACKSON, McCOY A RARE DUO
Running back LeSean McCoy and wide receiver DeSean Jackson were the first teammates in the NFL in 2013 to go over 1,000 yards (rushing and receiving) and the first 1,200-yard rushing and receiving duo in Eagles history. With 25 more receiving yards for Jackson, they would become the 13th duo in NFL history to post 1,300 rushing and receiving yards. If Jackson and McCoy both get to 1,400 yards, they would become the 10th duo to do so in NFL history. If both get to 1,500 yards, they would become the 5th such duo in league history.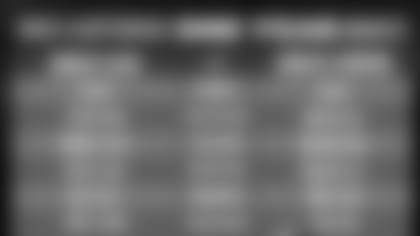 3. KELLY'S IMPROVEMENTS ARE EVIDENT
After going 4-12 a year ago, the Eagles are one win away from assuring a winning record in 2013 and control their own destiny in the NFC East. Since the NFL expanded to a 16-game season in 1978, there have been 146 teams that have gone 4-12 or worse from 1978-2012. Only 35 of those teams posted a winning record the following year (24 percent). Only 25 of those teams made the playoffs the following year (17.1 percent). Only 12 of those teams won their division the following year (8.2 percent). The graphic above shows is a detailed breakdown of the team's turnaround in 2013.
4. RED MUST MEAN STOP FOR THE BEARS OFFENSE
The Eagles were unable to stop the Vikings in the red zone last Sunday as Minnesota came away with a touchdown on five of six trips inside the 20-yard line. Even after Sunday's performance, the Eagles still rank 10th in the league in red zone defense allowing a touchdown 53.3 percent of the time. Philadelphia must get back to its stingy ways in the red zone as the Bears possess a dangerous receiver duo with 6-foot-4 Brandon Marshall and 6-foot-3 Alshon Jeffery. The two have combined for 170 catches, 2,450 yards and 17 touchdowns. The Bears are 13th in red zone offense this season.
Opponents have scored touchdowns in just nine of their last 21 trips inside the Eagles' 20-yard line. In addition, the Eagles have notched five red zone takeaways, including two interceptions and a forced fumble by Boykin (another reason his return is important), and rank tied for second in the league in the category, trailing only the St. Louis Rams (eight).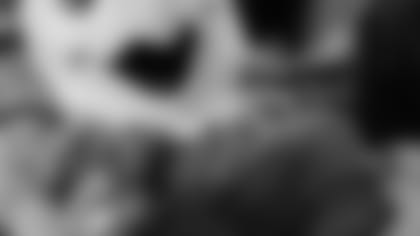 5. SWOOP: THE MOST AWESOME MASCOT
SWOOP is one of four finalists for the "Most Awesome Mascot" award at the Cartoon Network Hall of Game Awards, but he needs your vote in order to win. SWOOP represents the NFL and is battling Benny the Bull of the Chicago Bulls, Bailey the Lion of the Los Angeles Kings and Raymond of the Tampa Bay Rays.