It's a Friday the 13th edition of 5 Things To Know Today. The Eagles' Jason (Kelce) has a beard inspired by Vikings which looks intimidating, but he was also honored with a courage award this week. This feature is a daily routine so there's no reason to get all out of sorts just because of this superstitious day. In fact, this is a fun edition of 5 Things as guard Evan Mathis talks about "Sister Wives," find out where you can watch Sunday's game and meet Eagles alumni and is it already time for the 12 days of Christmas? ...
1. NOTHING IS OFF-LIMITS WITH EVAN MATHIS
Evan Mathis was interviewed on NFL Network's "NFL AM" show Thursday morning by Steve Wyche and Mark Kriegel. The three touched on a variety of topics, from the Snow Bowl to Nick Foles' demeanor, Chip Kelly's sense of humor, a potential Pro Bowl nomination, Sunday's game against the Vikings, why he fits in Philadelphia, and… Selena Gomez?
Mathis is known for being goofy, funny and embracing Twitter. Apparently, he's a big fan of the 21-year-old actress/teen pop singer sensation and wanted to proclaim his admiration from the mountaintops of Twitterverse/Instagramverse.
"We went to your Twitter page to see what we could find," Kriegel said, having dug up a tweet from October 18. "We found a picture of you, your wife and Selena Gomez with the caption, 'My wives are so cute.' So, could you explain, please?"
"There it is, looking good," Mathis remarked with a smirk as the photo appeared on the screen. "That's just me and two of my wives right there, just hanging out."
"I thought that was illegal?!" Kriegel cried
"In some states it is, so I'll just act like I'm from that state, right?" Mathis answered. "Look at me, 'Sister Wives.'"
"How many others are there, since we're coming clean right now?" Wyche asked.
"I'll tell you later," Mathis said (maybe) jokingly.
Mathis has the playful banter part of the media job down pat already. His wit, candor and colorful personality makes him a slam-dunk candidate to transition to the world of TV when his playing days are over, an opportunity he's expressed interest in pursuing.
"I'll probably start by taking your job and see where I go from there," Mathis said to Wyche. "I'm not really sure, something where I can have fun."
That sounds like a cool next life, Evan, but we love you and are going to keep you here in an Eagles uniform as long as humanly possible.
Also, good luck with the multiple wives/sister wives thing, or whatever.
2. SUNDAY: MEET BARNETT, BERGEY AT MILLER AWAY GAME PARTY
Come watch the Eagles take on the Minnesota Vikings at Racks Sports Bar & Grill on 286 White Horse Pike in Atco, N.J. during the Miller Lite Away Game Party starting at 1 p.m. There will be raffle giveaways, Eagles Cheerleaders, SWOOP and Eagles alumni Bill Bergey and Fred Barnett in attendance to sign autographs and take photos.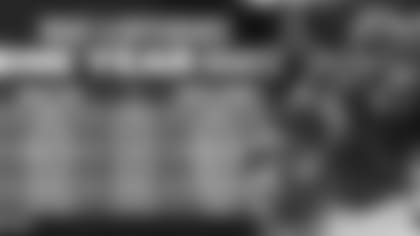 3. WHAT A DIFFERENCE A YEAR MAKES
After going 4-12 a year ago, the Eagles are one win away from assuring a winning record in 2013. Since the NFL expanded to a 16-game season in 1978, there have been 146 teams that have gone 4-12 or worse from 1978-2012. Only 35 of those teams posted a winning record the following year (24 percent).
4. TODAY: 12 DAYS OF EAGLES SNAPCHAT KICKS OFF
Twelve Days of Eagles Snapchat kicks off Friday. Fans who add "eagles" on Snapchat will get a special holiday snap sent straight to their phone every day through the 25th. Better yet, keep up with the team this holiday season with help from all our social media accounts: PhiladelphiaEagles.com/social
5. TUESDAY NIGHT FOOTBALL: NOT ONE TO REMEMBER
The 2010 Miracle at the New Meadowlands featuring DeSean Jackson's game-winning punt return is a game that most Eagles fans will never forget. The Eagles' following game against the Minnesota Vikings, however, is a game that most fans hope to never remember.
A week after the exhilarating win over the Giants, the Eagles returned home for a Sunday night matchup with the Vikings, but Mother Nature had other ideas. A snowstorm pushed the game back all the way to Tuesday night. The Vikings were without starting quarterback Brett Favre, but the relatively unknown Joe Webb stepped in and led the then 5-9 Vikings to a 24-14 win over the then 10-4 Eagles.
Some current Eagles who played in that game, such as guard Todd Herremans, don't remember much about the cold Tuesday night, but quarterback Michael Vick remembers the game all too well.
Vick turned the ball over twice, including a 45-yard sack-fumble recovery for a touchdown by Antoine Winfield, and recalled that the change of schedule threw the Eagles out of their usual routine. 
"We were set to go on Sunday night and ended up playing on Tuesday night, and that just kind of threw off our rhythm a little bit," said Vick.
The Eagles would lose their regular season finale the following week (albeit without their starters playing), and the season came to a close in the first round of the playoffs. For a team that had won 10 of their first 14 games, the Tuesday night game against Minnesota set the tone for the rest of the season. The Eagles will look to avenge that game on Sunday when they travel to Minnesota. The good news for Eagles fans is that the game will be played indoors. There is a very small chance that snow pushes the game to Tuesday this time around - just as long as the dome doesn't collapse again.