The Eagles are firmly focused on Sunday's showdown with the Minnesota Vikings. Head coach Chip Kelly will preview the matchup at 11:40 a.m. before Eagles Live! at Noon. Following practice, quarterback Nick Foles will address reporters. Thursday's edition of 5 Things To Know Today gets a little hairy as center Jason Kelce explains the origins of his beard. Fans can also win tickets to the Sunday night Bears-Eagles game or a pizza party with an Eagles player ...
1. PRO BOWL: EAGLES NEED YOUR HELP
The Pro Bowl is taking on a new format this year with an unconferenced look and captains picking teams instead, playground-style, but the voting process remains the same. Fan balloting has been open for quite some time now and closes on Thursday, December 26 at 6 p.m. The Eagles have a number of players worthy of both consideration and selection, but so far only two – running back LeSean McCoy and wide receiver DeSean Jackson – rank among the top-10 vote-getters at their respective positions. Even McCoy, who is first in the league in rushing yards and yards from scrimmage, is still fourth among running backs, but is ninth in the entire NFL.
We don't have to tell you what a grave injustice is being committed here. There are so many more Eagles deserving of making the Pro Bowl, but they need YOUR help to get there. You still have three weeks left to vote, so do everything you can – and vote as many times as you can – to get as many Eagles as possible into the Pro Bowl.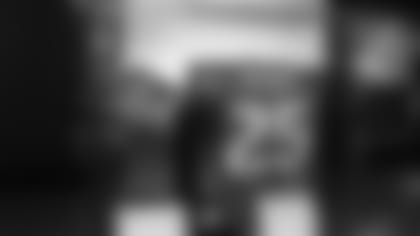 2. McCOY'S GEAR ON DISPLAY AT THE HALL OF FAME
Running back LeSean McCoy has finally been contained. Well, his gear anyway.
On Monday, the Eagles shipped McCoy's jersey, gloves and cleats from his franchise-record 217-yard performance against the Lions to the Pro Football Hall of Fame in Canton, Ohio. The items were received by the Hall of Fame on Tuesday and placed on display Wednesday for fans to see.
"That's something special," McCoy said. "That's something my son can see and like and look up to and challenge him to make it there."
In what has already been a remarkable season for the Eagles, this is not the first Hall of Fame display for the team. Nick Foles' gear from his seven-touchdown performance at Oakland shares a display case with Broncos quarterback Peyton Manning's gear from his seven-touchdown game in the season opener vs. Baltimore.
3. THE PIES HAVE BEEN DELIVERED!
Hey, when a team is on a five-game win streak there is nothing wrong with a little superstition.
Six weeks ago, SportsRadio 94WIP morning show host Angelo Cataldi delivered a pecan pie to head coach Chip Kelly. That Sunday, Nick Foles tosses seven touchdown passes in the 49-20 win over Oakland. Fans demanded that Cataldi continue to deliver pies on a weekly basis until the Eagles lose. Well, the Eagles have not lost since that first delivery and hopefully the streak will remain intact after Cataldi made his weekly delivery of the MANNA pies on Wednesday - a pecan pie for Kelly, and three apple pies - one for each of the coordinators.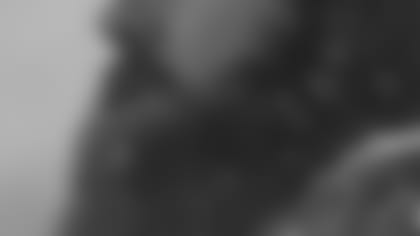 4. JASON KELCE'S VIKING-INSPIRED BEARD
On Wednesday, Jason Kelce walked into the Eagles locker room wearing a Santa hat, leading reporters to quickly point out how much he looked like a young Santa Claus. Last Sunday, Kelce's facial accessory trapped some of the falling snow, making him appear even more similar to old St. Nick.
Though Kelce often comes off as jolly and light-hearted, the center was inspired to grow the beard from a much more ferocious background - the ancient Vikings. Leading into this Sunday's game against the Minnesota Vikings, Kelce further explained the origin of his voluminous beard.
"There was a book that (former Eagles fullback) Owen Schmidt recommended to me that was about these ancient Viking warriors called Berserkers and stuff like that," Kelce explained. "We both got all fired up so we grew our beards out two years ago and I decided to do it again this year."
So, any chance of shaving it off to avoid confusion concerning Kelce's allegiance come Sunday?
"It will stay on against the Vikings. Vikings meet Vikings," Kelce said, interlocking his fingers to demonstrate the upcoming battle.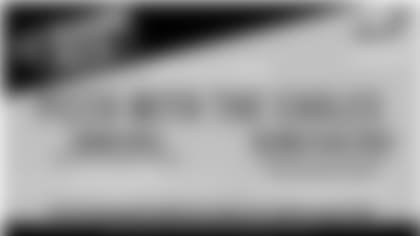 5. 'TIS THE SEASONS PIZZA WITH THE EAGLES
Win tickets to the Bears game or invites to a Pizza Party with an Eagles player at the NovaCare Complex!
Seasons Pizza and the Philadelphia Eagles are awarding two (2) grand prize winners one (1) pair of tickets each to the Philadelphia Eagles vs. the Chicago Bears game on Sunday, December 22 at 8:30 p.m. along with a $20 concessions credit to buy Seasons Pizza during the game. Twenty five (25) second place winners will receive two (2) invites each to a pizza party at the NovaCare Complex with an Eagles player. Click here to see how to enter at participating Seasons Pizza stores and Official Rules.