Happy gameday, Eagles fans! Kickoff for today's showdown between the Eagles and the Arizona Cardinals is set for 1 p.m. (FOX and 94WIP). Our gameday coverage begins at 11 a.m. with our three Eagles Television Network shows (Unscripted, Eagles Game Plan and Inside The Season) before the Kickoff Show at 12:30 p.m. with live look-ins from Lincoln Financial Field including the team introductions. At halftime, make sure to join us for the Halftime Report and after the final whistle we'll bring you the Post-Game Show presented by Ricoh with Dave Spadaro, Adam Caplan and Jeremiah Trotter. Until then, here's the 5 Things To Know Today ...
1. TODAY ONLY: WEAR YOUR JERSEY, SAVE BIG AT ACME
Eagles fans! Planning on picking up tailgate items Sunday on your way to the Eagles game? Or dinner on your way home from the game? Head to ACME and wear your Eagles jersey and you'll receive 10 percent off your purchase. TODAY ONLY. Restrictions apply. See customer service for details and exclusions.
2. TIMMY BROWN: AN ALL-TIME GREAT EAGLE
Former running back/kick returner Timmy Brown is recognized today as the game's Honorary Alumni Captain, and for those who don't remember the name, here are some highlights from his Eagles career.
He played eight seasons in Philadelphia, 1960-67, and went to the Pro Bowl three times and was named an All-Pro player in three seasons. He scored 62 touchdowns in 96 games and ranks 12th in franchise history with 372 points (his 62 touchdowns are sixth most in Eagles history). One of the first multi-purpose players in the game, Brown scored 29 rushing touchdowns, 26 receiving (on 231 Eagles receptions), six kick returns (5 on kickoffs, most in Eagles history) and one passing touchdowns. Brown rushed for 3,703 yards (eighth in Eagles history) and averaged 4.4 yards per carry. Brown was named to the franchise's 75th Anniversary Team in a vote by the fans and is a member of the Philadelphia Eagles Hall of Fame.
Brown also had a distinguished acting and entertainment career after his NFL playing days were over, including a spot in the MASH movie and series.
3. McCOY: I CAN BE PRODUCTIVE WITH FOLES AT QB
According to the pervading narrative, one of the major advantages to having Michael Vick at quarterback in Chip Kelly's offense was that his running ability would keep defenses honest and open up more space for LeSean McCoy. According to the numbers, that narrative was true. Without question, McCoy had wider lanes and a lot more room to run with Vick taking snaps.
With Vick: 95 carries, 522 yards, 5.49 yards per carry, 3 touchdowns
That same narrative posited that McCoy would struggle if Vick got injured, could not play and was replaced with a less explosive runner at quarterback. The narrative is indeed correct, McCoy's numbers have dipped with Foles at quarterback in place of Vick and done so precipitously. In fact, his yards-per-rush with Foles instead of Vick has fallen by nearly a yard-and-a-half.
With Foles: 107 carries, 442 yards, 4.13 yards per carry, 2 touchdowns
It is not hard to figure out why this has happened, as defensive coordinators do not respect Foles as a running threat and solely focus on taking McCoy out of the game. Opposing defensive ends are not hesitating at the mesh point on the read option and are instead immediately crashing down in anticipation that McCoy will get the handoff.
"Nick, right now, is real hot and he's giving us a chance to win, so that's who we have to go with," McCoy said. "I still think I can be productive running the ball. There's definitely a bigger difference with Mike, as far as just the way (defenses) play us. You have to account for Mike's running ability. That's the biggest different between the two. My numbers may be down with Nick because (defenses) would rather take me out and deal with him running the ball. I would do that if I was a defensive coordinator, it's understandable, but the biggest thing is when you do that, there are so many other things we pull out of our arsenal to use and have been using – that's why we've been winning. Maybe Nick might not be the flashiest runner there is, but he's making plays and he's winning games – and he has a pretty good average right now, too."
It's true, Foles' average yards per carry as a runner has been a pleasant surprise. For the season, that number sits at 4.1 yards per carry, but over the past two games against Green Bay and Washington, Foles has rushed for 85 yards on 17 carries, a 5.0 yards-per-carry average, and picked up a number of crucial first downs in the process. All that said, there is no question that McCoy's space as a runner has been constricted with Foles, and his cumulative numbers have suffered as a result.
The flip side to opposing defenses obsessing over stopping McCoy with Foles at quarterback is that the Eagles passing game has taken flight and turned into a precise, highly efficient, explosive attack. Chip Kelly has frequently spoken about being an equal opportunity scorer and having no qualms relying on the pass if that is what the defense dictates. He has certainly followed that philosophy, and the Eagles pick-your-poison offense is among the deadliest in the entire league because of it.
One last, sort of relevant piece of information: Isn't "wins" the most important stat? Even with the decrease in overall rushing numbers, the Eagles are 4-1 in games that Foles starts and 1-0 when he enters in relief and finishes, for an overall 5-1 record.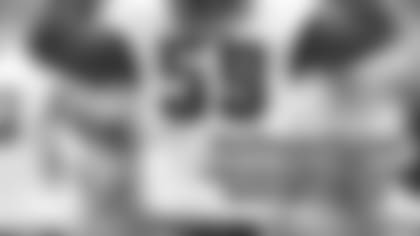 ](http://www.azbycx1928.com/pe6bfhuyr/)
4. DOWNLOAD TODAY'S GAMEDAY MAGAZINE
No matter if you're heading to Lincoln Financial Field or watching the game at your house or with a group of friends, download today's Gameday Magazine which feature middle linebacker DeMeco Ryans. The cover story details how a few lessons Ryans learned growing up as one of four children under the guidance of a single mother helped him comeback from an Achilles injury to reclaim his spot as one of the league's elite linebackers.
• What's the future of scouting in the NFL? Player-tracking technology is currently being utilized by the NBA and will make its way into football very soon. The NFL has been slow to accept analytics, but it's no longer prudent to make it a part of the team-building process.
• Cornerback Cary Williams was raised by a single father in a rough section of Miami. Today, Williams is a proud father of a 4-year-old daughter. He explains in his own words what his father meant to him and the lessons he is passing down to his child.
• The Eagles are in the playoff hunt and they've accomplished this by putting together one of the youngest rosters in the league. Here's a look at how the young players on the Eagles roster are playing a key role in the team's success.
• Ed Mahan has been the team's photographer since 1971. He captured one of the most iconic photos in Eagles history when Herman Edwards returned a fumble against the Giants 35 years ago in a play dubbed forever the Miracle of the Meadowlands. Mahan explains how he got the photo.
• The Eagles will wear the black jerseys today, but what will they wear off the field. Frank Ventresca is the man who outfits a number of Eagles players. He analyzes the players' style.
5. ATTENDING THE GAME, HERE'S WHAT YOU NEED TO KNOW
If you're joining the festivities at Lincoln Financial Field, here's all the info you need ...
• PennDOT reopened Platt Bridge (Route 291) to Four Lanes.
• As part of the NFL PLAY 60 initiative, 40 local boys & girls will participate in a pregame Punt, Pass, and Kick competition. For more information about NFL PLAY 60, visit NFLRUSH.com/bus.
• The National Anthem will be performed by Timmy Kelly. The colors will be presented by the McGuire Joint Base Color Guard.
• The Clearview Youth Football program will play a pee-wee match during this week's halftime.
• Staff Sergeant Joshua Black is the Hometown Hero. Black served eight years with the 157th Combat Support Battalion. He deployed to Iraq in '08 and recently returned from Afghanistan.
• In the HeadHouse Plaza, the B Street Band, the Bruce Springsteen cover band, SWOOP and Cheerleaders will be on hand as well as face painting and photo stations for fans to show off their Eagles pride.