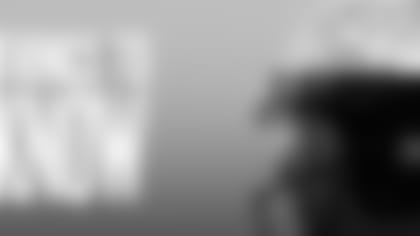 It's almost time to see how all of the game planning and preparation will unfold on Sunday night. The Eagles hold a walkthrough on Friday and there are some key players to watch as the final injury report will be announced later this afternoon as well. Make sure to join myself and Dave Spadaro on this evening's episode of Eagles 360 for the latest news as well as our look at the key matchups and we also welcome safety Chris Maragos in studio. Until then, here are the 5 Things to Know Today for Friday, November 6 ...
1. Lane Johnson Preparing To Play Left Tackle
Jason Peters did not practice on Thursday due to his back injury. Lane Johnson has worked at Peters' left tackle spot this week and is acting as if he will start there Sunday against the Cowboys. Johnson played left tackle in college, but has not been put there in a game situation during his pro career up to this point. If Johnson moves from right to left tackle, Dennis Kelly is likely to take the right tackle spot while Matt Tobin remains at right guard. Johnson will be under the spotlight as Cowboys defensive end Greg Hardy typically lines up across from the left tackle.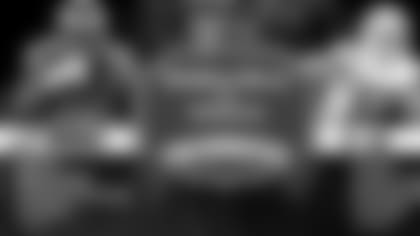 2. A Different Outcome For DeMarco Murray?
"I'm not looking to go down there and make a statement individually. I'm just looking to go down there and help these guys get a win," Murray said of the upcoming road meeting with Dallas on Sunday Night Football. "They played a good a good game against us last time, (their) defense played well, but I'm not worried about the yardage. We just have to go in there and do what we do – play hard and play physical."
Dealing with a hamstring injury early in the year and running behind a struggling offensive line, he rushed for just 11 yards on 21 carries through his first two games. He had just 2 yards in the Week 2 loss to Dallas. But after taking a week off to rest his leg, the 27-year-old running back bounced back, gaining 296 yards on 67 attempts (4.4 yards per carry) in the four games that followed.
3. Jaws Contends 1980 NFC Title Win Was Eagles' Greatest
To this day, Philadelphia Eagles Hall of Fame quarterback Ron Jaworski still sports his 1980 NFC Championship ring. He recalls the exact play that resulted in Wilbert Montgomery's 42-yard touchdown to ignite the Eagles' first trip to the Super Bowl. Add in the fact that the win came against the Cowboys is why Jaws believes that it was the greatest victory in franchise history.
"In my mind it was because I wasn't part of the team in 2004, led by Andy Reid and Donovan McNabb. I just know the city was unbelievable during the game and after it, and there was nothing sweeter than beating Dallas to advance to the Super Bowl," Jaws told Dave Spadaro in the first edition of The Last Word. "That Wilbert Montgomery run early – I Right Slot Split 47 Slant – and he took it to the house, Dallas realized Wilbert was healthy after we kind of duped them into thinking he wasn't going to be ready for the game. It wasn't an upset. It was a setup. That's what that win was all about."
4. Eagles Had No Interest In La'el Collins
La'el Collins was invited to Chicago for the 2015 NFL Draft as a likely first-round selection. However, Collins had to leave the Windy City after a woman he knew back in Louisiana was murdered and police wanted Collins' help finding out who could have done it. Collins was not a suspect, but it was still a red flag and he was not chosen in the early rounds. Collins' agents said that if their client was picked on the third day of the draft he would not sign. Collins' agents got their wish as the former LSU star who modeled his game after Jason Peters went undrafted. He signed with the Cowboys as a rookie free agent and is now starting at guard. Head coach Chip Kelly was asked on Thursday if the Eagles had any level of interest after the draft. Kelly's response was, "We didn't have any interest."
5. The Perils Of Double Coverage
The Cowboys have not won since the Week 2 game against the Eagles. Quarterback Tony Romo's absence is a big part of that. Dallas is on its second quarterback after benching Brandon Weeden and giving the keys to Matt Cassel, who has arguably struggled more than Weeden.
Another issue, one that Fran Duffy pointed out in Eagle Eye in the Sky, is that the skill-position players have failed to win one-on-one matchups. Tight end Jason Witten has seen a fair share of double coverage, especially with wide receiver Dez Bryant sidelined until last week. However, the players who should benefit have been unable to do so. Duffy pointed out how it is imperative that the pass rush gets home on Sunday with defensive coordinator Bill Davis focusing on the tandem of Bryant and Witten.
"If and when the Eagles double-cover anyone on the Cowboys' offense, whether it's Dez Bryant or Jason Witten or anyone else, they will need the rush to get home to prevent the quarterback from getting through the rest of his progressions to deliver the football," Duffy wrote.