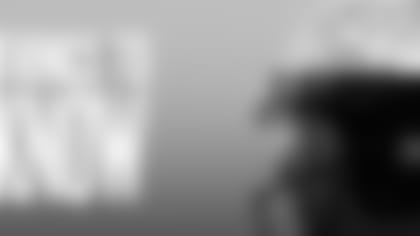 It's Friday the 13th! I'm not sure exactly what that means, but later on today Alex Smith will provide some clarity as he asked the Eagles this week about their superstitions. We have a ton of great content coming your way including our Podcast Recap and Game Preview. At the end of the day, we've got Eagles 360 coming your way at 5 PM. Dave Spadaro and I will break down the key matchups for Sunday's game against the Dolphins and safety Walter Thurmond joins us in the studio for Crunch Time. Before the fun gets underway, here are the 5 Things to Know Today ...
1. Cox Continues A Tradition Of Great D-Linemen
"So where does Cox rank on the list of dominant Eagles defenders? In the lineage of outstanding defensive linemen in Eagles history, Cox is finding his place among the giants. In fact, Cox plays with a piece of each of the great Eagles defenders before him – (Trent) Cole's work ethic, (Jerome) Brown's power, (Andy) Harmon's mindset, (Corey) Simon's sizeable expectations and (Reggie) White's drive for greatness.
"'I hope the outside world recognized the talent that he has,' defensive coordinator Bill Davis said earlier this season. 'He's a Pro Bowl-caliber player. I've been around a long time, and that's what they look like. They play the run, and they cause disruptions in the passing game. Sack numbers come and go, but he has the skill set.'"
2. Jenkins Admits He Played Through Concussion
Safety Malcolm Jenkins was a full participant in Thursday's training session. He revealed that he suffered a concussion on a tackle in the second quarter of the overtime win over Dallas, but did not notify the coaches or doctors and knowingly played on. Head coach Chip Kelly was not happy when he learned that Jenkins hid the concussion from the team.
"We've talked about it. I've talked with him. He's heard from his mom and he's heard from his wife," Kelly said. "His long-term health is the most important thing to us and we will continue to monitor him as we go and see if he is able to play on Sunday."
Jenkins said that he expects to play Sunday. He had to be successfully go through the NFL's concussion protocol before returning to practice.
3. Matthews Inspired By Lack Of College Interest
For this week's The Last Word with Dave Spadaro, wide receiver Jordan Matthews discussed among other things his game-winning touchdown against Dallas, his love of basketball and also the lack of offers he got from colleges coming out of high school. The second-year wide receiver admitted that it still bothers him to this day.
"Definitely. I think it never really leaves you," Matthews said. "All of the habits that I built when nobody wanted me or believed in m carry me through my career. I'm always going to approach the game this way. It's what got me here. I'm going to work my hardest every day. I don't ever want to look back and say, 'If I had only done this ...' No. I'm able to rest my head on my pillow at night because I know I've given it everything I had that day."
4. Retzlaff The GOAT Among Tight Ends
Jim Gehman caught up with Philadelphia Eagles Hall of Fame tight end Pete Retzlaff, who holds the franchise records for catches, yards and touchdowns for players his position group. Retzlaff's amazing career continued off the field as he was the president of the Players Association and later the general manager of the Philadelphia Eagles.
The leader in receptions on the 1960 NFL Championship team, Retzlaff said that quarterback Norm Van Brocklin was the key to that title run.
"I think that we had some pretty good ball players in key positions, that's No. 1, because it's often said that the best coaches have the best players," Retzlaff said. "But more than that, I think it was really the fact that so many of us had confidence in Van Brocklin. We felt that if we just kept working at it, that eventually, he would find a way to solve the defense that we were up against.
"And when you know that we were trailing at halftime every game that we played that year except one, it was just a commitment to knowing that if we gave him enough time to get the job done, he would do it."
5. Mirror Reflection In Miami?
Bill Lazor was the Eagles' quarterbacks coach in 2013, the first year of head coach Chip Kelly's tenure. After a successful stint with Nick Foles, Lazor was hired as the offensive coordinator of the Miami Dolphins. Fran Duffy examined how the Dolphins' offense is similar to the Eagles' offense.
"On this play against Washington, the Dolphins come out in 11 personnel with one running back, one tight end and three receivers. But you see two players in the backfield to start the play. Running back Lamar Miller is lined up to quarterback Ryan Tannehill's left, and second-year wide receiver Jarvis Landry is flanked to the quarterback's right. Tight end Jordan Cameron is flexed in the slot to the left. There are a lot of different problems for the defense at this point, and the ball hasn't even been snapped yet!
"Right before the snap, Landry flares to the left to run a bubble screen, not an uncommon sight in this offense. Look at how many defenders react (I count five total) to that screen-action, but that's not where the ball is going. After pumping to the left, Tannehill comes back to the boundary side and throws a quick base screen to Miller out of the backfield, who has a cadre of blockers out in front to set up a 22-yard gain and a first down. This may look familiar to Eagles fans because the Eagles ran a lot of this in 2013 when Miami Dolphins offensive coordinator Bill Lazor was the quarterbacks coach. Think back to that game on the road against Tampa Bay, the first play of the game and a long screen pass to LeSean McCoy? That was the same exact concept, with DeSean Jackson out of the backfield with the screen to the left."