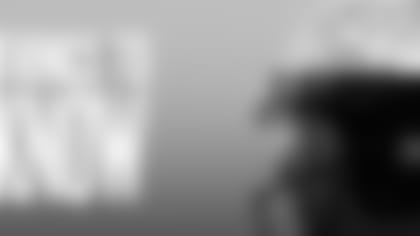 Sunday's showdown with the Tampa Bay Buccaneers is quickly approaching. We'll learn more about the status of quarterback Sam Bradford, running back Ryan Mathews, tackle Jason Peters and the rest of the injured players when the injury report comes out later this afternoon. For a recap of all the day's news and notes, make sure to join us at 5 PM on Eagles 360 as defensive end Fletcher Cox joins us in studio. Until then, here are the 5 Things to Know Today for Friday, November 20 ...
1. Good News For The Defense
While there are a lot of question marks for the Eagles from an offensive standpoint, the defense looks to be in good shape after linebacker Connor Barwin returned as a limited participant on Thursday despite a quad injury. When asked whether he will be good to go for Sunday, Barwin replied, "Yeah." Fellow starting linebacker DeMeco Ryans and safety Walter Thurmond were also on Thursday's injury report, but were full participants.
2. How Will The Eagles Defend Mike Evans?
Wide receiver Vincent Jackson was a limited participant for the Bucs on Thursday, but all indications remain that he will not play against the Eagles due to a knee injury. Tight end Austin Seferian-Jenkins could make his return to the lineup. He's been sidelined with a shoulder injury since Week 2.
Either way, Mike Evans will remain the focal point of the passing attack for Tampa Bay. Evans is 6-5, 231 pounds, but unlike most receivers of that size and build he has the deep speed to complement his frame. Evans has 40 receptions for 662 yards and a touchdown on the season. However, he's been targeted 86 times on the year. In the past two games, Evans has 32 targets, 16 receptions and 276 yards.
3. Week Of Training Good For Murray, Sanchez
If Mark Sanchez has to make his first start of the season at quarterback for the injured Sam Bradford, the Eagles want to make sure there is a familiarity and chemistry between the veteran and the first-team offense.
One of the things that Sanchez worked on in training this week was the mechanics of the handoff with running back DeMarco Murray. There were some issues in the second half of last week's game against Miami, times when Murray wasn't sure whether or not Sanchez was giving the ball or executing a play-action fake.
Murray's role will be one to watch with Ryan Mathews sidelined by a concussion. Murray has had 18 or more carries in each of the past five games. He had 28 touches last week against Miami.
4. Celebrating The 35th Anniversary Of The 1980 Team
The honorary captains for this Sunday's game represent the entire 1980 Eagles team that won the NFC title and became the first Eagles squad to appear in the Super Bowl. Eagles Hall of Fame members Bill Bergey, Harold Carmichael and Ron Jaworski will be on hand.
"Dick saw things in each of us that we didn't see in ourselves," former tight end John Spagnola said. "He knew we could be better than we were and he was pushing us to bring out that (ability). That's the mark of a great coach, someone who can reach down and pull something out of you that you didn't even know was there."
Featured in the video above is U.S. Army Sergeant Dan Rose from Wisconsin, who was paralyzed in April of 2011 by an IED in Afghanistan.
On Sunday, Rose was at Lincoln Financial Field and able to walk in front of the nearly 70,000 fans in attendance at the Salute to Service Game thanks to the SoldierStrong organization and the SoldierSuit designed by Ekso Bionics.
"The feeling of standing and walking again is indescribable," Rose said. "The first time I used the rehab suit was two years after my injury, two years of living life in a wheelchair. The first time I stood up and looked across the room, it was like reaching the summit of a mountain and looking down on the world. I am very fortunate to have received this gift from SoldierStrong, and even more fortunate to be able to experience looking down on the world from my mountain every day."