DeSean Jackson is not used to losing. In the wide receiver's first four years in Philadelphia, the team won 38 games, compared to just 25 losses (good for a winning percentage of 60.3). Despite last season's disappointing record, Jackson has faith in this year's squad and he believes in the system head coach Chip Kelly is implementing.
The five-year veteran appeared on ESPN's First Take on Wednesday morning, where he explained that last year's 4-12 season was an eye-opening experience for the entire team.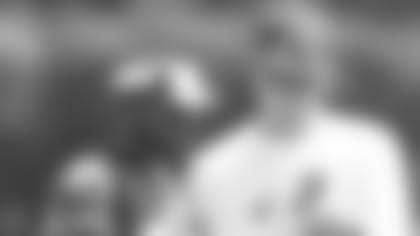 "I think it was a reality check for everybody on our team," Jackson said. "All I can remember is coming in 2008, the Philadelphia Eagles, Donovan McNabb, Brian Westbrook, Brian Dawkins. With that mentality there, those guys didn't really accept (anything) but winning. So for us to go out there and have a year like that last year, Michael Vick, myself, (LeSean) McCoy, (Jeremy) Maclin, we really had to look each other in the eye and say, 'Come on, we're better than that.' "
With training camp right around the corner, Jackson explained that it's important for everyone on the team to move on and get ready for a fresh start.
"We can't really look backwards," Jackson said. "We're going to move forward this year. We have Chip Kelly coming in here. He's installed a great offense, a high tempo; we're going to catch a lot of teams off guard this year. So I'm excited. I'm healthy, I broke my ribs at the end of the season last year, I'm just ready to get back out there and have a great year. We've go to (Training Camp) in less than a week, so it's about that time."
Throughout the offseason, Kelly has spoken about the importance of having his wide receivers learn multiple positions in order to better understand the team's offensive concepts. Jackson admits that he was initially hesitant to the idea, but that he has come to understand what coach Kelly is trying to accomplish.
"He came in with the mentality where he didn't care who it was, DeSean Jackson, LeSean McCoy, Michael Vick, he kept it fair and he kept it even," Jackson said. "He wanted everybody to come in there and buy into the system and do everything you need to do to win a position.
"Coming from college, he definitely had to do that. I respect it, but I did have to go in there and sit down with him and look him face to face, and was like 'Coach, what's up? I've been here and have been to Pro Bowls… so what's the case?' He told me from the get-go what it was, and as a man I can respect that. It's one of those situations where as a six-year veteran going in there, I had to go back to my skills and think about 'Alright, get in that playbook and do the things you need to do.'"