To truly appreciate just how good Cardinals receiver Larry Fitzgerald really is, all the Eagles have to do is watch film on how he almost single-handedly defeated the Carolina Panthers.
Fitzgerald may be three inches shorter than Giants wide receiver Plaxico Burress, but he presents the same kind of matchup problems for the Eagles that Burress normally does.
If moments of desperation, Cardinals quarterback Kurt Warner could theoretically just throw it up for grabs in Fitzgerald's general direction.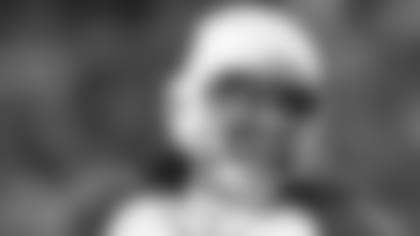 WR Larry Fitzgerald had two touchdowns against the Eagles on Thanksgiving
According to defensive coordinator Jim Johnson, Fitzgerald will most likely come down with it due to his outstanding physical attributes.
"The leaping ability," Johnson said. "When you throw the ball up, he comes down with it. You could put a highlight film of all the double coverage where Kurt Warner just lays it up there and, for some ungodly reason, he comes down with it all the time. He's as good as I've seen on the long ball."
It's a quality that makes him very special.
He made an acrobatic catch just like it in the first half against Carolina, a team that seemed to have no answer for the Cardinals' main offensive threat.
He torched the Panthers' secondary for 166 yards and a diving touchdown on eight catches in Arizona's 33-13 Divisional Playoff win last Sunday. Considering that the Cardinals have committed to running the ball more often in hopes of achieving balance, it makes Arizona's receivers that much tougher to cover.
But Johnson said that it all starts with Warner and Fitzgerald.
"I think you still have to look at their two main guys, and that's Fitzgerald and Warner," Johnson said. "I think they're two of the better players in the NFL. They've become more balanced with (running back) Edgerrin James playing and stuff like that. Of course, they've got some other good receivers, but Fitzgerald is a special guy and Kurt Warner's a special quarterback."
Johnson also said that the safeties will have the primary responsibility of making sure Fitzgerald doesn't make the same type of plays against the Eagles as he did against Carolina.
That means Fitzgerald will be getting a healthy dose of Brian Dawkins and Quintin Mikell on Sunday. The key will be battling Fitzgerald for position so he can't use his extraordinary leaping ability to come down with jump balls.
Johnson said Dawkins and Mikell are up to the task.
"I think they are. I think Dawk - the safeties are the ones who are going to have to make plays on a lot of those balls," Johnson said. "Yeah, you've got to fight for every ball when the ball's in the air because he'll come down with it if you don't. He's a special guy that way."