2013 has been an amazing year for my family. It brought about the birth of my son, Matthew. Long awaited and much anticipated, this first grandchild on both sides has filled our lives and our hearts with endless joy his five months in the world.
Having a child present brings new joy and meaning to the holidays. Our smiles are still wide from experiencing our baby's first Christmas. The memories created in this, his first year of life, will remain with us forever. Matthew may be too young to remember anything going on around him right now, but our family will fondly recall these special moments for years to come.
While the holiday season is in full swing, Matthew's first regular season as an Eagles fan is winding down. He won't remember the many incredible moments created this year, but he joined a new generation of fans at an exciting time. His first year as an Eagles fan has been filled with wonderful memories that will be special to recall spending with him.
Along with the excitement of the holidays, part of Matthew's present this week is his first time experiencing the fervor of Dallas Week amplified by having the NFC East title on the line. The lead-up to the final game of the season is made unique this year by the speculation, then denial on the part of the Cowboys' coaches and ownership, that quarterback Tony Romo will miss the all-important game due to a back injury. We'll find out his true status soon enough. But regardless of the quarterback they will face, it all comes down to this last game for Philadelphia. The gate to the playoffs is located in Dallas and the exuberance and anxiety of seeing how the game and the postseason hopes play out with our baby boy will no doubt be a cherished memory. Matthew is about to witness his first divisional fight to the finish, and it's an experience I can't wait to share with him.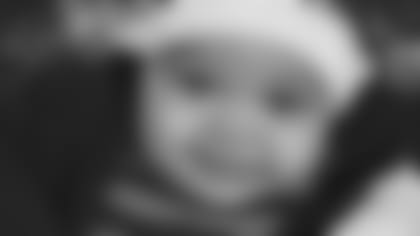 This rookie season as an Eagles fan, my little guy witnessed a peaceful midseason changing of the guard at the quarterback position, a relatively rare occurrence for NFL teams. More than that, after Nick Foles replaced Mike Vick as the starter, Matthew was treated to a string of historic performances, none greater than the seven-touchdown achievement in Oakland. What Foles accomplished that game is already a part of Eagles legend, and it occurred in my son's brief lifetime. I can't wait to talk to him about that game and Foles' breakout season when Matthew is older and remind him that, while he may not remember any of it he did, in fact, witness all of it.
Matthew's first significant snowfall was also the day of the Snow Bowl, the legendary battle between Philadelphia and Detroit in eight inches of the white stuff at Lincoln Financial Field. During that game the little guy also watched the incredible season of LeSean McCoy highlighted by an astounding 217-yard performance against what had otherwise been a stout Detroit Lions run defense. The running back has proven time and again that he is one of the Eagles' most lethal weapons, and in 2013 he has been the most prolific performer in the league. McCoy continues to run the field and through the record books, all under Matthew's wide, watchful eyes.
All of these performances have contributed to what will be another significant moment in Eagles history accomplished this season: the most total yards ever accumulated by a Philadelphia squad. As of last week they had amassed 6,308 yards. The team record of 6,386, reached in 2011, will most certainly be broken in Dallas as the team is but 79 yards from that achievement. More history, more special moments.
As he grows older and gains more awareness of all things, including Eagles football, my son will witness many other significant events in team history unfold. But he picked a heck of a season with which to start. With all of the tremendous achievements and historic moments that have unfolded in the 2013 season, we could say that Matthew has been a sweet little good luck charm for Philadelphia this season. Sure, a few other factors were at work (here's looking at you, Chip Kelly), but you'll never be able to tell me otherwise. My son helped the Eagles all the way and that's all there is to it. At least, that's how we'll remember it.