One week into his NFL career, Brad Wing looks like every other young hopeful who is trying to make it with the Eagles. He is wearing an LSU tee-shirt in the cafeteria of the NovaCare Complex having just completed practice and a rookie lifting session. Wing is refreshed and he is relaxed.
And he is different than the kid who gained publicity from a taunting penalty called on him to nullify a great touchdown run off of a fake punt when his LSU Tigers played Florida in 2011 and who admits that all of the attention maybe went to his head and led to some poor decisions and a disappointing 2012 campaign.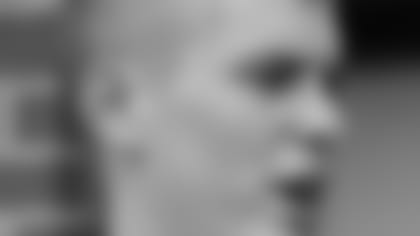 "This is a day-to-day proposition right now. This is all business and I've learned from the mistakes I've made," said Wing, who had some off-the-field issues after his All-American season at LSU. "I hurt my mom and dad. I was embarrassed. It woke me up.
"More than anything, though, the birth of my son five weeks ago was an instantaneous wake-up call. Everything my parents had said to me over the years about making decisions, and about choosing the right path, it all made sense to me as soon as my son was born."
Wing is a fascinating story, as well as being a very talented punter whom the Eagles signed after the April NFL draft. He grew up in Australia, the son of David and Kathi Wing, and Brad learned the game of NFL football as his father tried to make it here. David Wing played for a season with Scotland in NFL Europe and had a tryout with the Detroit Lions. He didn't make it, but Brad took note of the NFL football and worked on kicking it.
An Australian Rules Football player who idolized Sav Rocca, the former Eagles punter now in Washington, Wing moved to Louisiana for his senior year of high school to live with some family friends and punted well enough to earn a scholarship to LSU.
Three years and two seasons played for the Tigers provided the foundation in the punting game for Wing, who ended his LSU career suspended for the team's bowl game in January.
"I'm getting a second chance in life, and I'm going to take advantage of it. I can't mess up again. I'm not going to mess up again. I don't have any more chances to burn. I have a vision of where I want to be in 10, 20 years and I'm not going to be there if I make poor decisions," said Wing. "Of course I want to be in the NFL for a long time and I want to be a great player, but more than that I want to be a great role model for my son. All of that is crystal clear for me."
Wing joins 10-year NFL veteran Donnie Jones in a battle that pits good friends. They've known each other, as Wing says, "forever," long enough for Wing to call Jones, an LSU product, one of his mentors.
"He's doing it right and I'm a sponge to him, soaking up everything he does," said Wing. "I'm just taking it a day at a time and learning as much as I can from him. There aren't many rookies who have a chance to learn from a 10-year veteran. He's going to bring the very best out of me."
Wing is saying and doing all the right things. He has become a student of the game, constantly working on his technique and studying the nuances of the man returning the football. Wing appeared to kick the ball impressively in a swirling wind earlier in the week when the Organized Team Activity practice was open to the media.
Maybe there is a legitimate challenge in the works between Jones, a hugely successful punter in the league whom the Eagles signed during free agency, and the talented Wing, who wants to be known solely for his punting skills and not the mistakes he made during his college days.
The light goes on for everyone at some point, right? There is a time when it all comes together and clarity is found and focus is in place. Maybe that's where Wing is now. Maybe he's come a long way in a very short time to the point where his maturity has caught up with his punting skills.
A kid who averages 44 yards per punt in two years in college and who showed such a natural ability on directional kicks could be something special. Maybe that day is coming for Wing, and maybe the Eagles will have a whale of a punting battle come training camp.
"It's a very gradual process of refining my technique every day and improving from one day to the next," said Wing. "I can't think beyond today. This is the NFL. You have to prove it every day with hard work. I pay a lot more attention to detail – my drop, the steps I take – and obviously this is a profession. I don't have any margin for error."
The play that launched Wing's notoriety was a 52-yard run off a fake punt against Florida, and he executed it perfectly with a sprint down the sideline. At the 10-yard line, though, Wing spread out his hands, a premature celebration that nullified the touchdown and his celebrity status was hatched.
"It was the first time I had ever been in front of the line of scrimmage and I just let the moment get to me," he said. "After that, people knew who I was, and I think I let it get to my head and it affected my decision-making. I realize that now. That will never happen again. I'm here to work, and to give it my best shot and improve every day. If I do that, if I get better as a person and as a football player every day, I will have accomplished my goal."