What Mark McMillian lacked in size, he made up for in speed, desire, and attitude.
In two seasons at Alabama, the 5-7, 145-pound cornerback started 21 games and totaled 72 tackles and three interceptions. Yet, he was still available for the Eagles to choose him in the 10th round, 272nd overall, of the 1992 NFL Draft.
"I was shocked that I was on the board for so long," McMillian says. "There were a lot of defensive backs that went before me – between 25 and 30 – that I knew that I was better than."
After the initial shock and disappointment wore off, McMillian realized that landing in Philadelphia may have very well been worth the wait.
"From watching the Eagles play in our dorm room on Sundays – Reggie White, Randall Cunningham, Byron Evans, Seth Joyner, Andre Waters, Eric Allen, Keith Byars, Jerome Brown, the list just goes on," McMillian says. "Man, I have an opportunity to do something real special with a good group of guys that had one of the best defenses probably to play the game."
Shortly after the draft, McMillian arrived at the Eagles' minicamp and discovered that there was a huge difference between watching those veteran players on TV in Tuscaloosa and standing next to them at the Vet.
"I brought all my stuff from Alabama because I had the mindset that I was going to make the football team," McMillian says. "I walk in, and Reggie White, the first thing he said is, 'Whose little kid is this in our locker room? I don't know why you're bringing all your suitcases. You're not going to make this team.'
"The guys thought it was funny, but me personally, I didn't think it was funny. I said some unpleasant things I shouldn't have said to a preacher (White), but that's just the way I was raised. Not to back down or take anything from anybody. Especially being drafted so late and having that chip on my shoulder."
The chip on McMillian's shoulder didn't bog him down. Although listed sixth on the cornerback depth chart, he worked hard and turned heads with his performance on special teams during Training Camp and the preseason schedule. But McMillian still had to survive the team's final cut.
"It was nerve-wracking. I went through all the preseason games and I did pretty good. I didn't get much playing time, but as far as special teams, I knew if I was going to make the team it'd be by making an impact in that area," McMillian says. "It was me and Jesse Campbell, I think he was a second-round pick out of North Carolina State a year before me. We actually shared a locker through Training Camp and the last cut day, I was like, 'There's no way they're going to cut a second-round pick for a guy that they drafted so late.'
"Once I walked through the locker room, I was like walking the Green Mile. Real slow. And I saw that his stuff was cleared out of the locker. I just couldn't believe it. I just sat down at my locker and thanked God. I was so relieved. All the hard work that I put in in Training Camp paid off.
"But Andre Waters, once we got to practice, made it known that I'm still not on the team yet. It's not official until opening day. So, I kept that motivation. I stayed humble, stayed the course, did what I was supposed to do, listened to the guys, and it worked out."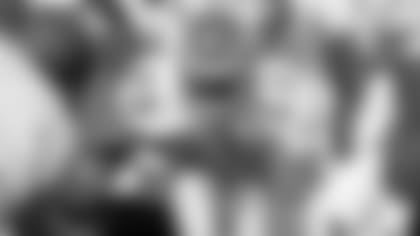 It worked out with the Eagles for four seasons from 1992-95. McMillian would leave Philadelphia as a starting cornerback who didn't miss a single game and collected eight interceptions. He'd spend the final four years of his NFL career playing for New Orleans, Kansas City, San Francisco, and Washington.
What is McMillian most proud of from his career?
"I would say just having respect from the guys. From the teams. From my opponents," he says. "We play this game and everybody can't make it into the Hall of Fame, and everybody's not going to win a Super Bowl, but when you can get a guy like a Reggie White or an Eric Allen or playing against a Cris Carter or Art Monk, guys that are in the Hall of Fame, give you props after a game, you can't put a price tag on that.
"Getting the opportunity to play against these guys and fare well, good enough to keep my job, I just couldn't ask for anything better than that."
McMillian and his wife, Adreanne, have two children: Jasmine Miller and Isaiah. They make their home in Las Vegas, where he is faring well in the business world with Grill'n McMillian.
"I just love to grill," McMillian says. "I love to bring people together through food. Especially with the times that we're going through right now. There's a lot of restaurants that have been put out of business, and I just like to continue to bring my family closer, to the table, with food. Food is a great conversation piece."
A longtime role model for those who don't have to worry about ducking under many things, McMillian has proven to be an inspiration for people of any size.
"There's a lot of kids out there who think they're too small to accomplish their goals, and I like to use myself as an example that anything is possible," McMillian says. "If I can do it, I always say anybody can do it. You may not make it to the National Football League, but you could make something of yourself other than just running around on the streets."