The Eagles' two biggest offensive stars - quarterback Donovan McNabb and running back Brian Westbrook - were injured in Sunday's win over Pittsburgh. McNabb returned, but Westbrook did not.
Westbrook suffered what head coach Andy Reid termed as an ankle strain in the first half. He is scheduled to have an MRI on Monday morning.
"Off the X-ray, it's not fractured," Reid said following the game.
Westbrook sustained the injury on the first play of the second quarter. On a 2-yard run around left end, Westbrook got hurt when his right ankle landed on the back of Tra Thomas' leg after he hurdled over Steelers cornerback William Gay.
Westbrook went into the locker room for further evaluation. At the time, Westbrook had 12 rushing yards on five carries. Correll Buckhalter took over as the primary running back with Lorenzo Booker rotating in. Buckhalter finished the game with 87 yards on 16 touches.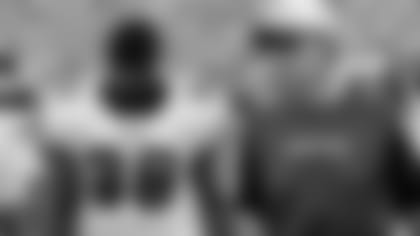 RB Brian Westbrook
McNabb's exit was a surprise to all at Lincoln Financial Field. At the start of the second half, it was announced that McNabb was in the locker room undergoing evaluation for a chest injury. He emerged from the locker room with 11:06 to go in the third quarter and came back about a minute-and-a-half later.
Reid said McNabb suffered a chest contusion.
"He was stiff in the second half," Reid said. "He was in some pain."
In the first half, McNabb was 16-of-19 for 147 yards with one touchdown and one interception. McNabb completed his first 15 passes to set a new team record. Buckhalter took one of those 20 yards for a touchdown, which in turn helped McNabb set the new franchise record with 176 career touchdown passes, surpassing Ron Jaworski. McNabb was sacked twice in the first half and three times in all.
Kevin Kolb came in to relieve McNabb. He was 2-of-3 for 18 yards, with an interception by Steelers safety Troy Polamalu.
In other injury news, fullback Tony Hunt left the game with a concussion in the first quarter and tight end L.J. Smith came out of the game with a lower back sprain.