In his previous nine seasons with the Eagles, Donovan McNabb has only been able to enter the bye week coming off of a win three times. You might say that it's one of the few things he hasn't gotten used to in his extended stay in Philadelphia.
That's what is going to make this bye week all the more special. Not only are the Eagles riding the momentum of their fourth pre-bye week win in head coach Andy Reid's tenure, but the remainder of the NFC East – Dallas, New York and Washington – all dropped games in surprising fashion.
It could be argued that the Eagles fully took advantage of the fortune laid out for them by their opponents and division rivals for this first time this season, and the timing was rather impeccable.
So yes, it's a chance for some much-needed reflection and an opportunity to take a load off. But in doing so, McNabb said moderation is the key.
"It's very important. A lot of us are banged up and this gives us an opportunity, obviously, to kind of get away from football and let our bodies heal. But mentally, you kind of want to stay in it," McNabb said. "It's not a sprint, it's a marathon. And we know that after this bye week, we've got to pretty much buckle up tight and get ready for the long haul."
One thing's certain – the extra week of preparation has always served Reid well. He remains a perfect 9-0 coming off of the bye week, and his career record after the break is significantly better than before it. And in 2008, it probably won't hurt that big-time playmakers like Kevin Curtis and Brian Westbrook should be ready to contribute in Week 8.
And perhaps, as McNabb said, relaxation for those who have played every game is a vital aspect of that continued success. After Sunday's 40-26 win in San Francisco, Reid gave his team off until Oct. 20. And one would figure that, with an undefeated slate after the bye week, he has an idea of what he's doing.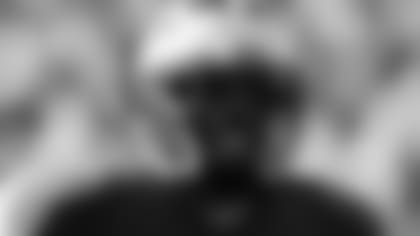 WR Jason Avant
So he lets the players make their own decision for how they spend their bye weeks. Some, like McNabb, will enjoy the time off at home. Others will be making small trips.

Take wide receiver Jason Avant, for example, who may be heading out to State College for Saturday's Penn State-Michigan homecoming matchup. Avant is a former Wolverine.

"I may have to be on the Michigan side, but that'll be fun," Avant said. "Otherwise, I've been just trying to focus on what's at hand here."

Others may look to head home and explore some potential business ventures. Long snapper Jon Dorenbos' family recently opened a restaurant – Backwoods BBQ Steakhouse – in Corona, Ca.

"If I can make it home, I'd love to go home. It's a long flight for a day or two," Dorenbos said. "It's a 9,000-square foot restaurant. We're pretty excited."

Dorenbos said that, year-to-year, traveling and plans all depend on how many days Reid gives the team off, a "play-it-by-ear situation."

But in coming off of a huge win, the Eagles head into their first vacation since before training camp excited. Are they right where they want to be, at 3-3? Definitely not. But some things have happened recently that give them hope.

Now, they can reflect on it a little bit.

"(It's) just relaxing. Being able to rest, hang out with the family and catch a second wind, a second wind for the second half of the season," free safety Brian Dawkins said. "We'll do what we do, and hopefully we'll come out in the end where we want to be."