After his performance against the Giants last Sunday, perhaps L.J. Smith should consider playing sick more often.
Even though he admitted to puking in the locker room at halftime, Smith had his best performance of the season, catching six critical passes for 44 yards in the Eagles' 20-14 win over New York at the Meadowlands.
"I was feeling whatever all week," Smith said. "I was fine. It just came out of no where at halftime. I was just throwing up a little bit."
After what Smith did to them in the first half, no one would blame the Giants' defense for being ill as well.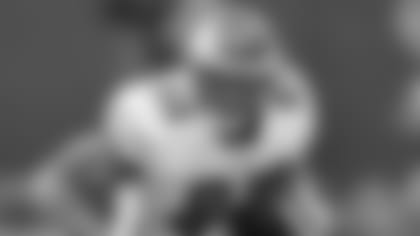 TE L.J. Smith has nine catches over the past two games, both wins for the Eagles
Smith was obviously a key part to the Eagles' game plan. On the Eagles' first offensive play from scrimmage, quarterback Donovan McNabb connected with Smith on a 9-yard gain.
McNabb said getting the tight end involved in the offense is a big factor to maximizing the full potential of the offense. The question now is how healthy will Smith be on Monday night when the Eagles take on the Browns. Smith missed Thursday's practice not with an illness, but a knee contusion.
"Absolutely. We've said that so many times," McNabb said. "I think early on in the season, we were getting the ball out to the guys. Our receivers were making big plays, our guys in the slot were making big plays, our tight ends weren't getting as many catches as they should.
"This is the time, you get cold weather games where you have to establish the run and teams are either going to play Cover 2 or zone coverage, or play you man. Now you are getting guys in mismatches, like (running back Brian) Westbrook on linebackers or tight ends on linebackers. We have to be able to exploit that. Our tight ends did a great job (against the Giants) and last game as well."
With the Eagles up 3-0 midway through the second quarter, the offense drove to midfield but faced a third-and-9 from their own 48-yard line. McNabb hit Smith with a pass out in the flat, Smith side-stepped Giants safety Kenny Phillips and scampered 10 yards for a clutch first down.
On the ensuing play, McNabb hit Smith again, this time for a 12-yard gain. That led to Westbrook's 30-yard touchdown run off right tackle that gave Philadelphia a 10-0 lead.
"Just football, man," Smith said. "I'm just playing football. I knew we had to get it. I just saw him kind of overplaying me a little bit. He had me on my left foot and I just kind of got rid of him, got through his arms and picked it up. That was huge to keep the drive going and we scored."
Smith was motivated further by the fact that he had 14 friends and family in the stands rooting on the North Jersey native. While head coach Andy Reid stopped short of saying it was Smith's best performance of the season, he did compliment the tight end.
"Well, he's had some good ones, but he played very well," Reid said. "He was not feeling well, but he came out and he pushed through it. You weren't going to get him out of the game. He wanted the football; he blocked well and so on."
Smith, who is playing under the franchise tag, has had many ups and downs thus far this season, so he realizes not to get too high over one good game.
"It is good, but at the same time, the headlines could be a lot different next week, so I'm not sit here and act like I don't know what's going on," Smith said. "I had a good game this week, but if I don't have a good game then the headlines could be something different ... Hopefully, we can keep it going, keep the drive going to the end of the season."