In 2007, Tank Daniels played an under-the-radar role for an under-the-radar team that exploded onto the scene with a wild run and a Super win.
In 2008, Tank Daniels is still playing an under-the-radar role. But he's doing it with a Super Bowl ring. Chances are he'd like another one.
Daniels, a key contributor to all facets of the Eagles' special teams, played in Super Bowl XLII in a similar capacity with the Giants. He knows the historic significance of what the Giants did last season, and would like the Eagles to be able to make their own bit of history.
And he could help the Eagles advance a round farther against his old team on Sunday.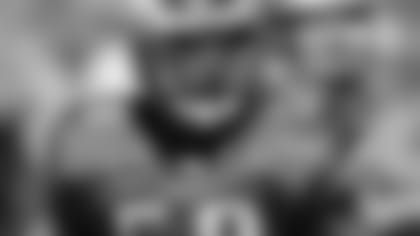 LB Tank Daniels won a Super Bowl ring with the Giants last season
"I definitely have a greater incentive this week – old team, old friends, old memories," Daniels said. "Of course I want to win to put it in (the Giants') face, but I mostly want to win to keep this thing going. I want to get myself in the Super Bowl again."
The bitterness isn't particularly evident in Daniels' voice, but the drive is still there. Daniels fell victim to the numbers game just after training camp with New York, a position players of his stature often find themselves in. Valuable, yes; expendable, even more so.
But the Eagles were ecstatic to add Daniels' services in the same spot he played with them in 2006. It gave them a specialist that they didn't think they had in linebacker Rocky Boiman, whom the Eagles cut at the same time the Giants let Daniels go.
The vision for the special teams has worked for Philadelphia. Daniels and Tracy White, a midseason pickup from Green Bay, are two players who have helped to solidify the kicking unit. Among special teams players, Daniels is fourth with 18 tackles and 233 production points as graded by the coaching staff. White, another linebacker by name but specialist by trade, has 10 tackles and is fifth with 216 production points.
Throw in safeties Sean Considine and Quintin Demps, and the Eagles have gotten consistently better at pinning returners deep.
But in the swirling winds of Giants Stadium, their jobs get tougher.
"It's always a little interesting in that stadium," Daniels said. "If you're chasing kicks, you might start to the right and have to break to the left pretty quick."
It's kind of like the Eagles. Dead in the water at 1 PM Week 17, they were in the playoffs by 7. Quick break.
And Daniels has seen what a run like this can turn into firsthand.
"Man, it's very similar (to 2007)," Daniels said. "We had to scratch, fight, claw and get lucky to even get a shot to play in the playoffs. You use that momentum, and you take it forward one at a time. You can't look down the line."